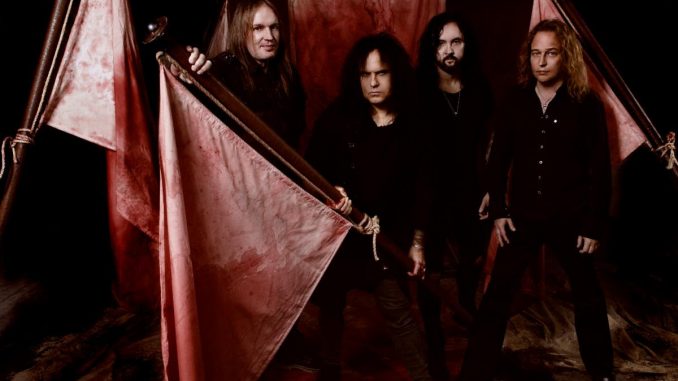 Friday, May 6th, 2022 – Today, extreme metal titans KREATOR are proud to unveil "Midnight Sun," the third single from their forthcoming fifteenth studio album, "Hate Über Alles," which will be released on June 10th, 2022. The eagerly anticipated full-length is a strong album-of-the-year contender as well as a global statement against hate & the division of society. Before its release next month, KREATOR give you another treat in the form of the most unusual song "Hate Über Alles" has to offer. "Midnight Sun" manages to couple heavy guitar shredding and captivating groove metal with a melodramatic, larger-than-life chorus including female backing vocals, impressively showcasing KREATOR's continued evolution of the genre they helped create.
Mille Petrozza comments:
"Midnight Sun is something a little new for us, our first time collaborating with a female artist. When I was writing the song, I could hear this Oracle type voice over the pre-chorus and chorus and I immediately reached out to my talented friend, Sofia Portanet who is an emerging artist, here in Germany. Sofia added exactly what I was looking for and gives the song a really dark, ethereal vibe.
The video is the second production we shot with Tom Schlagkamp and his team. The concept was drawn up from the song's lyrics which I envisaged to take place during a ritual sacrifice. Director, Tom came back with an idea loosely based on Ari Aster's 'Midsommar' which has powerful visuals, perfect for a killer metal music video!"
For 37 years, KREATOR has spear-headed a thrash metal crusade, inspiring generations of metal heads and musicians alike. The collision of traditional and contemporary values is a sentiment that Mille Petrozza has breathed in to the soul of this monumental new album; recruiting visionary producer Arthur Rizk (Power Trip, Cavalera Conspiracy, Ghostmane and Turnstile) from Philadelphia to work with the band at the legendary Hansa Studio in Berlin. 'Hate Über Alles' features gorgeously grim cover artwork painted by renowned artist Eliran Kantor (Testament, Thy Art Is Murder, Helloween), serving a bold statement against hate and division in today's society.
Mille Petrozza comments:
"'Hate Über Alles' reflects the time we're living in. Everything is really loud and aggressive. The way we communicate has changed, thanks to social media. It causes a lot of imbalance. The world is in a state of disrepair. Life is not harmonic right now, it's disharmonic… that's where I was going with the title."
KREATOR – Hate Über Alles

Release Date: June 10, 2022

01. Sergio Corbucci Is Dead

02. Hate Über Alles

03. Killer Of Jesus

04. Crush The Tyrants

05. Strongest Of The Strong

06. Become Immortal

07. Conquer And Destroy

08. Midnight Sun

09. Demonic Future

10. Pride Comes Before The Fall

11. Dying Planet
AVAILABLE FORMATS:
LTD. EDITION 2LP + 2CD BOX SET feat. the album on 2LP & CD Digipak, Bonus CD "Live at Bloodstock 2021", a making-of book, a noble art print and a metallic band logo pin.
Variant #1 (NB Mailorder Excl.):
– 1LP Clear w/ Red/Black Ink Spot + 1LP Color tbc
Variant #2:
– Red w/ Black Splatter Vinyl
TRIFOLD 2LP with an etching on the D-side
CD DIGIPAK
DIGITAL ALBUM
ABOUT KREATOR
Decades into their game-changing career, German metal legends KREATOR find themselves more successful and influential than ever. They've stuck to their guns, weathered the trends and outlasted their peers – never once wavering from the ferocious noise that excited them as teens. If anything, that thirst for sonic warfare is just as strong, if not stronger, today. Where others have suffered from creative malnourishment and artistic uncertainty, something which even metal's biggest and best are prone to, KREATOR have always charged full steam ahead – thanks to the red-eyed conviction and fearless determination of founding singer and guitarist Miland 'Mille' Petrozza. On 1985 debut Endless Pain, the Essen innovators created the template for extreme noise to come, fusing elements of thrash and black metal in ways that had never been heard before. Their sophomore album of the following year, Pleasure To Kill, became one of the landmark albums of 1986 – making metal history alongside key releases from Metallica, Slayer and Megadeth. And onwards they marched, bringing hellish anthems to the masses in every album that followed, with a track record few could ever rival.
The last decade has been a particularly exciting time for the group, with 2012's Phantom Antichrist proving how they could embrace modern production techniques and move with the times without forsaking the underground spirit and defiance which made them a household name in the first place. Its successor, 2017's Gods Of Violence, saw them topping the German charts for the very first time in their career, a feat virtually unheard for a band of such thunderous intensity. Returning this year with fifteenth opus Hate Über Alles – which marks their first studio album with Frédéric Leclercq (ex-Dragonforce, Sinsaenum) on bass, joining Mille, guitarist Sami Yli-Sirniö and drummer Jürgen 'Ventor' Reil – the metal titans are once again channeling an unholy heaviness strong enough to tilt the earth off-axis.
Conquering and destroying in the way only KREATOR can, Hate Über Alles will undoubtedly sit proudly amongst the finest metal releases of this year. And so onwards they march once more…