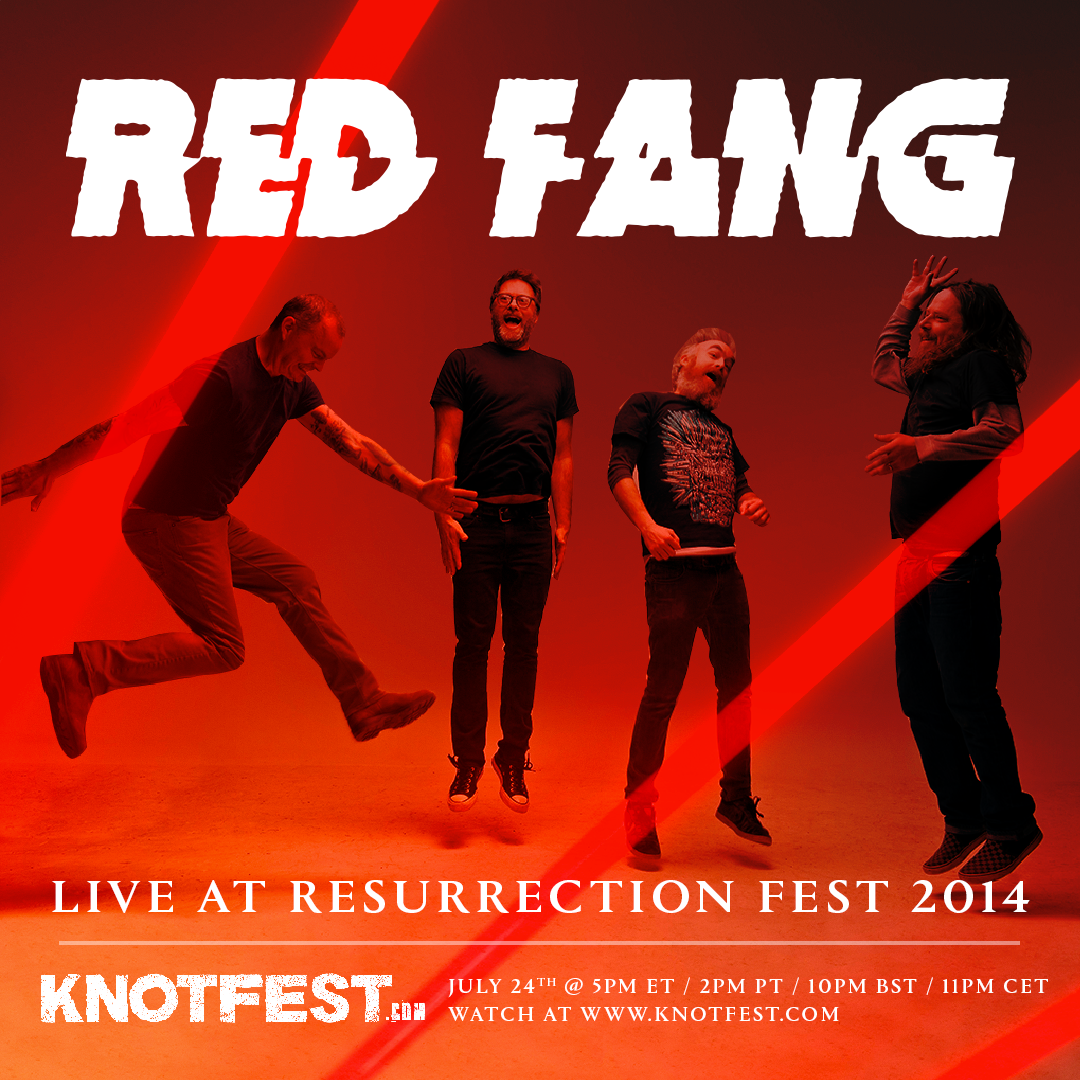 Live at Resurrection Fest 2014, Viveiro, Spain
Streaming Friday, July 24th At 2pm PST/5pm EST
Monday, July 20th, 2020 – Knotfest.com has announced the next concert in it's streaming series will be from none other than the mighty Red Fang. Taking place this Friday, July 24th at 2pm PST/5pm EST, the stream will feature the band's full set from Resurrection Fest 2014 in Viverio, Spain.
Red Fang are also donating 100% of their online merch sales through July 25th to
NAACP.org
find their merch store at
redfang.net/store.html
the band will also have a new track out next week with
Adult Swim
. Speaking on their stream, the band say
"Red Fang want to thank Knotfest for having them be a part of this stream. With this opportunity we also wanted to say equal rights are human rights which has lead us to this initiative to donate all online merch sales until July 25th to
www.naacp.org
"
Ever since their inception in 2005, Portland's Red Fang have strived to write heavy, catchy music underlaid with subtle complexities – they soon began appearing at festivals including FYF, Fun Fun Fun Fest, Sasquatch Fest, and more. Additionally, Red Fang have gained renown for their inventive comedic music videos directed by Whitey MConnaughy, several of which have become viral hits. Their last release, Only Ghosts, consists of 10 tracks of the band's signature, high-impact, hook-filled, hard rock. With an eye towards the future, Red Fangs promises 2021 to bring a slew of surprises. Fans can expect the band to deliver their signature efforts towards making it heavy making it loud.
The ongoing Knotfest.com Concert Streaming Series has already treated fans to sets from Slipknot, Lamb Of God, Megadeth, Trivium, Behemoth, Amon Amarth, Anthrax, Kreator, King Diamond, Carnifex and Suffocation, Suicide Silence and In Flames all of which have raised funds donated to COVID-19 relief charities
The many Knotfest events worldwide – Knotfest Festivals, Knotfest Roadshow Tours, and Knotfest At Sea – have one purpose, which is to celebrate our community of loud music, art, and culture – together. When we are unable to physically come together to do this, for the sake of the common health and safety of all – Knotfest is keeping the celebration going with these weekly live performances.
Slipknot and Knotfest welcome ALL in the heavy metal community to these events. We hope you enjoy.
In the words of Corey Taylor: Take care of yourselves, and take care of each other.