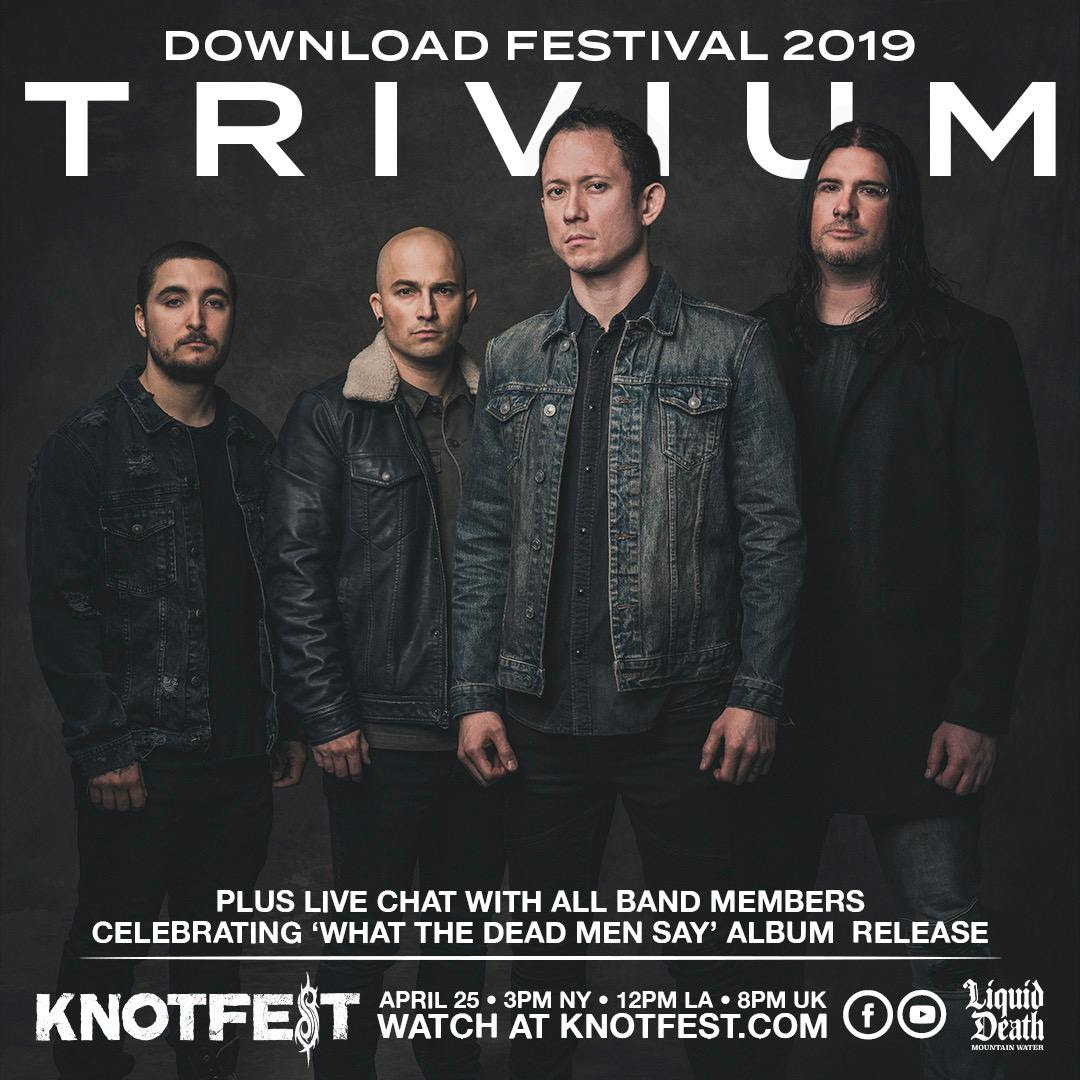 TRIVIUM'S 2019 DOWNLOAD FESTIVAL SET
Airing Saturday, April 25 at 8pm BST/ 3pm EDT / 12pm PDT
Broadcast To Include Special Video Intro From Matt Heafy And Live Chat With The Full Band Throughout Broadcast
New Album 'What The Dead Men Say' Out This Friday, April 24th
New Video For 'Bleed Into Me' Released
Knotfest.com Raised $35,000 For COVID-19 Relief Charities
THURSDAY, APRIL 23rd- This week's addition to the weekly series of live performances being streamed on
KNOTFEST.COM
and presented by Liquid Death Mountain Water,
will be
Trivium's
ferocious set from last year's
Download Festival
.
This week's broadcast will air on Saturday April 25th at 8pm BST/ 3pm EDT / 12pm PDT and will feature a special video intro from Trivium frontman, Matt Heafy and a live chat with Trivium bassist, Paolo Gregoletto with the other members of the band joining the chat from their own accounts.
Grammy-nominated band TRIVIUM — Matt Heafy [vocals, guitar], Corey Beaulieu [guitar], Paolo Gregoletto [bass], and Alex Bent [drums] — will release their ninth full length, What The Dead Men Say, through Roadrunner Records on April 24. The album, which was produced by Trivium and Josh Wilbur, is available for pre-order
here
. Previously, Trivium shared a video for the first single "
Catastrophist
" and
the title track.
The band also recently dropped "
Amongst The Shadows & The Stones,
" as well as brand new track released yesterday,
'Bleed Into Me'
(watch below).
In addition to the 2019 Download Festival performance stream on Knotfest.com, Trivium are also embarking on a series of release week events. On the Friday, April 24 release date, Heafy will do a full album playthrough on his massively popular
Twitch channel
at 3pm ET. Monday, April 27, Trivium will host
a virtual in-store
, livestreaming at 3PM ET at
www.trivium.org
.
Fans can pre-order a CD copy of What The Dead Men Say
here
and have it personalized by the band, who will be signing copies of the album live during the virtual event. Wednesday, April 29 at 3pm ET, Trivium and producer Josh Wilbur will engage in a Q&A session that will broadcast on the band's
Facebook
and
YouTube
.
Lastly, on Thursday, April 30 at 3pm ET, Trivium's headline show at the Brixton Academy in the UK from 2018 will broadcast on the band's YouTube channel. The band will be chatting with fans in the comments.
KNOTFEST.COM
has already treated fans to sets from Slipknot, Lamb Of God, Megadeth, and Behemoth all of which have featured band member participation in the comments section during the broadcast and the release of special edition merch items with a portion of profits going to COVID-19 relief charities.
SLIPKNOT and the KNOTFEST team would like to extend their warmest thanks to everyone who has joined the live streams, chatted with the artists and ordered merchandise. Through the support of our community, Knotfest.com fundraising efforts have raised over $35,000 so far. The KNOTFEST community has proved, once again, that it is more than a fanbase, it's a family.
The many KNOTFEST events worldwide – KNOTFEST Festivals, KNOTFEST Roadshow Tours, and KNOTFEST At Sea – have one purpose, which is to celebrate our community of loud music, art, and culture – together. When we are unable to physically come together to do this, for the sake of the common health and safety of all – KNOTFEST is keeping the celebration going with these weekly live performances.
SLIPKNOT and KNOTFEST welcome ALL in the heavy metal community to these events. We hope you enjoy.
In the words of Corey Taylor: Take care of yourselves, and take care of each other.