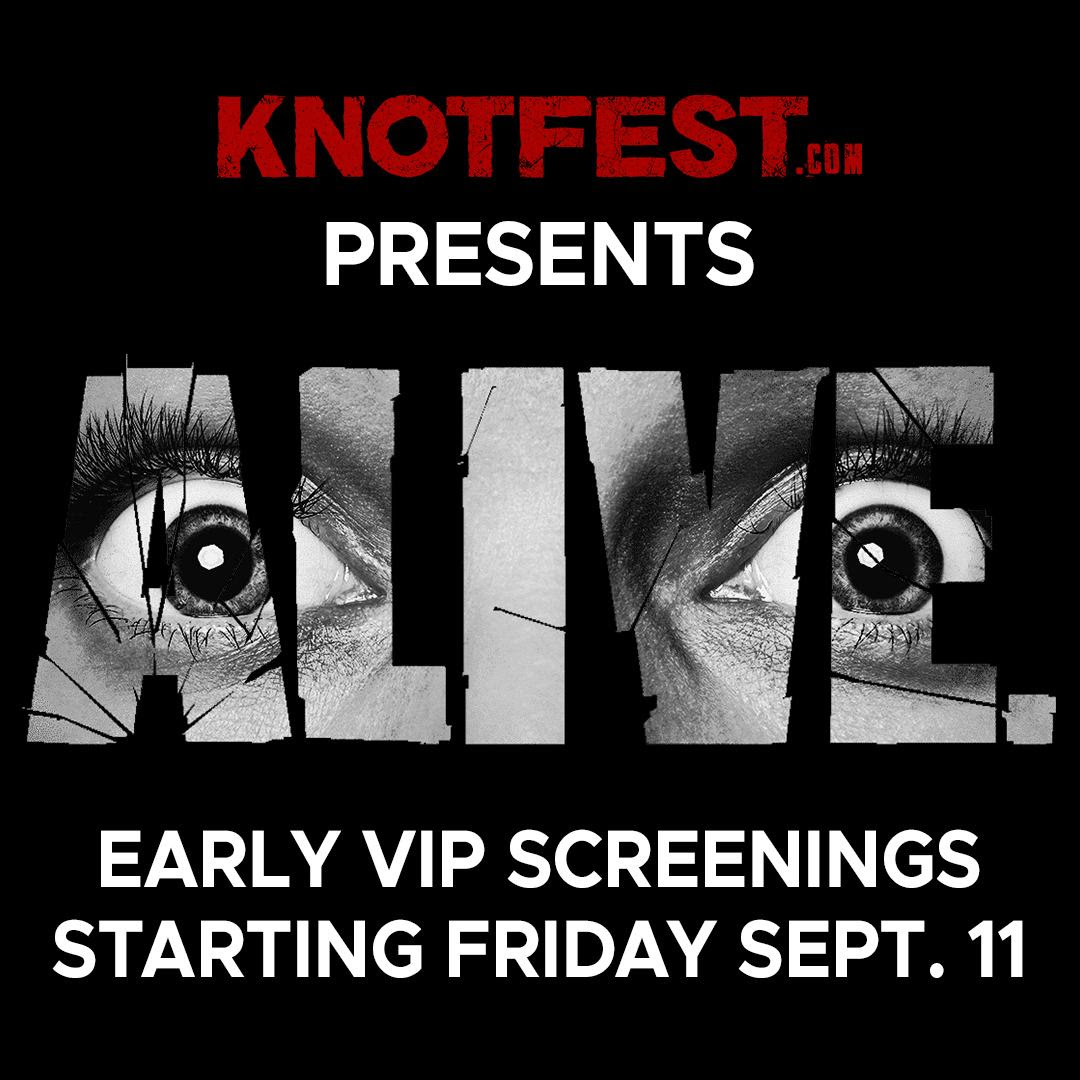 ALIVE
Alternative Trailer Scored by Slipknot's M. Shawn Crahan
Released Today
Knotfest.Com To Host Live Streamed Q&A Moderated By Ryan J Downey Featuring The Cast And Writers
Thursday, September 17th, 2020
New Partnership Between Knotfest.Com And Cranked Up Films To Highlight Content And Talent That Celebrates Rock, Metal And Genre Films
Tuesday, September 1st, 2020 – Knotfest.com have announced today that they have entered partnered with Cranked Up Films, specialists in genre-leaning films including horror, grounded sci-fi and speculative fiction. Together Knotfest.com and Cranked Up Films will highlight content and talent that aligns with the interests of the considerable Knotfest.com audience, giving fans exclusive first looks at some of the best, upcoming releases.
To kick off the partnership, Knotfest.com is proud to announce that it will be offering fans exclusive early access to the hotly anticipated, award winning horror flick, Alive., as exclusive, advance screenings run on Knotfest.com from September 11th – 18th. Fans can pre-order the movie by clicking
here
and watch the special, alternative trailer scored by Slipknot's very own M. Shawn Crahan
here
or by clicking on the image below.
To take fans even further inside the movie, Knotfest.com will be hosting a very special live stream Q&A on Thursday, September 17th. Hosted by Ryan J Downey, the panel will feature stars Angus Macfadyen, Camille Stopps and more to be announced and will give fans the opportunity to submit their own questions to the guests about the movie.
Alive. is directed by Rob Grant, who was awarded "Best Director" at both HorrorHaus Film Festival and New York City Horror Film Festival for the feature. The film's additional honors include Austin Film Festival's Audience Award, "Best Feature Film" at Atlanta Horror Film Festival and "Best Thriller Feature Film" from Shriekfest, among others. The script is the feature film debut for writers Chuck McCue and Jules Vincent. McCue and Vincent also served as Producers alongside Lars Lehmann (Knuckleball) and Michael Peterson (Bloodthirsty).
In the chilling tale, a severely injured man (Thomas Cocquerel) and woman (Camille Stopps) awaken in an abandoned sanatorium with no memory of who they are or what has happened. A sadistic caretaker (Angus Macfadyen) discourages their questions and doles out punishments whenever they refuse to cooperate or try to escape. When they finally make their escape to freedom, they discover the answers to who they are – revealing even greater horror.
Knotfest.com is the fully elevated experience the heavy culture fan has been seeking. Launched in May 2020, Knotfest has evolved from the world's largest rock festival brand into the premier heavy culture media hub. A celebration of loud music, art + culture
Knotfest.com
is the first truly global media site that encompasses the entire world of culture. Knotfest spans the full culture experience offering the complete destination for heavy culture fans to connect. Just as the ever-expanding portfolio of global Knotfest festival events have, Knotfest.com is reaching new fans across the world through high end content, exclusive series, innovative fan integration, and vast, cutting-edge lifestyle coverage not embraced anywhere else.