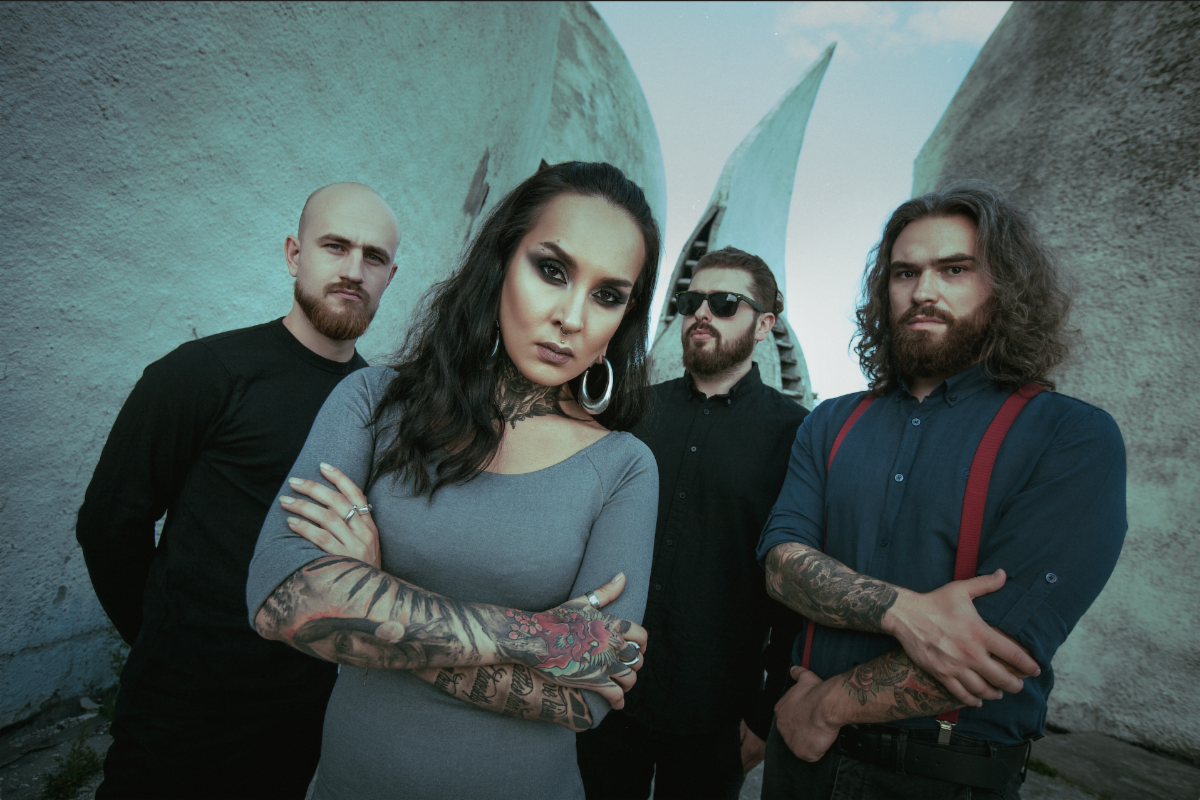 CONCERT STREAMING SERIES TO BROADCAST LIVE SHOWS FROM
JINJER
LIVE IN MELBOURNE 2020
Thursday, July 9th At 2pm PT / 5pm ET / 10pm BST / 11 pm CET
&
JUDAS PRIEST
LIVE FROM WACKEN 2015
Friday, July 17th At 12pm PST / 3pm EST / 8pm GMT/ 9pm CET
Monday, July 6th, 2020 – Knotfest.com has revealed the next two installments of it's weekly Concert Streaming Series. First up will be progressive, groove metal wrecking machine, Jinjer, who will be streaming their show from Melboune in 2020 on Thursday, July 9th at 2pm PT / 5pm ET / 10pm BST / 11 pm CET.
Following this, on Friday July 17th, will be none other than the legendary metal gods, Judas Priest, streaming their jaw-dropping performance from Wacken 2015 at 12pm PST / 3pm EST / 8pm GMT/ 9pm CET. Catch all the action over on
Knotfest.com
In less than 10 years, the Ukrainian four-piece known as Jinjer have carved their very own place in the Heavy Metal landscape. Hailing from Donetsk, this musical oddity formed in 2009 but consider the official start of the band with the addition of the incredible vocalist and Femme Fatale Tatiana Shmailyuk in 2010. The band labored intensively and honed their sound in practice rooms and local stages relentlessly, culminating in their now cult first album release Inhale, Don't Breathe in 2012. The following year Jinjer were nominated and won Best Ukrainian Metal Band. They would be awarded this prize again a few years later.
In October 2019 Jinjer turned on the heat even more with the release of their fiercest release to date: Macro. Once again written and recorded between non-stop touring and produced by Max Morton, Macro's sheer intensity and straight up technical brilliance propelled them to a whole new level in the metal scene, spawning six singles to date and gaining Jinjer not only millions of views but more importantly massive respect by fans and peers alike. By following no other rule book other than their own, Jinjer continue to be one of the busiest, most talented and exciting bands today.
Be sure to tune in to Jinjer's stream of their full 2020 Melbourne show on
Knotfest.com
on Thursday, July 9th and check out their merch store
here
Judas Priest's full-length live concert video Battle Cry features the legendary heavy metal band's performance from the 2015 Wacken Festival, where Judas Priest let loose this jaw-dropping show for 85,000 people in the middle of a tremendous string of shows following the release of 2014's Redeemer Of Souls.
What makes the show's track listing so appealing is it balances new classics ("Dragonaut," "Halls of Valhalla," "Redeemer of Souls") along with headbanging classics ("Metal Gods," "Electric Eye," "You've Got Another Thing Coming"), as well as key album tracks from yesteryear ("Devil's Child," "Beyond the Realms of Death," "Jawbreaker").
Originally formed during the early '70s in Birmingham, England, Priest is responsible for offering metal fans worldwide some of the genre's most influential and landmark albums (1980's British Steel,1982's Screaming For Vengeance, 1990's Painkiller etc.), while helping spread metal music to audiences not normally associated with the genre (Live Aid in 1985, and a surprise appearance on American Idol in 2011), and helping popularize the now instantly recognizable 'studs and leather' look. For decades, Judas Priest has been one of the greatest live bands in the entire heavy metal genre. And as evidenced by Battle Cry, Priest rock harder and more ferociously than ever.
Knotfest.com
will be streaming this incredible performance on Friday, July 17th. You can pick up some awesome Judas Priest merch to celebrate from
JudasPriest.com
The ongoing Knotfest.com Concert Streaming Series has already treated fans to sets from Slipknot, Lamb Of God, Megadeth, Trivium, Behemoth, Amon Amarth, Anthrax, Kreator, King Diamond, Carnifex and Suffocation, Suicide Silence and In Flames all of which have raised funds donated to COVID-19 relief charities
The many Knotfest events worldwide – Knotfest Festivals, Knotfest Roadshow Tours, and Knotfest At Sea – have one purpose, which is to celebrate our community of loud music, art, and culture – together. When we are unable to physically come together to do this, for the sake of the common health and safety of all – Knotfest is keeping the celebration going with these weekly live performances.
Slipknot and Knotfest welcome ALL in the heavy metal community to these events. We hope you enjoy.
In the words of Corey Taylor: Take care of yourselves, and take care of each other.