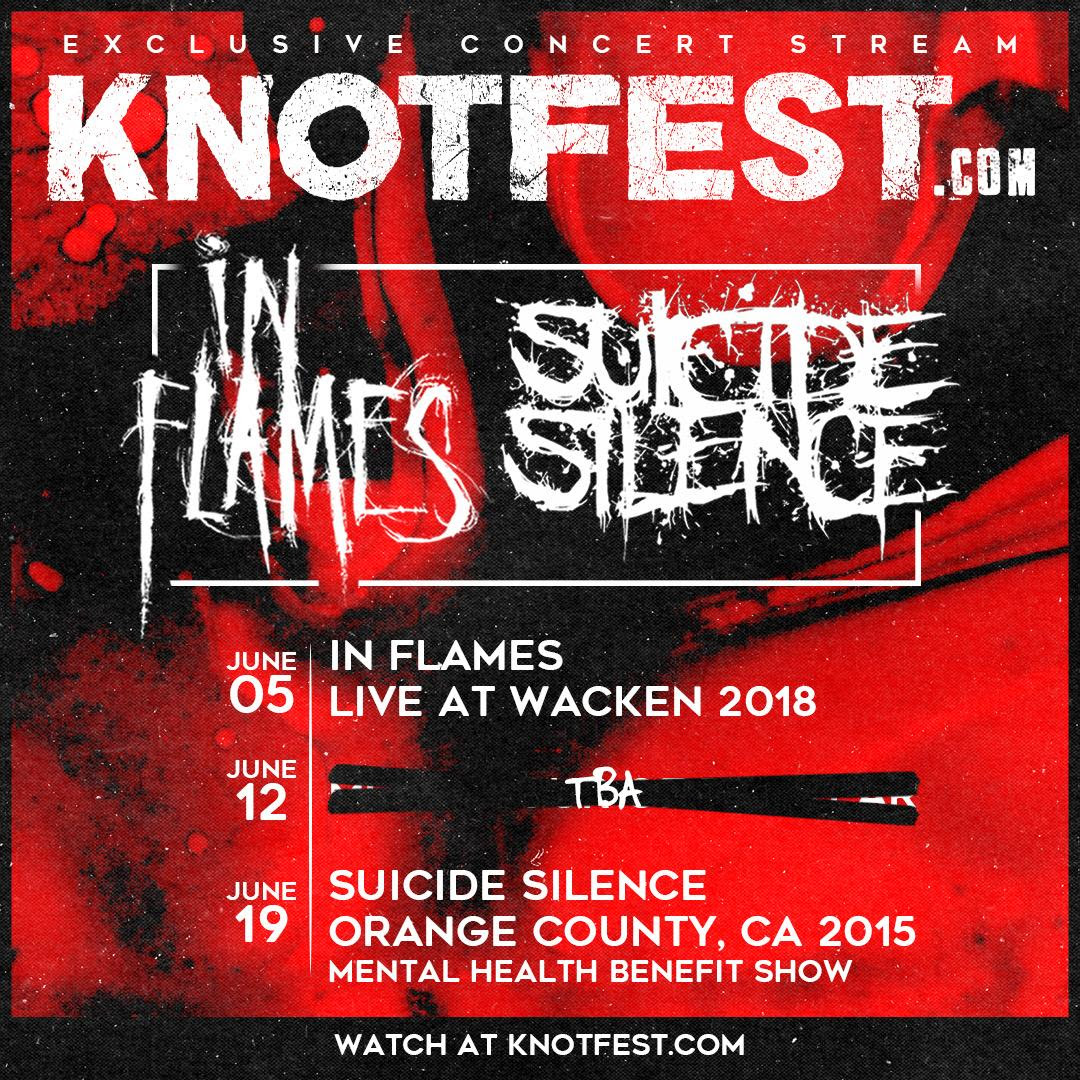 FEATURING PERFORMANCES FROM
IN FLAMES, SUICIDE SILENCE AND A SPECIAL FESTIVAL STREAMING EVENT TBA
Wednesday, June 3rd, 2020 – Knotfest.com have announced the schedule for the next 3 weeks of their enormously popular concert streaming series. Beginning this Friday, June 5th at 11am PST/ 2pm EST / 8pm CET fans will be able to catch an exclusive live stream from Swedish metallers, In Flames with their full headline set from Wacken Festival 2018. The following Friday, June 12th will see a special, still to be announced festival streaming event and on Friday, June 19th at 2pm PST / 5pm EST, 11pm CET, Knotfest.com will air the full headline set from Suicide Silence's special 2015 benefit show in aid of Mental Health America. recorded at The Observatory in Santa Ana. Both In Flames and Suicide Silence shows will be hosted by Beez and feature exclusive interviews.
Knotfest.com Concert Series schedule below:
FRIDAY, JUNE 5th | 11am PST/ 2pm EST / 8pm CET
IN FLAMES, LIVE FROM WACKEN 2018
FRIDAY, JUNE 12th | TBA
SPECIAL FESTIVAL STREAMING EVENT
FRIDAY, JUNE 19th | 2pm PST / 5pm EST / 11pm CET
SUICIDE SILENCE, 2015 BENEFIT FOR MENTAL HEALTH AMERICA
Sweden's leading metal band has never stopped moving forward during the more than 20 years they've been performing. Earlier this week, In Flames teased the return of their breakthrough album "Clayman" for its 20th anniversary (watch teaser below). During the stream, you can purchase an exclusive shirt from the Clayman vault during a 72 hour pop-up.
The melodic death metal of the band's early days has since evolved into a unique expression, manifested in 14 albums like A Sense of Purpose, Sounds of a Playground Fading, Siren Charms and their latest release, I, The Mask recorded in Los Angeles with multi Grammy nominated producer, Howard Benson. 2019's I, The Mask charted #1 in Sweden and Austria, #2 in Germany and #1 in US Top Rock and Metal Albums. In Flames is a band that fans around the world can rely on, inspiring their fans, the Jesterheads, to live by the phrase "In Flames We Trust".
Suicide Silence are the sound of resilience and perseverance. UK tastemaker Kerrang! called the band "pioneers" and "groundbreakers" who've made "some of extreme music's most loved albums in recent years." The Southern California heavy metal institution defines and defies subgenre classification, ushering in and popularizing a brand-new strain of "deathcore" championed by fresh generations of metalheads, while maintaining reverence for traditional death metal, and punk rock rule breaking. Their live show is a visceral, mind-warping experience that demolishes the separation of band and audience. As evidenced defiantly and definitively on their latest album, Become the Hunter, the best art summons its strength from authentic life experiences. Many bands pay lip service to the idea of overcoming the odds, but few live it as triumphantly as Suicide Silence.
Today, the band launches a new "Zero Tolerance" shirt in which 100% of proceeds will be donated to
Campaign Zero
, an organization that analyzes policing practices across the country and provides research & data to organizers & policymakers nationwide in their efforts to identify effective solutions to end police violence. Frontman, Eddie Hermida says
"While originally organized as a benefit for Mental Health America, we feel it's necessary to repurpose this with an overall message of "Peace, Love & Respect" as we stream this performance in its entirety for the first time ever in cooperation with the great folks at Knotfest"
Suicide Silence recently announced their Virtual World Tour featuring unique sets, exclusive merchandise & custom experiences in the various markets. Each show will showcase a professionally filmed multi-camera live set along with an extensive post-performance Q&A. Every market will have it's ticket purchase geo-gated within a reasonable radius so that only those in that general area can view it's particular stream. Fans will be able to participate in a live chat with each other & the band throughout the experience. All ticket purchasers will have access to an Exclusive Merch Collection that includes an official tour shirt specifically for their market as well as a number of other items that will never be sold elsewhere.
The streamed performances will go on sale several weeks or months in advance whereas fans will be able to communicate their set list preferences & make other special requests leading up to their show. Several dates are being finalized with Los Angeles & New York expected to kick things off some time in June.
For a taste of what to expect when Knotfest.com streams their performance on June 19th, watch 'Bludgeoned To Death' taken from the special benefit show at The Observatory in Santa Ana.
KNOTFEST.COM
announced last week that it was expanding to become a global content hub for fans of rock and metal culture. With this announcement came the launch of several new, exclusive series –
The Electric Theatre Hosted by Clown
,
Mosh Talks Hosted by Beez
,
The Deep Dive Hosted by Ryan J Downey
,
The Downbeat Hosted by Craig Reynolds
and the ongoing Concert Streaming series that has already treated fans to sets from Slipknot, Lamb Of God, Megadeth, Trivium, Behemoth, Amon Amarth, Anthrax, Kreator and King Diamond, Carnifex and Suffocation all of which have raised funds donated to COVID-19 relief charities
The many KNOTFEST events worldwide – KNOTFEST Festivals, KNOTFEST Roadshow Tours, and KNOTFEST At Sea – have one purpose, which is to celebrate our community of loud music, art, and culture – together. When we are unable to physically come together to do this, for the sake of the common health and safety of all – KNOTFEST is keeping the celebration going with these weekly live performances.
SLIPKNOT and KNOTFEST welcome ALL in the heavy metal community to these events. We hope you enjoy.
In the words of Corey Taylor: Take care of yourselves, and take care of each other.