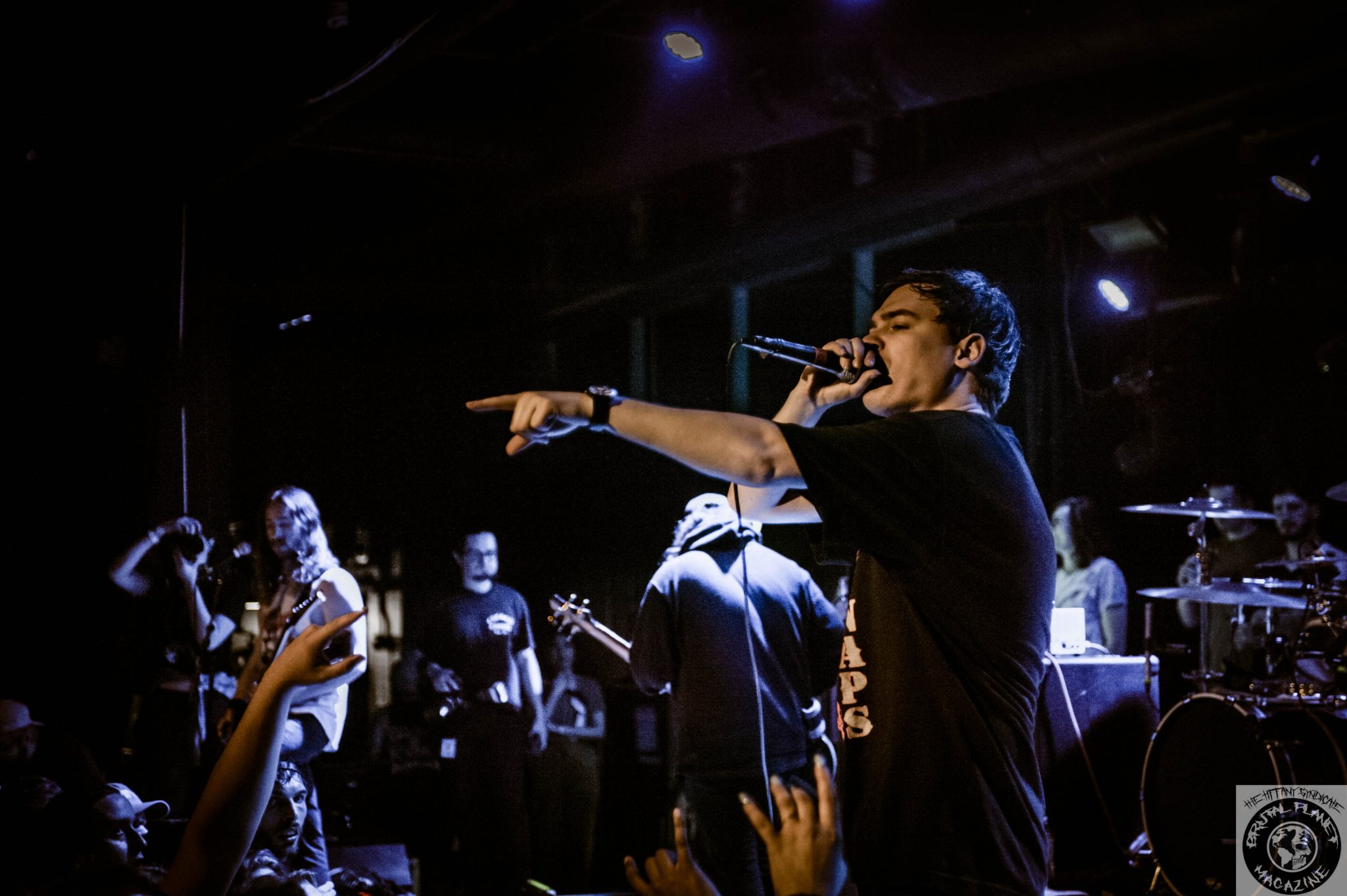 Baltimore Soundstage was the place to be on April 19th, 2019, if you are a metal/hardcore/metalcore fan.
Knocked Loose
was on the event calendar and that was all the convincing I needed to go. 
My colleague and I decided to catch their show as fans, in Lancaster, PA at The Chameleon Club a few nights prior to the Baltimore show.
After what we experienced that night, we were pretty excited to be catching it again at Baltimore Soundstage. Oh! it wasn't
just
Knocked Loose playing. The Acacia Strain came on right before KL and before that, we saw Harms Way, Sanction and Higher Power. If that's not a stacked lineup, then call me crazy.
Knocked Loose has come a long way from the band I saw at The Souled Out Fest in Poughkeepsie, NY in 2016. Even then they could draw a crowd. Even then they could set a room off into hysteria.
Fast forward an album and several EP's later, including their most recent release called
Mistakes Like Fractures
.
They are the ones headlining and whom everyone is talking about. After seeing this tour for the second time, its no wonder they've moved up the ranks so fast.
The night kicked off with the hardcore hitters Higher Power. Known for stirring rooms into a frenzy. Same went for Long Island natives Sanction. Folks came from other counties to see them play. I had seen them when they opened up for Thy Art Is Murder last year, so I already knew they were about that mosh-pit life. And Harms Way, despite them having all their gear stolen after a show they did in Vegas, nothing stood in their way from pulling off one hell of a set.
The Acacia Strain, is one band I've never missed an opportunity to see live. Frontman Vincent Bennett is a force to
be reckoned
with on stage. I have never seen them put on a bad show. So, seeing them twice in one week is a no-brainer. If your a metalcore fan, and love the heavier side of the genre, TAS is your go-to. Once you go TAS, you never go back. One after the other, each band fired sounded off like rounds of ammunition. Causing sweet pandemonium.
Corner to corner, front to back, the house shook down to its foundation.
The atmosphere was palpable with raw energy and anticipation, as each band got up and owned their moment
.
But, the night belonged to Knocked Loose, who are notorious for triggering insane mosh-pits
.
Before the show, ticket holders rallied together in protest of having a barricade around the stage
. In the end, show-goers got what they wanted. The barricade
was removed
, giving full access to the stage. Knocked Loose came out, and like a loaded 50 cal, blew a hole in the sound barrier. Hundreds wreaking havoc below. Bodies thrashed and limbs flew like hot shrapnel. Crowdsurfers crawled over heads, on their way to jump up on the stage. Only to fall back into the fray and do it all again. This beautiful madness went on for 13 songs and an encore. Like "All My Friends," "Damned Earth" and "Billy No Mates." Or songs like, "A Fetish," "Last Words" and "Rain." These aren't your two-stepping kind-of-tunes. These were your neck-snapping, spin kicking, floor punching kind-of-tunes. "Counting Worms" was the perfect encore.
Frontman Bryan Garris and the rest of the band came back out, giving the house its wish for one more song. When the first few notes of "Counting Worms" dropped, so did everyones inhibitions. What happened next, looked like a scene taken right from an episode of Game Of Thrones. When the whitewalkers sent the dead to pouring over the walls at The Massacre at Hardhome. So did the masses, as they climbed over each other to stage dive back off. The pit below spit its carnage out like it was alive. It was, pure insanity.
Knocked Loose came with all intent to leave their mark on Baltimore. I would say, more like branded every soul alive who bared witness. With, The Acacia Strain, Harms Way and Sanction to lead the charge, this tour was one for the books. If you haven't had a chance to check any of these bands out, you may want to now. If they happen to be coming to your town, for this tour or any another, check them all out. In the meantime follow them on social media so you can be first to know the who, what, where and when. The why? that's easy. They are all so sick.
Check out these live photos of Knocked Loose @ Baltimore Soundstage
Knocked Loose: Mistakes Like Fractures