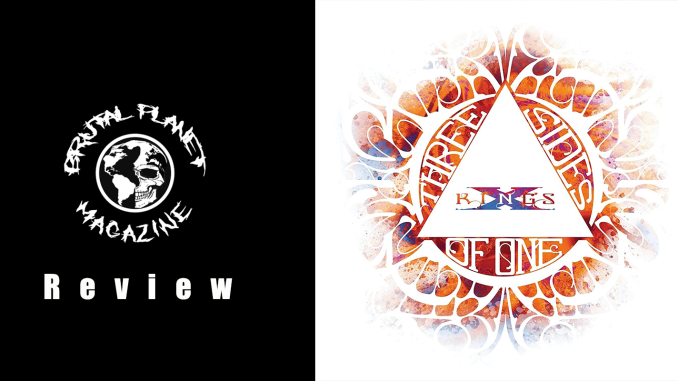 After a 14 year pause, elder statesman rockers Kings X have released their new album, Three Sides of One. Joining with InsideOut Music, who helped pull these accomplished artists out of a musical gully where individual side projects and health scares left little drive to record they have put together a very satisfying album that deserves to garner mass respect. The trio of DUg Pinnick on vocals and bass, Jerry Gaskill playing drums and Ty Tabor on guitar still shines brightly after playing together more than forty years, in this loud, hard-pounding prog-rock opus with a funky groove and soulful lyrics. The result of their mutual admiration and listening to each other's input throughout is clearly audible and a lot of fun at that.
"Let It Rain" gets the compilation off to a hard-rocking start with grunge-like undertones. Next is "Flood Pt. 1", with amplitude to match any power-rock trio taking it to full throttle. "Nothing But The Truth" slows it back down a bit with its soft harmonizing vocals. The great hook of "Give It Up" is sure to make a killer highlight in a live performance. With its strong chords and ethereal vocals, "All God's Children" can't help but blow you away. The next track, "Take The Time", takes a melancholy turn with stringed instruments to polish its finish. A few more great rocking songs, "Festival", "Swipe Up" and "Holidays" are all great too – not tumultuous, just plain loud! And finally, "Watcher", "She Called Me Home" and Every Everywhere" already have received a giant stamp of approval from Brutal Planet Magazine.
These gentleman have put in lifetimes creating hard rock and roll. They continue to play, write songs and harmonize together as they have since 1979. Three Sides of One is a testament to their strong bond forged in shared love of creating and playing this music through many decades. This material confirms that they are still able to keep current with the times and wow the fans with every song. This is a must-have album for any fan of the genre available online or in stores since it was released September 2nd.