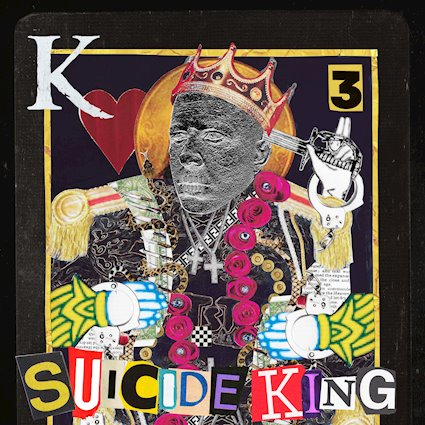 King 810 first came on my radar after their 2014 release of Memoirs of a Murderer. The high octane drive and guttural lyrics of "Killem All" and "Fat Around the Heart" created my love affair with the Flint, Michigan natives. Their music became the soundtrack to everything from my weightlifting routine to a cure-all on a bad day.
Their lyrics continue to be a profound glimpse at the reality that crumbling town's face; the underbelly. GM left and the town fell, long before the water crisis made national news. Despite the rampant setbacks of a town dubbed Murdertown, Flint's music scene remains a resilient means of escape.
Suicide King is the first release of new music since the 2017 EP, Queen. January 25th delivered the third, full length album as a self-release. King 810's video for "Heartbeats" captured the dark intensity recognized by fans.
David Gunn's vocals continue to be a strong focal point of the album. "What's Gotten into Me" spits out multiple examples of duality in life. The lines hit an interesting and new sound. The varied experimentation throughout the album with music and vocals turn Suicide King from an album into art.
"Wade In The Water" (yes, it does include sampling of the gospel song of the same title) is haunting. The hushed tones reach into you as you listen and you become absorbed. "Sing Me to Sleep" closes out Suicide King with a twisted and hypnotic version of a dark lullaby.
King 810 spent this past December touring the UK with Puppy, while planning for a US tour. If you're in need of a dose of David Gunn in the meantime, check out their merch for a copy of his book, "Summertime in Murdertown: How I Survived Where The Best Die ". His self published memoirs of growing up in Flint. I've already pre-ordered my copy.