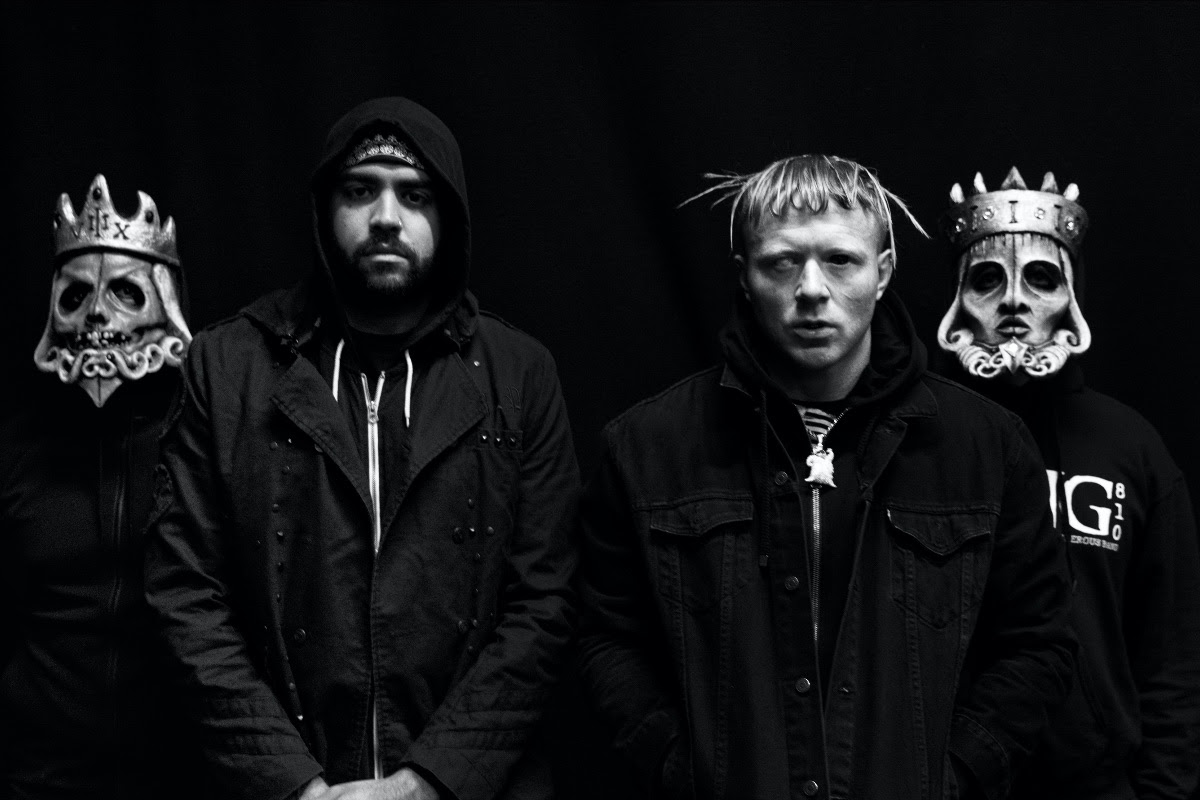 KING 810
have shared the video for the brand new song "
Hellhounds
." Watch + listen
here
and
here
.
The song and accompanying visual are as gripping as they are unnerving — as fans and beyond have come to expect from the Flint, Michigan band.
"Drugs, gunz, depression, violence, girls; so many songs about the same tired trash shit. We gotta throw these things away this year i.e. release them to the public," comments frontman David Gunn about the track.
More transmissions from KING 810 are on deck for later this year.
The band will return to the road this spring to tour in support of Combichrist. All dates are below.
KING 810 ON TOUR:
WITH COMBICHRIST:
4/3 — Winter Park, FL — The Haven
4/4 — Tampa, FL — Pegasus Lounge
4/5 — West Palm Beach, FL — Respectable Street
4/8 — Houston, TX — Scout Bar
4/9 — Fort Worth, TX — The Rail Club
4/10 — Abilene, TX — Homers
4/11 — Austin, TX — Come And Take It Live
4/12 — Oklahoma City, OK — 89th Street
4/14 — Lincoln, NE — The Royal Grove
4/15 — Iowa City, IA — Wildwood Saloon
4/16 — Joliet, IL — The Forge
4/17 — Hobart, IN — The Art Theater
4/18 — Mansfield, OH — The Electric Co.
4/19 — Reading, PA — Reverb
4/21 — Louisville, KY — Diamond Pub
4/22 — ST. Louis, Mo — Red Flag
4/23 — Madison, WI — The Annex
4/24 — Cincinnati, OH — Riverfront Live
4/25 — Spartanburg, SC — Ground Zero
4/26 — Atlanta, GA — The Masquerade
ABOUT KING 810:
KING 810's third full length, SUICIDE KING, arrived in January 2019 and featured the fan favorite tracks "Heartbeats" and "A Million Dollars." The self-released opus followed LA PETITE MORT OR A CONVERSATION WITH GOD, which included the singles "Alpha & Omega" and "I Ain't Goin Back Again." Described by Metal Hammer as "…one of 2016's most fascinating albums," lauded by MetalSucks as "…one of the most diverse heavy music releases in recent years," and hailed by Metal Injection as "…2016's best example of what an album should be," LA PETITE MORT OR A CONVERSATION WITH GOD found KING 810 taking listeners deep into the dark heart of their hometown. Their acclaimed debut, MEMOIRS OF A MURDER, arrived in 2014 and laid the foundation fo an inspired, holistic body of work that sends ripples through the heavy music scene.