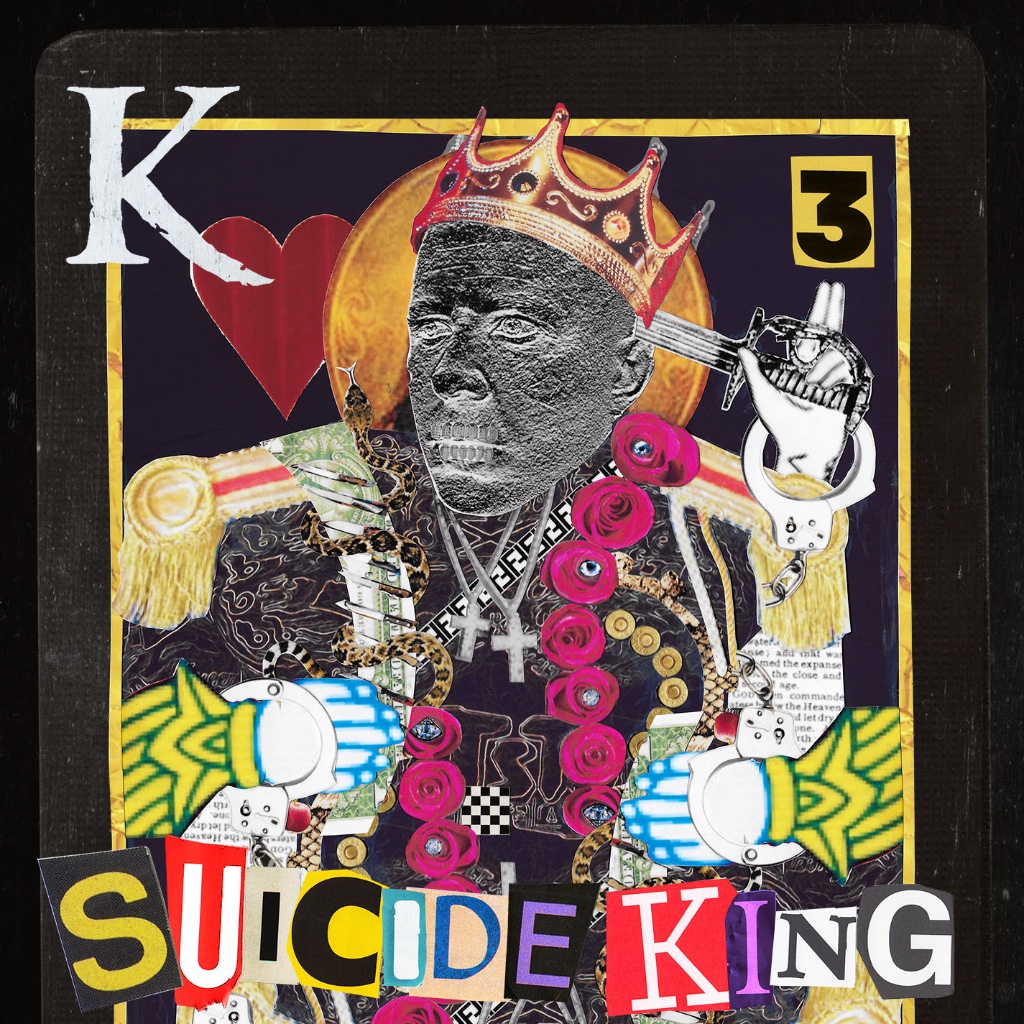 KING 810 DROP NEW SONG "A MILLION DOLLARS" — LISTEN!

NEW ALBUM SUICIDE KING OUT JANUARY 25, 2019
KING 810 have dropped their brand new song "A Million Dollars." Listen here.
The song lives on the band's upcoming third album SUICIDE KING, which arrives on January 25, 2019. The band is self-releasing the album. SUICIDE KING is available for pre-order here via exclusive merch bundles that include limited edition black smoke vinyl — all sold exclusively through the band's Big Cartel store.
SUICIDE KING was produced by KING 810's David Gunn and Josh Schroeder in the band's native Michigan.
ICYMI:
Metal Injection premiered the track "Braveheart." Listen here.
The group also shared the brand new song "Heartbeats" and its unsettling and provocative video. Watch it here.
Also available for pre-order is the first installment of Gunn's haunting memoir — SUMMERTIME IN MURDERTOWN: How I Survived Where The Best Die. The tome is being self-published and copies pre-ordered via Big Cartel will be signed. In the book, Gunn, a natural storyteller, pulls back the curtain on his hometown of Flint, painting a vivid picture like only those born and raised there can. He offers keen insight into a world that does not allow you to stop working through the struggle, urging the reader to forget backup plans. Instead, cross the bridge and burn it behind you. Give yourself no choice. Define the things you want and run toward them.
SUICIDE KING TRACK LISTING:
"Heartbeats"
"Braveheart"
"Bang Guns"
"A Million Dollars"
".45"
"What's Gotten Into Me"
"Black Rifle"
"God Is Watching"
"Wade In The Water"
"Sing Me To Sleep "
ABOUT KING 810:
KING 810's last full length, LA PETITE MORT OR A CONVERSATION WITH GOD, featured the gripping singles "Alpha & Omega" and "I Ain't Goin Back Again." Revered by Metal Hammer as "…one of 2016's most fascinating albums," lauded by MetalSucks as "…one of the most diverse heavy music releases in recent years," and hailed by Metal Injection as "…2016's best example of what an album should be," LA PETITE MORT OR A CONVERSATION WITH GOD found KING 810 taking listeners deep into the dark heart of their hometown. Far from a retread of MEMOIRS OF A MURDER, their acclaimed debut, LA PETITE MORT — translating to "The Little Death" — is an inspired, holistic body of work that marks a profound evolutionary leap for the restless and driven souls of KING 810. The title itself is a reference to the duel themes of the records: the real life violence and despair of Flint that builds the basis of frontman David Gunn's narrative and secondly, the steady desensitization and terminal closing down of the human spirit experienced when confronted with those real life conditions. Entwined around that conceptual core is an omnipresent haze of dark sexuality and desperation that provides LA PETITE MORT with some of its most unnerving moments. In his music and printed works, Gunn's voice and his words remain unforgettable because they ring true. No stranger to controversy, his voice is more vital than ever as we navigate this unpredictable and often cruel world in search of inspiration. KING 810 will release their third album, SUICIDE KING, in January 2019