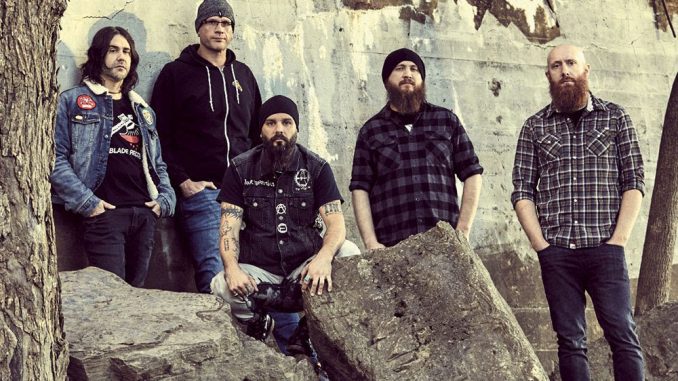 Band Shares "Know Your Enemy" – watch here:
youtu.be/6DVSN11Pg9g
On August 6, 2021, three-time Grammy-nominated hard rock heavyweights and platinum-selling band Killswitch Engage unleashed a streaming event that took fans by storm. The event took place at The Palladium in Worcester in the band's native Massachusetts, which has been the site of many iconic KsE shows throughout the band's history. The performance setlist consists of 2019's Atonement in full, along with their 2000-released, self-titled debut album in full – with some fun and unexpected surprises along the way! This special event was directed by David Brodsky and Allison Woest for MyGoodEye.
This compelling performance will be available for the first time digitally, on 2 LP, and 2 CD/BR on June 3 via Metal Blade. Pre-order here: metalblade.com/killswitchengage
Today, the band has shared the video for "Know Your Enemy." Watch it here: youtu.be/6DVSN11Pg9g
"This song speaks volumes about the state of the world, not only when I wrote the lyrics, but today, as well," says singer Jesse Leach. "It shines a light on the various protest songs we've written over the years. To me, the message is equally important as the music, and this song is no exception. And regardless of who we have become as a band, we still have our roots firmly planted in hardcore music."
Live at the Palladium Track Listing:
01. Unleashed
02. The Signal Fire
03. Us Against the World
04. The Crownless King
05. I Am Broken Too
06. As Sure as the Sun Will Rise
07. Know Your Enemy
08. Take Control
09. Ravenous
10. I Can't Be the Only One
11. Bite the Hand That Feeds
12. Temple from the Within
13. Vide Infra
14. Irreversal
15. Rusted Embrace
16. Prelude
17. Soilborn
18. Numb Sickened Eyes
19. In the Unblind
20. Just Barely Breathing
In other KsE news, the band, recognized by Forbes as one of "metal's most cherished acts," has earned another impressive accolade. Their fourth album, As Daylight Dies, released by Roadrunner Records on November 21, 2006, has been certified platinum by the RIAA. The record produced fan favorites such as "My Curse" and "The Arms of Sorrow." The band also received a platinum certification for the aforementioned single "My Curse," as well as gold certifications for 2004's The End of Heartache and the Set This World Ablaze DVD. The single "The End of Heartache" and their cover of "Holy Diver" are also certified gold.
Killswitch Engage are:
Jesse Leach: Vocals
Adam Dutkiewicz: Guitar
Joel Stroetzel: Guitar
Mike D'Antonio: Bass
Justin Foley: Drums
Follow Killswitch Engage:
https://www.facebook.com/killswitchengage
https://twitter.com/kseofficial
http://www.killswitchengage.com
https://www.instagram.com/killswitchengage
https://open.spotify.com/artist/37394IP6uhnjIpsawpMu4l
SHARE ON: