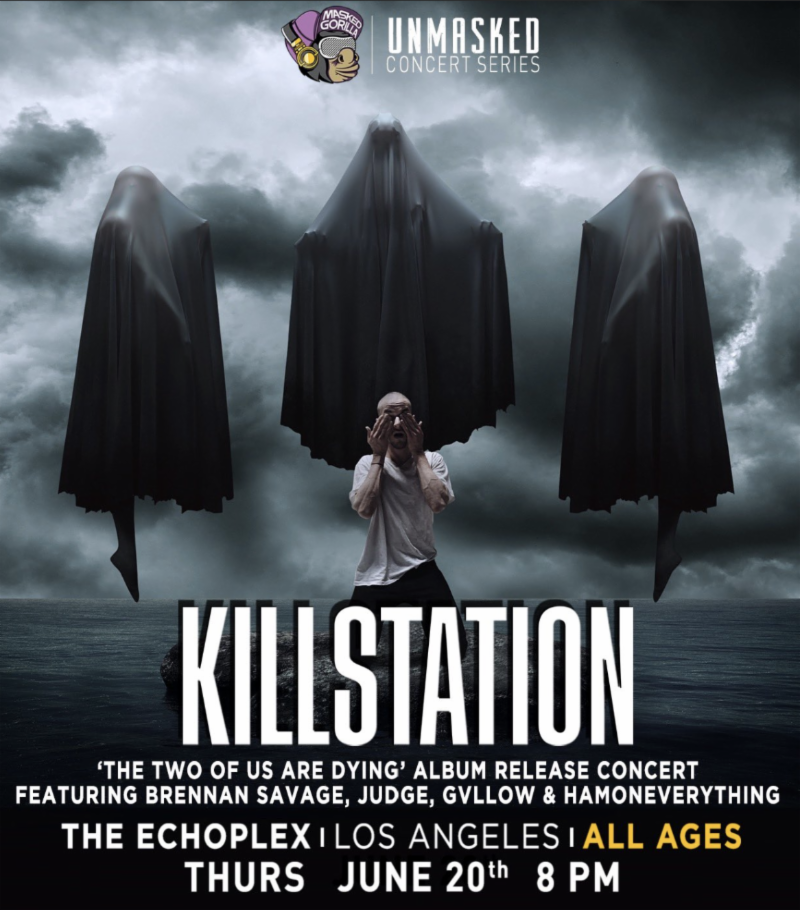 Releases Brand New Video For
'Exelsior'
Taken From New Album 'The Two Of Us Are Dying'
Album Release Show In Association with Masked Gorilla Taking Place Tomorrow at Echoplex in Los Angeles Featuring Brennan Savage, Judge, Gvllow & HamOnEverything
LOS ANGELES, CA Wednesday June 19th 2019 – Genre defying artist, KIllstation, has released a brand new video for his track 'Exelsior'. The second video to be released from his debut, full-length album 'The Two Of Us Are Dying' released last month. Watch the video
here
.
The video release comes a day prior to Killstation's hometown album release concert at the Echoplex in Los Angeles in association with The Masked Gorilla where he will be joined by Brennan Savage, Judge, Gvllow and HamOn Everything. Tickets are available from
Unmasked.LA
Killstation (aka Nolan Santana) seamlessly blends multiple musical elements into the deeply personal collection of songs that make up his brand new album 'The Two Of Us Are Dying' released May 29th. Listen
here
.
Not only did Nolan play every single instrument on his debut full-length album, he also produced, mixed and mastered the project. 'The Two Of Us Are Dying' is as honest and authentic a representation of who he is as an artist as possible.
The first beautifully disturbing video that was released from the album for track 'Sarcoma' can be viewed below.
The Two Of Us Are Dying Track Listing

1. Sarcoma

2. Premonition

3. Perplexion

4. Exotropia

5. Pareidolia

6. Exelsior

7. Manipulation

8. Orbicularis

9. Devastation

10. Distraction

11. Iota

12. Fallen Angel

13. Obsession

14. Separation

15. Ascension

16. Days Before Dying

17. Attraction

18. Division

19. Stasis

20. Singing to You, in Your Grave

21. Illusion

22. Unconditional
Killstation By Numbers
1 million+ monthly listeners on Spotify.
64 million streams on Spotify.
2.5 million streams since the album was released on May 29.
18 million YouTube views.
175, 000 YouTube subscribers.