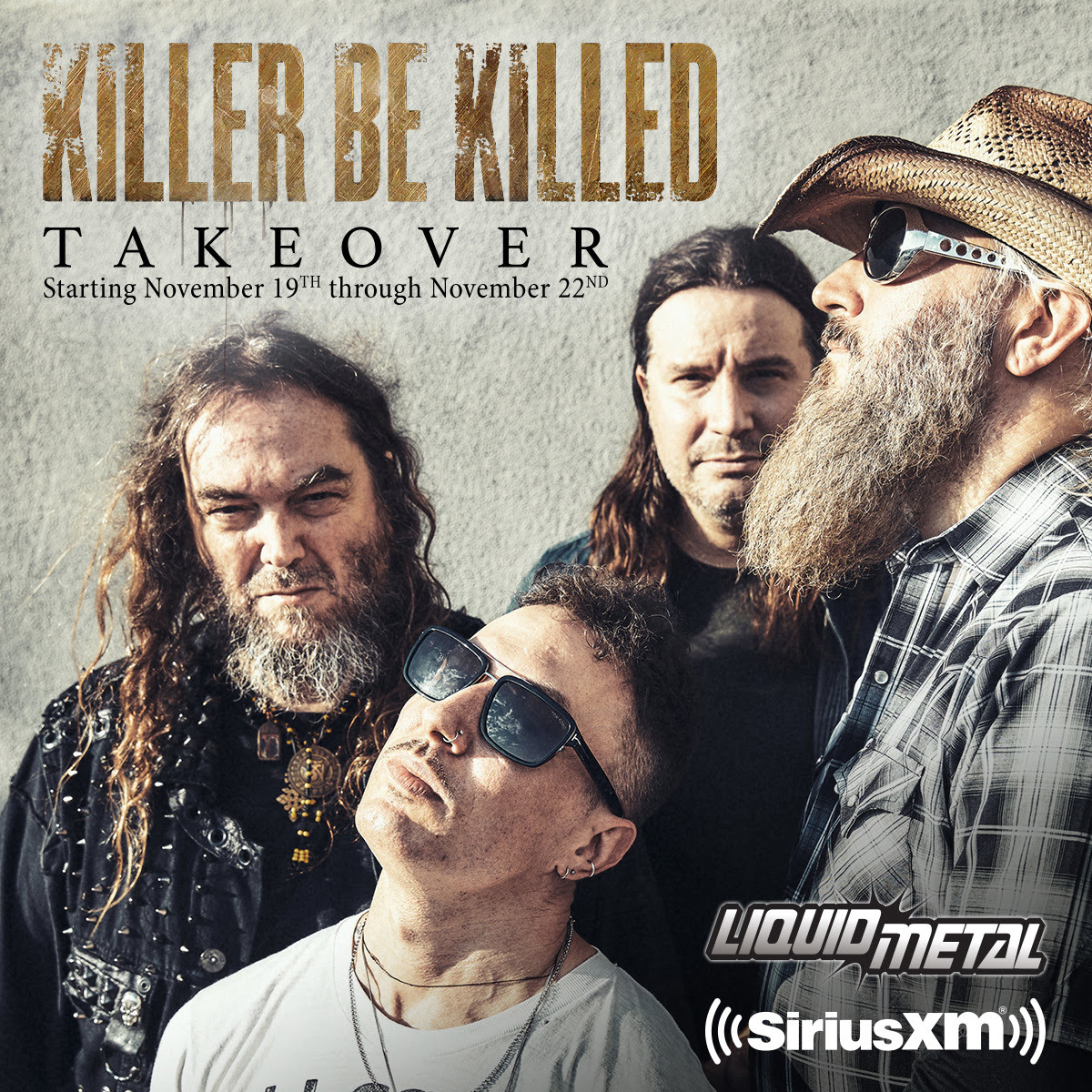 KILLER BE KILLED RELEASE ANIMATED VIDEO FOR "FROM A CROWDED WOUND" AS THE BAND'S NEW ALBUM, RELUCTANT HERO, IS RELEASED VIA NUCLEAR BLAST RECORDS

WATCH "FROM A CROWDED WOUND": https://youtu.be/GChxi4c7W4w

LISTEN TO RELUCTANT HERO NOW: http://nblast.de/KBKReluctantHero

"Killer Be Killed touts one of the strongest lineups of any heavy metal supergroup in recent memory… not surprisingly, it makes for a crushing collaboration…" – Consequence of Sound

"With their surprise second album, Max Cavalera, Greg Puciato, Troy Sanders and Ben Koller trade supergroup status for teenage enthusiasm" – Revolver

"Killer Be Killed have crafted a record which absolutely destroys" – Kerrang!

"Killer Be Killed take listeners on a pummeling journey…" – Loudwire

"The four members of Killer Be Killed put every last scrap of energy and influence they had left into their new album Reluctant Hero — and it shows. In spades." – The Pit

"It is actually near flawless… 9/10" – Wall of Sound
Nov. 20, 2020 – Killer Be Killed, who released their critically-acclaimed sophomore album, Reluctant Hero (http://nblast.de/KBKReluctantHero), today via Nuclear Blast Records, have also simultaneously unveiled an animated video for "From A Crowded Wound" (https://youtu.be/GChxi4c7W4w).

Ben Koller said of the song: "'From a Crowded Wound' is the creeping punisher on this record, a lumbering steamroller laying a trail of sleek acid slime from beginning to end." Costin Chioreanu, who has previously worked on videos for Ghost, Napalm Death and Corrosion of Conformity, created the visually stunning clip.
The band has been counting down the days to the album's release with Sirius XM Liquid Metal host Jose Mangin, with exclusive interviews and additional previews from the 11-song collection. The special programming continues through this Sunday. The musicians have also posted a series of interviews about the album, which can be viewed on the Nuclear Blast YouTube channel (Songwriting: https://youtu.be/UoxUndxPu4A, Recording: https://youtu.be/x5h-WTA2Z4k, About "Inner Calm From Outer Storms" and "Dreams Gone Bad": https://youtu.be/H34mnoVqfmU, and Album, Artwork and Vocals: https://youtu.be/PpaZXBiS0nI).

Reluctant Hero has already been met with widespread praise. Revolver and Kerrang! magazines featured the band on recent covers, Loudwire said the music is "crushing," Metal Injection claimed the songs will "rip your damn head off," Brooklyn Vegan proclaimed it "anthemic" and Consequence of Sound noted that the band is "hitting on all cylinders."

The album is available in a variety of limited edition vinyl variants, as well as on CD and a 2LP black vinyl version. Those physical offerings, as well as a companion t-shirt can be purchased here: https://www.killerbekilled.com/reluctant-hero.
Killer Be Killed is singer/guitar player Max Cavalera (Soulfly/ex-Sepultura), drummer Ben Koller (Converge/Mutoid Man), singer/guitar player Greg Puciato (The Dillinger Escape Plan/The Black Queen) and singer/bass player Troy Sanders (Mastodon/Gone is Gone). The first whispers of the metal supergroup came in 2011, with the band dubbing themselves Killer Be Killed in late 2013 and shortly thereafter announcing the 2014 release of their self-titled debut. They made their live debut the following year as part of Australia's Soundwave Festival. Metal Injection deemed the album "controlled chaos," and Loudwire said the band "has its own identity while still sounding enough like Soulfly, The Dillinger Escape Plan and Mastodon to appeal to the fan bases of each of those bands." In November of 2020, the group released their follow-up album, Reluctant Hero, to much fanfare. Gracing the covers of both Kerrang! and Revolver magazines, critics worldwide praised the 11-song album. Canadian music mag, Exclaim, said the collection "proves metal can be catchy without being stupid," U.S.-based Blabbermouth described Reluctant Hero as "impressive… and certainly atypical to what's popular in heavy music these days," Australia's Heavy Magazine summarized their praise for the album with "it's fucking amazing" and Metal Hammer declared KBK the "finest supergroup of the past decade."

# # #