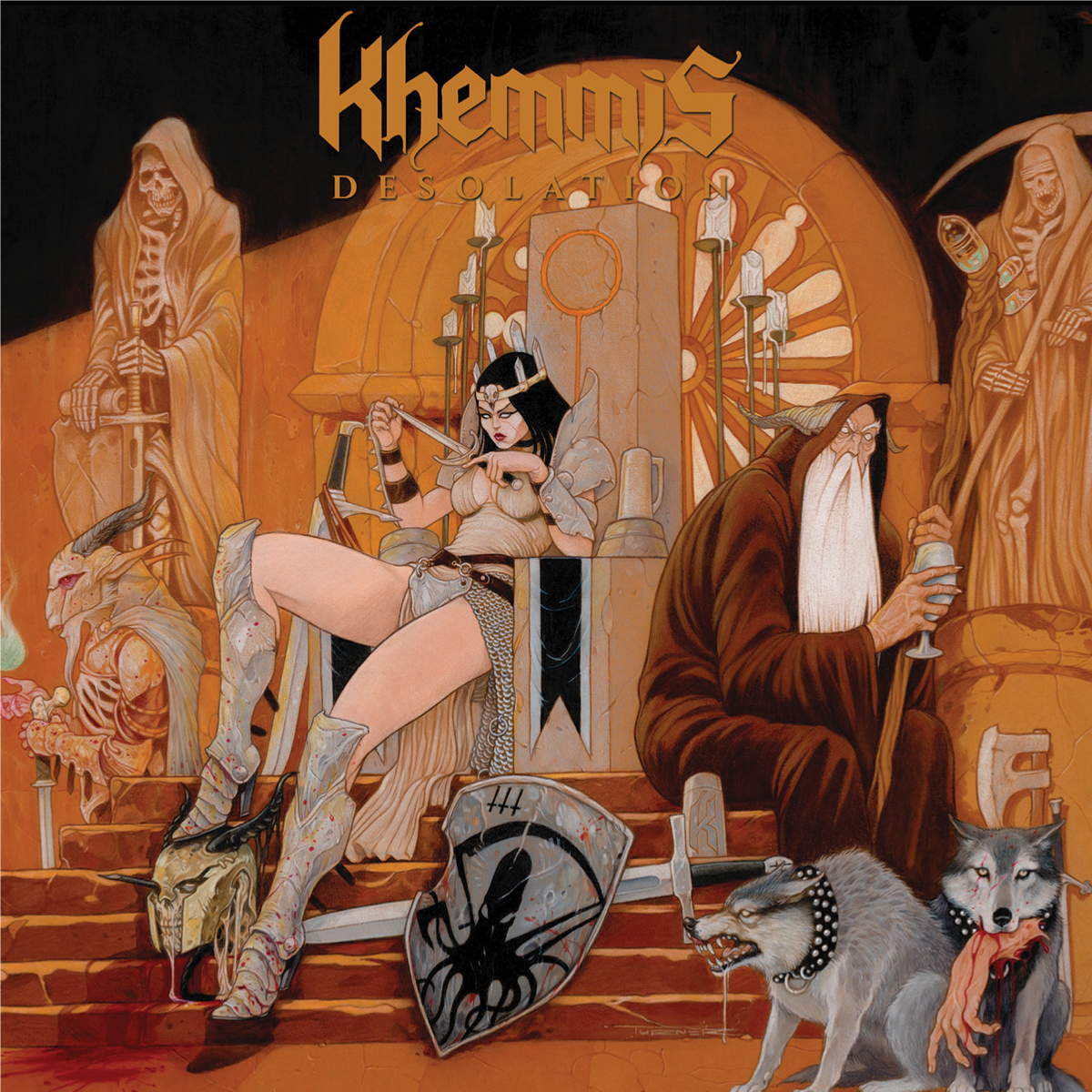 SIGN TO NUCLEAR BLAST WORLDWIDE!
Nuclear Blast are proud to announce the now worldwide signing of Denver, Colorado based doomed heavy metal quartet Khemmis. Welcome to the global family! Khemmis released their third studio album Desolation in June 2018, to rapturous praise from fans and media alike. They are currently working on new material, and are planning to tour throughout 2019.

Khemmis commented on the news: "We are honored and excited to join the Nuclear Blast roster alongside so many legendary artists. Endless thanks to Monte Conner, Mark Palmer, Yorck Eysel and the rest of the amazing team at Nuclear Blast for sharing in our vision for the future. We also send our unending gratitude to Dave Adelson of 20 Buck Spin, who not only took a chance on us when he released Absolution in 2015 but also became a true friend and brother to us over the last few years. Finally, thanks to everyone who has supported us by seeing us live, snagging a shirt, and/or picking up a CD or LP. Without all of you, none of this would be possible. We've got some very exciting announcements about tours, festivals, and new music coming soon. Cheers!"

Khemmis' passion for progressive and soulful heavy music is more evident than ever in 2018's Desolation. Though undeniably influenced by doom and classic metal, to tag the quartet with those labels doesn't do justice to what they've accomplished; a perfect representation of modern heavy metal that integrates the past in a way only possible with the faculty of hindsight. It's impossible to ignore the lengths that the four piece goes to in order to master their craft and produce a highly unique form of heavy sound. Their magnificently uplifting, yet sorrowful groovy riffs weave the listener along on an unparalleled journey. Desolation is not just the best Khemmis record to date but a testament to the quality and evolution that heavy metal is still capable of. Having worked for the third time with Dave Otero of Flatline Audio in Denver, the band and producer achieved a deep mutual understanding, able to arrive at the perfect symbiosis of song writing, arrangement, and production value.
Formed in Denver in 2012, 
Khemmis
 have released three albums to date. 2015's 
Absolution
 and 2016's 
Hunted
 painted a unique portrait; encompassing spiraling progressive doom, fuzz-toned stoner riffs, syrupy sludge and churning classic grooves. They transcended traditional doom forming elegant yet dramatic tracks, conveying their unique sense of melancholy edged with a sense of foreboding.
Their debut record, Absolution, earned the four piece outright critical praise from the underground, plus achieving them Decibel Magazine's 'Top 40 Albums of the Year' list allowing their impact to slowly start seeping into the mainstream consciousness. Hunted helped break down those final barriers in the USA, earning KHEMMIS more widespread recognition, ranging from glowing reviews at Metal Sucks, Metal Injection and Pitchfork, to earning them a spot in Rolling Stone's '20 Best Metal Albums of 2016' list and Decibel's highly sought after Album of the Year accolade.
 
With latest record Desolation, Khemmis have finally reached a more international audience, winning over hearts and minds across the globe.
Desolation
 press quotes:
"Denver's Khemmis feature two PHDs in their ranks, and make doom that's smart, forward-looking and expertly executed… Doom with brains? Take a trip to theKhemmis." KERRANG (UK)
"Denver doom merchants blend darkness with melody… Khemmis deliver a spin on the downtuned and distorted with an ear for a hook." LOUDER THAN WAR (UK)
"Doom metal with melodies so rich they'd make Maiden look twice? Khemmis are toying with one of metal's most ancient formulas." METAL HAMMER (UK)
"This Denver quartet's six-track follow-up to 2016's Hunted is a thundering blend of NWOBHM riffs shot through with sternum-shuddering doom." PLANET ROCK (UK)
"Masters of epic, melodic and elegantly intricate doom metal anthems, the Colorado quartet have an accessible streak a mile wide, even at their most extreme… Khemmisare redefining progressive doom with a grandiose flourish." PROG (UK)
"Desolation not only matches Absolution and Hunted, it outstrips them both… inDesolation they have produced an album I fully expect to be listening to twenty years from now." ZERO TOLERANCE (UK)
"The record just sounds gorgeous with both its actual songs and the way in which they're delivered to the ear, resulting in a wholly brilliant ride for metal fans new and old." WHAT CULTURE (UK) 'Best Metal Albums Of June 2018'
"The Denver doom metal band's third album is streamlined, expansive, and melodically sharp." PITCHFORK (US)
"Desolation is a big, slick, fun record, with endless hooks and songs that are bombastic, compelling, and straight-out fun." BANDCAMP (US) 'Album Of The Day'
"With "Desolation", KHEMMIS has now joined the heavy metal elite, and the band's future is now brighter than ever." POPMATTERS (US)
"It's immediately apparent from the opening of 'Bloodletting' that they've come prepared to exsanguinate all challengers. These are just beautifully crafted pieces that represent the very best of what can be done with the genre." DECIBEL (US) 'Top 40 Albums of 2018' #9
"Three albums in, doom metal quartet Khemmis have their internal engine working at maximum efficiency and power having spent the previous six years fine tuning and oiling their sound. The music on their latest full-length, Desolation, shows no sign of strain or effort… It's a seamlessly constructed work that purrs and snarls, with the edges fleshed out by small interludes of respite and beauty." CONSEQUENCE OF SOUND (US) 'Top 25 Metal + Hard Rock Albums of 2018' #12
"Following two albums of crushing, teeth-grinding doom, Khemmis made for the big tent with Desolation: a heady display of heavy-metal showmanship, and the Denver band's most accessible release yet… the foursome are masters of long-form songcraft, approaching each cut here as its own standalone, Sabbathian epic." REVOLVER (US)
"Melancholic melodies, penetrating solos, booming strings and wistful vocals. This soundcheck win might be surprising for KHEMMIS, but it's more than deserved!" METAL HAMMER (DE) 'Album Of The Month'
Videos:
"Isolation" Official Video: https://youtu.be/xZd2liHm8P8
"Bloodletting" Official Visualizer: https://youtu.be/P073izSb9bQ
"Flesh To Nothing" Guitar Play Through: https://youtu.be/avbDazC6q7Y
Desolation Trailers:
Phil's Non Metal Influences: https://youtu.be/MStrj-UVl-U
Zach's Non Metal Influences: https://youtu.be/epX6xKjm_gE
Dan's Non Metal Influences: https://youtu.be/j_7eJIHjEh0
Phil Pendergast Record Collection: Thin Lizzy: https://youtu.be/UakD4wjfkGU
Phil Pendergast Record Collection: Hip Hop and Rap: https://youtu.be/sWzlIEPznvc
Phil Pendergast Record Collection: Miles Davis: https://youtu.be/KROZKu8mwmA
Phil's Record Collection: Hendrix, John Fahey & Sonny Boy Williamson: https://youtu.be/ABq0BLvCg8c
Phil Pendergast Record Collection: Judas Priest: https://youtu.be/sTQGPQ_FPuQ
Khemmis are:
Phil Pendergast // guitar, vocals
Ben Hutcherson // guitar, vocals
Daniel Beiers //  bass
Zach Coleman  // drums