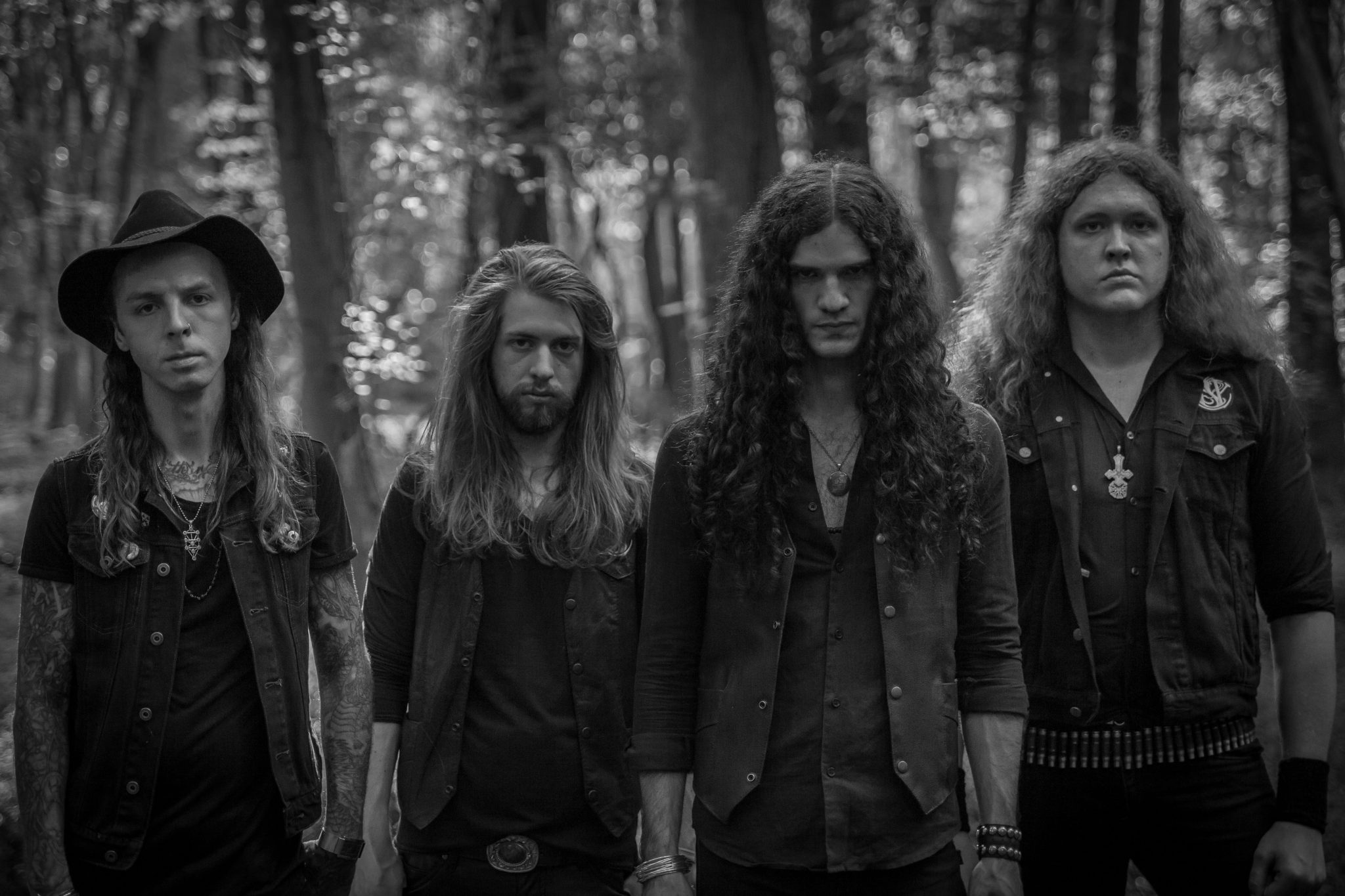 Announce North American Desolation 2019 Tour!
Denver, Colorado based doomed heavy metal quartet 
KHEMMIS
are proud to announce their
North American Desolation 2019
tour
. 
The 16-date tour will kick-off on July 11th at Growlers in Memphis, Tennessee. The trek will make stops in Richmond, Philadelphia, and Detroit before concluding on July 28th at Nightspot in Bloomington, Illinois. Joining the band on the tour is Atlanta, Georgia's metal quartet 
CLOAK
. Prior to the main run. KHEMMIS will play a stand alone show on June 14th at Hodi's Half Note in Fort Collins Colorado.
KHEMMIS comments, "We're excited to hit the road for our first proper headlining tour in support of 'Desolation.' This trek features our first Southeastern shows as well as dates in some of our favorite cities/venues, including Saint Vitus in Brooklyn and Reggies in Chicago. If that wasn't enough, we're bringing black 'n' roll maniacs CLOAK with us! Make sure you grab your tickets early, since these are our only eastern US and Canadian shows for 2019. Brush up on the lyrics, practice your air guitar moves, and catch us on tour this summer!"
KHEMMIS will be touring in support of their latest album, Desolation. Watch the music video for "Isolation" here: https://youtu.be/xZd2liHm8P8
Tickets will be available for purchase on Friday, April 5th at 10AM local time. For more information visit: www.khemmisdoom.com *CORRECT LINK*
Confirmed dates for the North American Desolation 2019 tour are:
06/14/2019  Hodi's Half Note – Fort Collins, CO*
07/11/2019  Growlers – Memphis, TN
07/12/2019  Masquerade – Atlanta, GA
07/13/2019  Clairvoyance Fest – Lexington, KY
07/14/2019  The End – Nashville, TN
07/16/2019  The Maywood – Raleigh, NC
07/17/2019  The Camel – Richmond, VA 
07/18/2019  Songbyrd – Washington, DC
07/19/2019  Saint Vitus – Brooklyn, NY
07/20/2019  Underground Arts – Philadelphia, PA
07/21/2019  Great Scott – Boston, MA
07/23/2019  Bar Le Ritz – Montreal, QC
07/24/2019  Velvet Underground – Toronto, ON
07/25/2019  The Sanctuary – Detroit, MI
07/26/2019  Reggies – Chicago, IL
07/27/2019  7th Street Entry – Minneapolis, MN
07/28/2019  Nightshop – Bloomington, IL
*=no cloak
Khemmis' passion for progressive and soulful heavy music is more evident than ever in 2018's Desolation. Though undeniably influenced by doom and classic metal, to tag the quartet with those labels doesn't do justice to what they've accomplished; a perfect representation of modern heavy metal that integrates the past in a way only possible with the faculty of hindsight. It's impossible to ignore the lengths that the four piece goes to in order to master their craft and produce a highly unique form of heavy sound. Their magnificently uplifting, yet sorrowful groovy riffs weave the listener along on an unparalleled journey. Desolation is not just the best Khemmis record to date but a testament to the quality and evolution that heavy metal is still capable of. Having worked for the third time with Dave Otero of Flatline Audio in Denver, the band and producer achieved a deep mutual understanding, able to arrive at the perfect symbiosis of song writing, arrangement, and production value.
ABOUT KHEMMIS
Formed in Denver in 2012, 
Khemmis
 have released three albums to date. 2015's 
Absolution
 and 2016's 
Hunted
 painted a unique portrait; encompassing spiraling progressive doom, fuzz-toned stoner riffs, syrupy sludge and churning classic grooves. They transcended traditional doom forming elegant yet dramatic tracks, conveying their unique sense of melancholy edged with a sense of foreboding.
Their debut record, Absolution, earned the four piece outright critical praise from the underground, plus achieving them Decibel Magazine's 'Top 40 Albums of the Year' list allowing their impact to slowly start seeping into the mainstream consciousness. Hunted helped break down those final barriers in the USA, earning KHEMMIS more widespread recognition, ranging from glowing reviews at Metal Sucks, Metal Injection and Pitchfork, to earning them a spot in Rolling Stone's '20 Best Metal Albums of 2016' list and Decibel's highly sought after Album of the Year accolade.
 
With latest record 
Desolation, 
Khemmis 
hav
e finally reached a more international audience, winning over hearts and minds across the globe.
Khemmis are:
Phil Pendergast // guitar, vocals
Ben Hutcherson // guitar, vocals
Daniel Beiers //  bass
Zach Coleman  // drums
Atlanta, Georgia in the Deep South of the USA is probably not among the cities named as first suspects for a black metal influenced rock band to emerge. Yet there at the crossing of two old American railroad lines, CLOAK were conceived in the year 2013.Their debut full-length, 'To Venomous Depths' is simply a perfect amalgamation of Nordic black metal with catchy hooks and melodic rock. And while the

Americans are not claiming to be reinventing the wheel, their outstanding song- writing is catapulting this album to the top.

CLOAK have named DISSECTION, DEEP PURPLE, and FIELDS OF THE NEPHILIM as main influences, but their harsh yet groove-fuelled sound has invited critics to draw comparisons with such acts as TRIBULATION and WATAIN.

After spending two years in the rehearsal room carefully preparing their material,CLOAK released a first sign of life in the shape of 'Demo 2015', which created an audible buzz in the US underground.

A two-track, self-titled EP followed in 2016, gaining the Americans worldwide attention and critical acclaim. In their short time of existence, CLOAK have already shared stages with renowned acts such as WOLVES IN THE THRONE ROOM, WINDHAND, INTER ARMA and SATAN..

It will not take CLOAK long to capture your interest, but with each new spin To Venomous Depths will reveal new details that make their discovery worthwhile. There are no fillers on this debut album, just hits. Let's rock this cool darkness!

CLOAK are:
Scott Taysom // voice, guitar
Max Brigham // guitar
Matt Scott // bass
Sean Bruneau // drums

Please visit the band at www.facebook.com/cloakofficial/