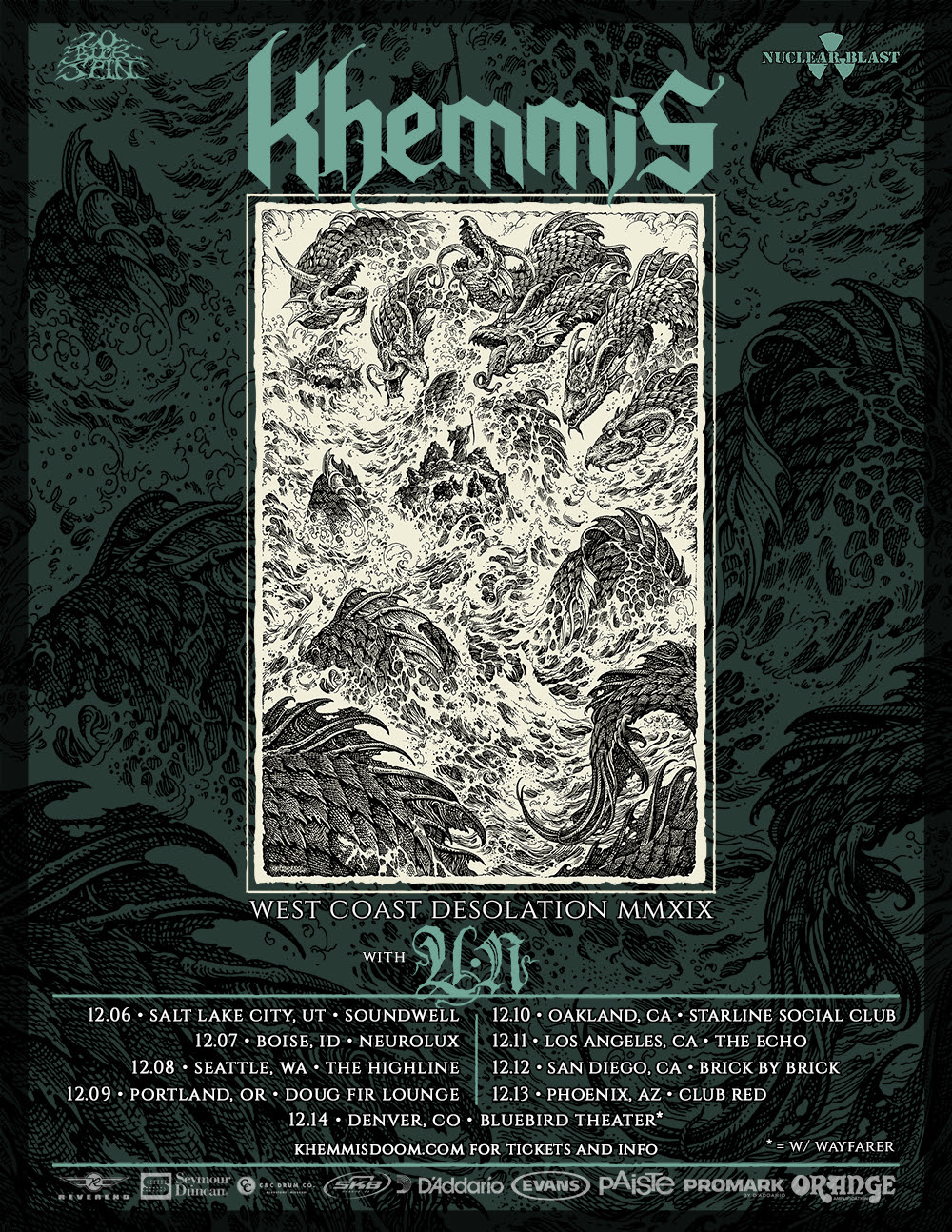 Denver, Colorado based doomed heavy metal quartet KHEMMIS are proud to announce their West Coast Desolation Tour 2019. The 9-date tour will kick-off on December 16th in Salt Lake City and conclude in Denver, Colorado on December 14th. Joining the band on the tour is Seattle funeral doom warlocks UN.

KHEMMIS comments, "After the success of the first leg of the North American Desolation Tour we are thrilled to announce the West Coast Desolation Tour a nine-date headlining trek with support from Seattle funeral doom warlocks UN. We will conclude the outing with a very special hometown show–our only one this year–featuring a rare local appearance by black metal hellions WAYFARER. Tickets for all shows will go on sale this Friday, we'll see all of you on the road this winter!"

KHEMMIS will be touring in support of their latest album, Desolation. Watch the music video for "Isolation" here: https://youtu.be/xZd2liHm8P8

Tickets will be available for purchase on Friday, August 23 at 10AM PST. For more information visit: www.khemmisdoom.com

Confirmed dates for the KHEMMIS West Coast Desolation Tour 2019 with special guests UN are:
12/06/2019 Salt Lake City UT • Soundwell
12/07/2019 Boise ID • Neurolux
12/08/2019 Seattle WA • The Highline
12/09/2019 Portland OR • Doug Fir Lounge
12/10/2019. Oakland CA • Starline Social Club
12/11/2019 Los Angeles CA • The Echo
12/12/2019 San Diego CA • Brick By Brick
12/13/2019 Phoenix AZ • Club Red
12/14/2019 Denver CO • Bluebird Theater (w/ Wayfarer)

Khemmis' passion for progressive and soulful heavy music is more evident than ever in 2018's Desolation. Though undeniably influenced by doom and classic metal, to tag the quartet with those labels doesn't do justice to what they've accomplished; a perfect representation of modern heavy metal that integrates the past in a way only possible with the faculty of hindsight. It's impossible to ignore the lengths that the four piece goes to in order to master their craft and produce a highly unique form of heavy sound. Their magnificently uplifting, yet sorrowful groovy riffs weave the listener along on an unparalleled journey. Desolation is not just the best Khemmis record to date but a testament to the quality and evolution that heavy metal is still capable of. Having worked for the third time with Dave Otero of Flatline Audio in Denver, the band and producer achieved a deep mutual understanding, able to arrive at the perfect symbiosis of song writing, arrangement, and production value.
ABOUT KHEMMIS
Formed in Denver in 2012,
Khemmis
have released three albums to date. 2015's
Absolution
and 2016's
Hunted
painted a unique portrait; encompassing spiraling progressive doom, fuzz-toned stoner riffs, syrupy sludge and churning classic grooves. They transcended traditional doom forming elegant yet dramatic tracks, conveying their unique sense of melancholy edged with a sense of foreboding.
Their debut record, Absolution, earned the four piece outright critical praise from the underground, plus achieving them Decibel Magazine's 'Top 40 Albums of the Year' list allowing their impact to slowly start seeping into the mainstream consciousness. Hunted helped break down those final barriers in the USA, earning KHEMMIS more widespread recognition, ranging from glowing reviews at Metal Sucks, Metal Injection and Pitchfork, to earning them a spot in Rolling Stone's '20 Best Metal Albums of 2016' list and Decibel's highly sought after Album of the Year accolade.

With latest record
Desolation,
Khemmis
hav
e finally reached a more international audience, winning over hearts and minds across the globe.

Khemmis are:
Phil Pendergast // guitar, vocals
Ben Hutcherson // guitar, vocals
Daniel Beiers // bass
Zach Coleman // drums