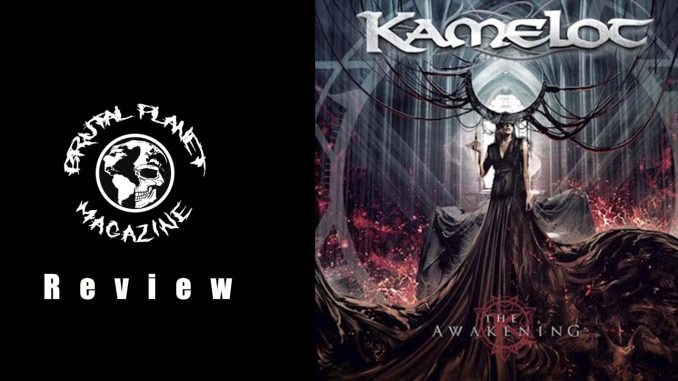 Review by:
Brittany Skidmore
All ears will be on KAMELOT this Friday, March 17th with the release of their newest
album The Awakening. After nearly five years since their last full-length album,
The Shadow Theory was released, their newest addition will not disappoint. This
album is possibly the most emotionally intense and versatile album KAMELOT has
produced thus far. This thirteen-track album is elegantly diverse, and has styles
fitting for all listeners.
After a beautiful instrumental first track, "Overture (Intro)", we are immediately
thrown into a whirlwind of intense emotion with "The Great Divide". If the drums
intro doesn't snag your attention, the first few lines of the lyrics will:
"Sleepless I have wondered
If my brokenness was you
Questioning the hunger
When this madness was all I knew
You would never hold me
When my veins kept bleeding through
But no one could ever want you like I do."
These lines are closely followed by a chorus that is just as gripping:
"As the sun sets
In the glowing west
I declare my manifest
Beyond the great divide
Where the darkness meets the light
Like an everlasting storm
You will be my paramour
Cause beyond the great divide
Where the days and dreams collide
From the Ashendust reborn
We will rise again forevermore."
"Eventide" follows, along with the recently released tracks "One More Flag In the
Ground", and "Opus of the Night". Guest cellist, Tina Guo, is the musician behind the
cello in "Opus of the Night", which includes an amazing duet between herself, and
Thomas Youngblood on the guitar.

Frontman, Tommy Karevik, stuns with a slower track next in "Midsummer's Eve".
This track is just as powerful as KAMELOT's darker songs. Between the beauty of
the lyrics, and the instrumentals, this song raises emotion on a new level. Diving
back into their harder style, "Bloodmoon", "Nightsky", and "The Looking Glass" are
surely going to be quick fan favorites.
"New Babylon" then takes us by surprise. This track is the perfect combination of
multiple musical styles. Intense cathedral-like chanting, beautiful vocals from
Karevik, and guest vocalist Melissa Bonny of Ad Infinitum, and then guttural
growling takes our journey through this track to the next level. This track is truly an
unforgettable song that stands on it's own in this album.
"Willow" is another slower paced song that is absolutely beautiful; it is followed by
"My Pantheon (Forevermore)". This track starts things off slowly, but immediately
heats things up and takes the listener on a musical journey through hard and slow.
To wrap up this unforgettable album, an instrumental track, "Ephemera (Outro)",
acts as the ending credits to what is possibly KAMELOT's best release yet. The
musical maturity of this talented group is apparent in this riveting new album.
"The Awakening" will be available on Friday March 17, 2023 via Napalm Records.
KAMELOT are:
Tommy Karevik – Vocals
Thomas Youngblood – Guitars
Oliver Palotai – Keyboards
Sean Tibbetts – Bass
Alex Landenburg – Drums