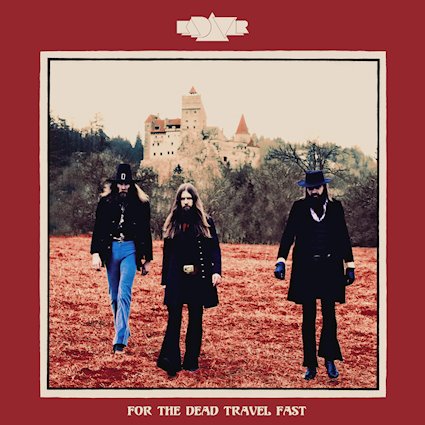 Germany's Kadavar has emerged from their Berlin-based studio compound where the bearded trio created their most ambitious and fifth release to date titled For The Dead Travel Fast. The album is set to drop on Friday, October 11, 2019 through Nuclear Blast Records.
As the darkness started to set in on riffs during the embryonic creational stages of the album, the band decided to set out on a pilgrimage to an infamous castle in Transylvania for inspiration. In doing so, Kadavar unlocked their inner darkness that defines the band's distinctive vintage retro and sometimes doom like metal sound that now elegantly flows from the grooves of For the Dead Travel Fast. It's a ghostly like sound created by Christoph "Lupus" Lindemann, Christoph "Tiger" Bartelt (drums) and Simon "Dragon" Bouteloup (bass).
The title for the nine-track album comes from the works of German gothic poet Gottfried August Burger whose ballads were extremely popular in Germany and beyond and helps to establish the atmosphere of the record.
The eerie vocals courtesy of guitarist/vocalist Lupus in the album opener "The End" immediately followed by "The Devil's Master" sets the tone for the duration of the record. Tempo wise, there's only a slight bump with the faster-paced "Evil Forces" at track three. Other than that, the listener will settle in with "Children of the Night," Dancing with the Dead," "Demons in my Mind" and others.
The band has strategically placed synths throughout the record but the use of the technology is not overly used. Their inclusion doesn't take away from the spooky vibe of superstition and Romanian legend.
The time spent on the band's creative travels to Romania where Kadavar revisited areas from their first-ever tour as well as Dracula's Castle, has produced a significant return musically and creatively. Even Bran's Castle (Dracula Castle) graces the cover and serves as a backdrop as Kadavar strolls through a field of brownish, dead vegetation.
There's nothing fancy about For The Dead Travel Fast nor was it intended. Kadavar has released a simplistic yet solid record with a sound that only Kadavar can pull off. The sound may have that retro feel but it's refreshing when presented by the three members of Kadavar.
Even though For the Dead Travel Fast will be released in CD as well as vinyl format, a release of this degree is made to listen, enjoy and devour in album format. The vinyl that houses For The Dead Travel Fast would be an ideal place for the virgin needle of a newly purchased turntable for its first euphoric experience. It's the proper thing to do.