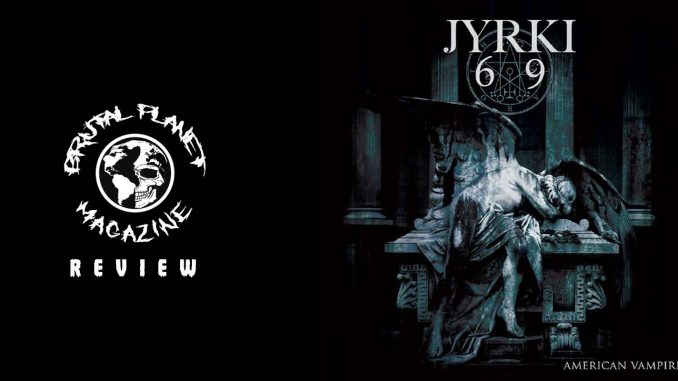 The Helsinki Vampire also known as Jyrki 69 is back in 2021 with another solo album. His 2017 solo effort was aptly titled the Helsinki Vampire. This time the album has a similar title with a different location. American Vampire features a splattering of gruesome guests. Some you may be familiar with such as Steve Stevens of Billy Idol fame and Tiffany. Yes, it is the Tiffany that invaded malls all over America back in the 80's. Some may not be so well known here in the US but equally as talented. Jyrki moonlights making solo albums when he is not fronting The 69 Eyes. His voice, silky smooth, deep and sounds like a combination of Elvis and Johnny Cash.
American Vampire begins with "SexDrugsRocknRoll" which features Shotgun Messiah. It is a cover of Shotgun Messiah song from their Second Coming album released in 1991. The song is just as its title states, full of sex, drugs, and rock and roll. This is the perfect song to start this journey with Jyrki and the addition of Shotgun Messiah adds an extra element of glam to the song. Jyrki's voice not only draws you in with his trance like baritone but blows you up with the sheer magnitude of track. 
"White Rabbit" begins with a thumping bass beat that gives way to the legend Steve Stevens, who invades the slow but ominous track. Vocally this song is one of the best on the whole album and the addition of Stevens on it makes it a top contender for best track on the album. The song was originally done by Jefferson Airplane, but fits ambiguously perfect into the mix. "Dreamtime" featuring Rosetta Stone starts as with an 80's sound that Rosetta Stone pioneered almost 40 years ago. "Bite It You Scum" featuring Danish legend Leather Strip provides the album with a punk/industrial sound. The militant sound of the song combined with the last 20 seconds of lyrics add a great dimension to American Vampire.
The title track of American Vampire utilizes some techno beats that are diluted into a goth vibe. It features fellow Fin Tim Skold on guitar who did a great job helping shape the tracks direction. If you are looking for a classic Jyrki sound this is the track you will be looking for.
The voice that turned the mall into a concert venue, Tiffany is featured on "Don't You Want Me?" Yes this is the Human League classic, but don't listen if you are purist of this song. It has been transformed into a bondage meets fetish club song. The song works for me as I was never a huge fan of the original. Tiffany's voice gives great contrast to Jyrki's goth vocals. I was sure that this song was going to be a train wreck when I saw it on the track listing but listening to it, I have to say it auspiciously works for me.
At this point in the album it feels to take a distinct turn from where it was going to an 80's soundtrack feel. Two songs that signify that change are "Decision" and 'Deviant Carousel' featuring Xiu Xiu. The songs have a synth meets soft core ambient punk sound.
"Clover" featuring Youlooktired has a lovely guitar intro but then moves in the same synth sound. It stays slow and could serve as the ballade of American Vampire.
The last song on American Vampire takes a turn and heads in a NIN direction that I enjoyed. "Last Dance" featuring Not My God completed the journey through the last three songs and helped me understand the direction Jyrki was heading in the last few tracks on this album. While the last half of the album was not as good to me as the first half, I can still appreciate the direction and methodology throughout the whole album.
American Vampire is a Jekyll and Hyde album to me. The first half is very Dr. Jekyll. Straight forward what you expect from Jyrki and classically auditorily pleasing. The second half of the album is very Mr. Hyde. You must dive into it with a completely different persona to understand where it is going. Both halves work for me but I was able to distinguish between the two. Directionally putting them together can be tricky. If anyone can do that it would be Jyrki and I feel like he has done a great job. That being said do not hold the album in a theme like stance or you will be disappointed. Take each song as an independent thought meant for auditory consumption and you will dig this album.
American Vampire will be available on December 17, 2021 via Cleopatra Records.