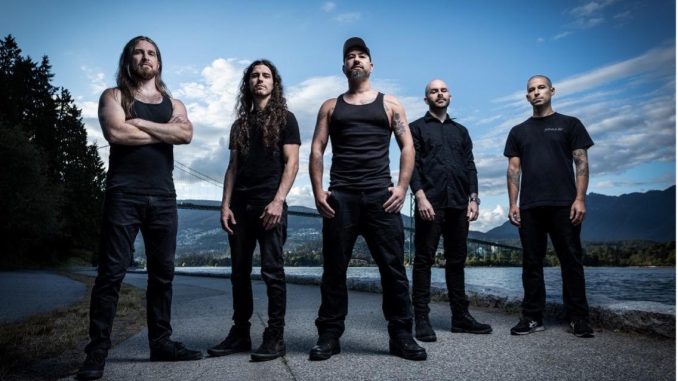 Vancouver Tech-Death quintet ARCHSPIRE are thrilled to announce that they are joining Whitechapel on the band's upcoming 'The Valley' 2023 U.S. Tour! Hailed by both fans and critics alike as one of extreme metal's most unhinged, technical, and mercilessly pummeling modern acts, ARCHSPIRE continue to take delight in melting faces on the strength of their 2021 full-length, 'Bleed The Future'.

Commenting on these upcoming shows in the states, the band shares:

"AMERICA!!! We just got the news, we're stoked to announce we'll be supporting WHITECASTLE on their headliner tour!!! We are of course huge fans of their tiny sandwiches, and now to hear that they also have branched out into extreme metal, really surprised us! We -*Papers rustling*

"Oh…Whoops! Sorry, read that press release wrong. WHITECHAPEL is headlining the tour. Geez, that makes a LOT more sense! Super excited to be supporting a band with such a legacy, alongside our new friends in Signs of the Swarm, and our dearest pals in Entheos!

"Anyway, now we have to rethink the catering for the tour, because we assumed we'd be getting free food…"

Watch the Music Video for "Drone Corpse Aviator" HERE
In 2021, Archspire shattered skulls and blew minds with their long-awaited first music video as a band for the single "Drone Corpse Aviator". Now in 2023 and more than 1 million views on YouTube later, the band is planning an even bigger and badder follow up – and thanks to the overwhelming support of fans on Kickstarter, the group is bringing in a Hollywood-level production crew to make the craziest death metal music video ever!
ARCHSPIRE – 2023 US Tour Dates
Supporting Whitechapel on "Playing 'The Valley' In Full" Tour
4/14 – Atlanta, GA @ The Masquerade (Heaven) – TICKETS
4/15 – Tampa, FL @ The Orpheum – TICKETS
4/16 – Ft. Lauderdale, FL @ Revolution Live – TICKETS
4/18 – Charlotte, NC @ The Underground – TICKETS
4/19 – Richmond, VA @ The Canal Club – TICKETS
4/20 – Baltimore, MD @ Baltimore Soundstage – TICKETS
4/21 – New York, NY @ Gramercy Theater – TICKETS
4/22 – Worcester, MA @ The Palladium – TICKETS
4/24 – Detroit, MI @ St. Andrews Hall – TICKETS
4/25 – Chicago, IL @ House of Blues – TICKETS
4/27 – Lawrence, KS @ The Granada – TICKETS
4/28 – Denver, CO @ The Gothic Theatre – TICKETS
4/29 – Salt Lake City, UT @ Metro Music Hall – TICKETS
5/1 – Seattle, WA @ Showbox at the Market – TICKETS
5/2 – Portland, OR @ The Hawthorne Theatre – TICKETS
5/4 – Sacramento, CA @ Ace of Spades – TICKETS
5/5 – Los Angeles, CA @ The Regent Theatre – TICKETS
5/6 – Santa Ana, CA @ The Observatory – TICKETS
5/7 – Mesa, AZ @ The Nile Theater – TICKETS
5/9 – Austin, TX @ Mohawk – TICKETS
5/10 – Dallas, TX @ Granada Theater – TICKETS
5/12 – St. Louis, MO @ Red Flag – TICKETS
5/13 – Nashville, TN @ The Basement East – TICKETS
ARCHSPIRE are:

Dean Lamb: guitar

Spencer Prewett: drums

Oliver Rae Aleron: vocals

Tobi Morelli: guitar

Jared Smith: bass