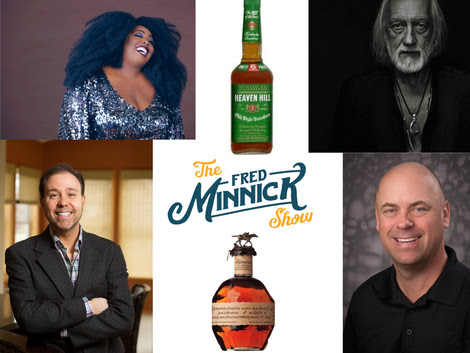 July 29 Edition Of "Fred's 5 Notes"
With News From the Bourbon And Spirits Industry
From World's Leading Bourbon Authority Fred Minnick
Includes…
Remembering Peter Green Via Fred's Conversation With Mick Fleetwood,
Interview & Tasting With Kyla Jade From "The Voice" & More
The world's leading bourbon authority, Wall Street Journal-bestselling author and television personality Fred Minnick has released the new edition of "Fred's 5 Notes," a bi-weekly list of highlights from his popular podcast The Fred Minnick Show, insider insights and tips from the bourbon and spirits industry, as well as whiskey and bourbon tastings and ratings.
Here are "Fred's 5 Notes" for July 29:
Revisit Fred's interview with Mick Fleetwood. Mick had plenty to say about his Fleetwood Mac co-founder Peter Green, who died last week at age 73. (Fleetwood's comments begin at 28:28.)
Fred dished with sports radio personality Steve Czaban and fantasy football guru Paul Charchian about all things football–including Paul's new fantasy football league Guillotine Leagues (and, well, a lot of other things)–while doing a blind bourbon tasting. Along the way, Czaban disses Blanton's, saying, "Who forgot to bring the flavor?"
What's the best bourbon priced at $15 or less? Fred did a blind tasting of 10 different whiskeys he picked up at that sweet price point and narrowed them down to a Top 6, including one he previously hated. Which bourbon was the winner?
Fred Minnick, a Wall Street Journal-bestselling author and television personality, is a renowned drinks writer who started The Fred Minnick Show in January to showcase his two passions: music and whiskey. The weekly show pairs musicians, athletes and actors with good drinks.
Look for country star Jordan Davis, Louis The Child, Derek Trucks and more to appear on upcoming episodes of The Fred Minnick Show. Last week, Emerson Hart of Tonic proved his connoisseur status with Fred as he dissected whiskeys like a pro. Additional past guests include Daryl Hall, Mick Fleetwood, Chase Rice, Ashley McBryde, actor Harry Shearer, tennis legend Andy Roddick, Slipknot's Clown, Johnny Christ of Avenged Sevenfold and Lindsay Ell, among others.
Listen to The Fred Minnick Show podcast here: https://pod.link/1490483021 and watch video of the episodes here: https://www.youtube.com/channel/UCyE_GJtYr3yowks2iv1o4jg.
For more information on Fred Minnick and The Fred Minnick Show, and to sign up for his "Drinks" e-newsletter for future podcast updates, visit: www.fredminnick.com.
(Fred Minnick)
About Fred Minnick and The Fred Minnick Show
The Fred Minnick Show is a weekly podcast with host Fred Minnick, a Wall Street Journal-bestselling author of seven books and the world's leading bourbon authority. Minnick interviews noted musicians of all genres and sips whiskey with them. In addition, Minnick is the editor-in-chief of Bourbon+ magazine, Senior Contributor for Forbes and the Bourbon Curator for the Apple station The Spirits Network. Minnick hosts the Amazon Prime show Bourbon Up, and has appeared on Bravo's Top Chef! and Discovery Channel's Moonshiners. He co-founded the music festival Bourbon & Beyond with Danny Wimmer Presents. Learn more at:
Website: www.FredMinnick.com
Facebook: www.facebook.com/fred.minnick
Twitter: https://twitter.com/FredMinnick
Instagram: www.instagram.com/fredminnick
The Fred Minnick Show Podcast: https://pod.link/1490483021