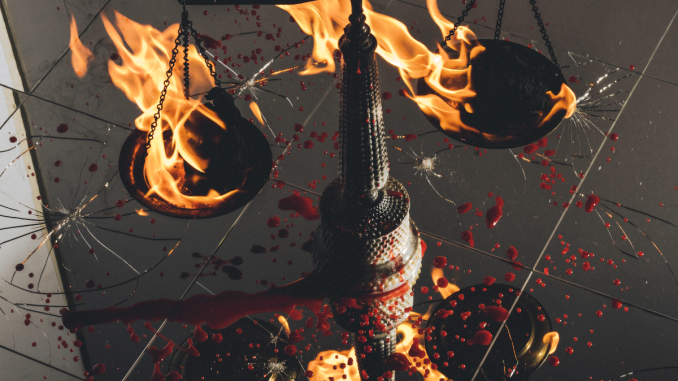 NEW ALBUM FLESH + BLOOD OUT MARCH 10 VIA CLOSED CASKET ACTIVITIES
Texas quintet
JUDICIARY
—
Jake Collinson
[vocals],
Kyle Calfin
[bass],
Austin Looney
[drums],
Jimmy LaDue
[guitar], and
Israel Garza
[guitar] — will drop their sophomore album
Flesh + Blood
via
Closed Casket Activities
on March 10. Pre-order it
here
.
Today, the band has shared "Paradigm Piercer." Listen here.
"We wrote 'Paradigm Piercer' to sonically take you further into the world we built with this record," says Collinson. "I wrote the lyrics with the intention of making you feel like you want to run through a wall within that world to conquer what or who is in front of you. Kyle, Jimmy, and Israel crafted some of my favorite riffs and leads on the record through this song. Arthur Rizk was a huge part of the construction of this song and helping us shape what I feel is a huge representation of what we wanted to come out of working with him. The end product of that collaboration is something I couldn't be more excited to share with the world."
Grinding full force since 2013, the band unleashed the EP The Axis of Equality in 2016, a split EP with Mortality Rate in 2017, and finally, their first full-length record Surface Noise with Closed Casket Actitives in 2019. Along the way, they also shared stages with a wide variety of bands, including Vein, Power Trip, The Acacia Strain, Exhumed, and Gatecreeper, to name a few.

Citing influences such as Slayer's God Hates Us All and Chimaira's The Impossibility of Reason as well as "a ton of Machine Head," their vision crystallized in 2021. They recorded what would become Flesh + Blood with producer Arthur Rizk [Power Trip, Cavalera Conspiracy] in August of 2021 before Will Putney [Body Count, Vein] handled mixing and mastering.

In the end, Judiciary rule a world of their own now and forever. "We want this music to take you to the world that we've built with it," Kyle says. "To feel it, visualize it, see it how we see it — to us, there would be nothing better."
FLESH + BLOOD TRACK LISTING:
"Flesh"
"Blood"
"Engulfed"
"Paradigm Piercer"
"Knife in the Dirt"
"Stare into the Sun"
"Cobalt"
"Steel Hand God"
"Obsidian"
"Eschatos Hemera"
JUDICIARY LIVE:
2/10 — Tacoma, WA — JAG Vol.4 w/ Comeback Kid, Mindforce, + more.