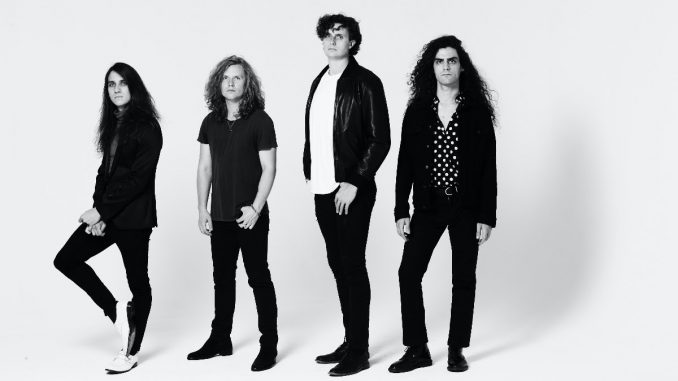 Southern California quartet JOYOUS WOLF, who have received critical acclaim from The Los Angles Times and American Songwriter, have created their own hybrid of hard driving rock 'n' roll, soul, blues, and alternative music. As such, they have steadily built their reputation as one of the brightest up 'n' comers in the burgeoning scene. Mixing majestic riffs with soulful vocals, undeniable swagger, and the kind of hair-on-fire live performances that leave fans trying to catch their breath for days after the fact, Joyous Wolf are ready to take the leap into the rock 'n' roll stratosphere with their latest sonic transmission.
Today, the band has dropped the video for the new song "Fearless." Watch and listen here.
The song is available at DSPs here.
"'Fearless' was a bit of a wild card," frontman Nick Reese shares about the song. "We completed it in the final days of our album sessions and it was the only song we hadn't completed prior. It became one of those songs that fell together in an effortless way. I've found myself reflecting on how unafraid I was as a kid. I feel like that's something more than a few people can relate to. For the most part, I like to believe we are born fearless and we are conditioned to be afraid."
"Fearless" is just a glorious taste of what's to come for Joyous Wolf. The band continues to work on its debut full-length. Stay tuned for more from Joyous Wolf.

JOYOUS WOLF ARE:
Nick Reese — Vocals
Blake Allard — Guitar
Greg Braccio — Bass
Robert Sodaro — Drums
ABOUT JOYOUS WOLF:
Joyous Wolf formed in Orange County, California in 2014. With humble beginnings, playing any venue that would have them, Joyous Wolf have created their own hybrid of hard driving rock 'n' roll, soul, blues, and alternative music. Heavily influenced by artists spanning not only various genres, but literally decades of music, their electric live performances would take them from the clubs of the Sunset Strip to international tours, earning them a recording deal with Roadrunner Records in 2018. The quartet has shown to be a force both on and off stage, having released their critically acclaimed debut EP Place In Time on Roadrunner in 2019, which led to subsequent tours supporting rock icons such as Slash and Deep Purple. The single "Odyssey" arrived in June 2020 and was followed by the four-song Mother Rebel EP, the title track of which has received airplay on KLOS, and a two-song unplugged release featuring "Odyssey" and "Quiet Heart."