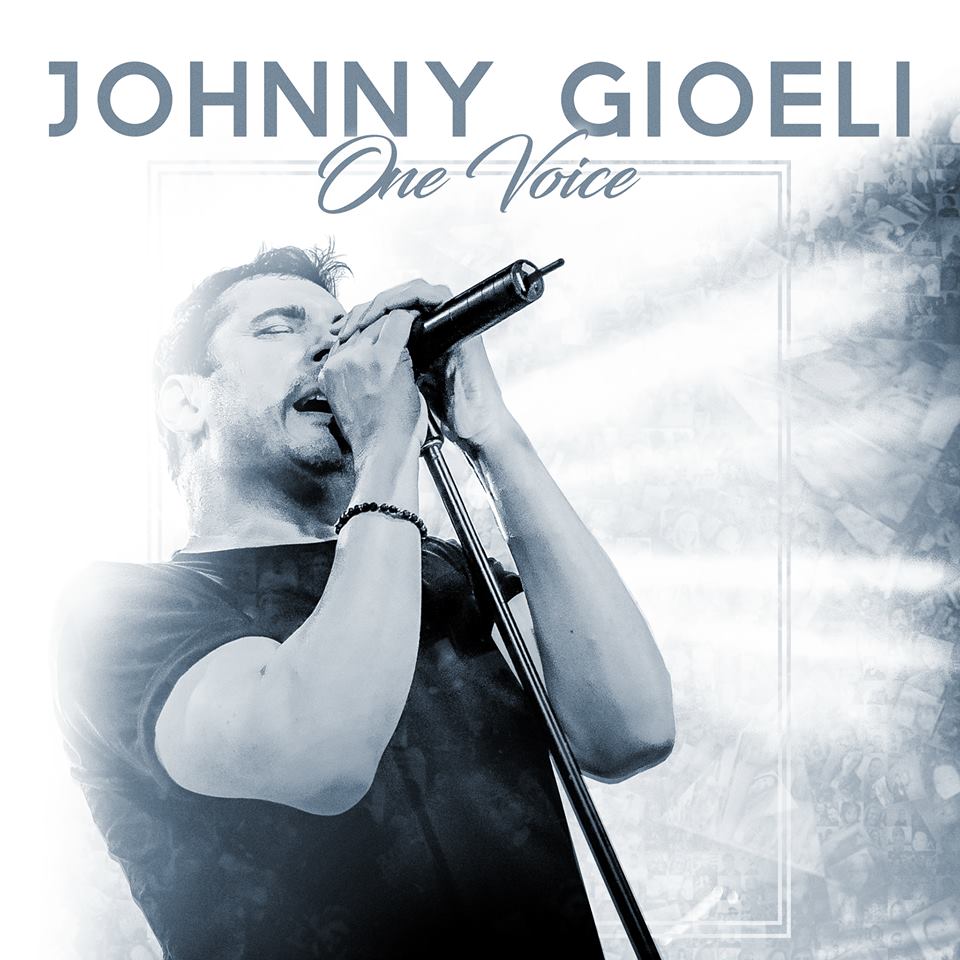 It just felt like the right time to focus on solo material. Robin Gibb (BrainyQuote)

Okay. I'll give you that a quote from Bee Gees brother Robin Gibb probably wasn't what you expected on a Brutal Planet review of a newly released rock album. However, when you listen to One Voice from Johnny Gioeli, I think you'll see why it fits.
You see, you already know Johnny Gioeli and if you don't…you should. He's been one of rock's biggest voices for over 30 years fronting for Hardline, Crush 40 and Axel Rudi Pell. His voice fills stadiums and rocks stages all over the world. Recently, however, Johnny thought it was just the right time to go solo. Why, you ask? For fame? For fortune? No. It was for a much more basic reason. Someone he knew needed help and he decided to do what he does best: make music.
Gioeli has said, "….the power of music is amazing, especially when it is used to heal." When a friend faced mounting medical bills as the result of an accident, Johnny took all his years of experience in the music industry, reached out to friends and fans all over the world and the result is One Voice, released on December 7, 2018 from Frontiers Music. If you're familiar with the bands Johnny Gioeli sings for, you won't be surprised by the melodic rock sound and big ballads. What may surprise you though, is the personal glimpse into the man himself.
Johnny puts it out there with the "Mind Melt" lyric, "Welcome inside my head" and that's where One Voice goes. "Drive" is about finding release and freedom driving on the open road. "Price we Pay" considers the toll that comes with success. "Deeper" pulls us right into the feelings of falling in love. "Out Of Here" sets to music the tension of a frustrating situation.
Honest emotion. Rock beats. Guitar solos. Individual pieces of a puzzle put together by one man trying to help a friend. All of it together make the 11 songs on One Voice much more than just one man's voice.
Listen to "Drive" and then get One Voice here:
One Voice was released on December 7, 2018 from Frontiers Music. It was produced by Alessandro Del Vecchio. MUSICIANS: Johnny Gioeli: Vocals, Eric Gadrix: Guitars, Nik Mazzucconi: Bass, Marco Di Salvia: Drums, Alessandro Del Vecchio: Keyboards
Tracklisting:
Drive
It
One Voice
Mind Melt
Running
Deeper
Let Me Know
Hit Me Once, Hit Ya Twice
Price We Pay
Out Of Here
Oh Fathers