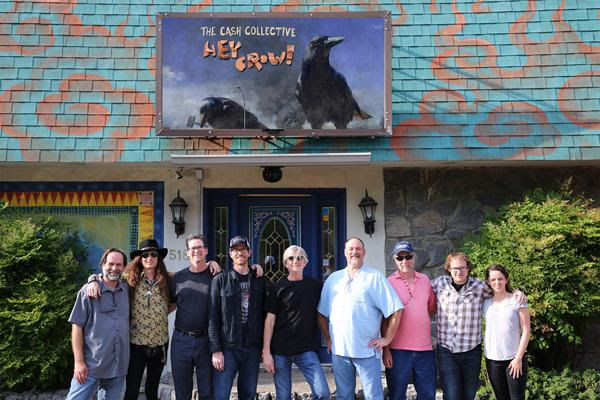 First Track/Lyric Video, "Rise Up!" Is Released Today
NASHVILLE, TN – (Friday, May 29, 2020) – Today, one of the most diverse and talented groups of sought-after music makers – The Cash Collective – brought together by five-time GRAMMY-winning producer/songwriter/musician John Carter Cash – announces Hey Crow!, a hard-rocking album that started out heading in one musical direction, but evolved into a piece of work that
may surprise many CASH fans. Produced by Justin Johnson, Chuck Turner, and John Carter Cash,
Hey Crow!
was recorded over a two-and-a-half-year period, in part, at the historic Cash Cabin Studio in Hendersonville, TN.
Hey Crow!
(Avondale Records) is set for a June 19, 2020 CD and digital release; the CD and digital pre-sales begin today, Friday, May 29 and orders can be placed
HERE
. Details for the release of a limited issue colored 180-gram vinyl album will be announced shortly.
Released today is the album's lead-off track and lyric video, the rousing and inspirational "Rise Up!" Although written a few years back by John Carter Cash and good friend the Reverend John Francis Maher III, the lyrics are prevalent today. They speak to the intensified bond of love and responsibility to family and society in our current unsettled world, focusing on protecting what's really important, and teaching our children the value of standing strong through challenge. Said John Carter, "Until the past couple of months with the onset of COVID-19, the line '…the snake's in the kitchen, there's a lion in the tree' may have meant something completely different. Things have changed now. There were few times I 'worked the fields 'til my fingers bled', as it says in 'Rise Up!'. Now, my family and I work side by side. It's enlightening to see how some of the lyrics have come true and become part of my life." You can check out "Rise Up!"
HERE
.
The Hey Crow! album is a collection of eight original songs, co-written by John Carter Cash and various writers, including Justin Johnson, George Daeger, Dave Daeger, John Francis Maher, AnnaBelle Cash, and Bill Miller. The final track is a cover of "Through The Fire and the Flames," written and originally recorded by the British heavy metal band, Dragonforce, and rearranged by Justin Johnson to a grungy tempo with an epic '70s, prog-rock feel. Although folk music may have been part of the foundation of these recordings, in the end, The Cash Collective's Hey Crow! is straight ahead, rock and roll. "Much of the writing process was stream-of-consciousness," explained Justin. "It starts with a spark, but when it catches fire, you've got to follow that magic. We followed, and it took us to the rock'n'roll side of what we both really love. 'Hey Crow!' became this album because we let it become this album."
"Of course, I grew up around country, listening to my father's music, and the Carter Family," said John Carter, "but when I was 12 or 13 years old, I listened to AC/DC, Black Sabbath, Aerosmith, Iron Maiden, Rush, the Alan Parson Project, and Pink Floyd. This album pays homage to the classic rock bands that are still just as renowned and respected today as when I was young. And that was the case with both Chuck Turner and Justin Johnson. We all grew up on rock."
For the recording of Hey Crow!, The Cash Collective utilized techniques and vintage gear from the analog recording years of the 20th century, especially from the 60s and 70s. Said co-producer Chuck Turner, "We used ProTools for the recording of the album, giving us tons of editing possibilities. But we also used vintage AKG and Neumanns microphones, and our Neve pre-amps provided a great, warm character to the music. Then, when we mixed the album, we printed it back to analog tape to add that analog warmth back before it was mastered."
"Music is, at its best, a group of like-minded people making something that is bigger than the sum of its parts, and no one who was involved in this album could have made it solely on their own," added Justin. "'Hey Crow!' is the end result from a collection of musical companions who shared an environment, a time, and a place where magic happened. Over the course of the writing and recording, there was no judgment, no 'this is right' or 'this is wrong,' we let the ideas and creativity come out, and then we organized the chaos afterward."
# # #
On the album:
Vocals: John Carter Cash, Bill Miller, Eric Hamilton, George Daeger, Dave Daeger, Ana Cristina Cash, Joe Cash, AnnaBelle Cash, Jack Cash, Caitlin Evanson, Jon Cole, Dave Schools, Shane Ownby, Ashley Ownby, Spike Nicer, and Chuck Turner
Guitars: Justin Johnson, Dave Daeger, Bill Miller, Jamie Hartford, Joe "Hoze" Fleming, John Carter Cash
Bass: Mark Winchester, Ira Dean
Drums: Rick Lonow, Chuck Turner, Jerry Roe
Percussion: Chuck Turner, Sam Bacco, Bill Miller, Rick Lonow
Hammond B-3 Organ: Michael Webb
Piano and keys: Tony Harrell
Moog Synth: Joe Cash
Lap Steel: Chris Scruggs
Flutes: Bill Miller, Joe Cash, John Carter Cash
Banjo: Matt Combs
Sound Effects, Electronic Manipulations: Commander Spike Nicer
# # #