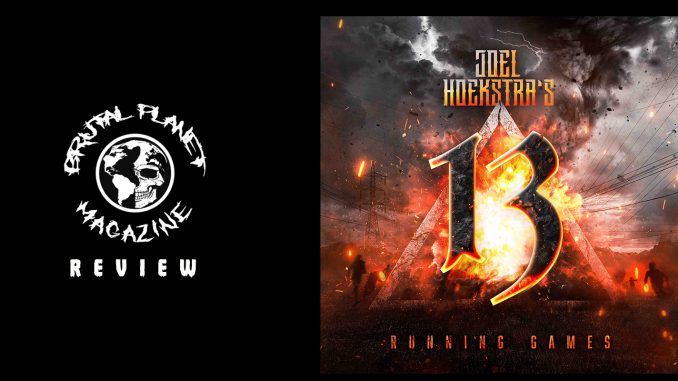 Joel Hoekstra's 13 may not be a household name. I will guarantee if you've seen TSO, Whitesnake, Night Ranger, or possibly Foreigner in the last ten years; you know Joel Hoekstra. I first saw him in 20 with Night Ranger and then again in 2018 with Whitesnake. I remembered him at each show as the guy who had the biggest smile on his face each show. It was abundantly obvious that Joel loved what he was doing. So why wouldn't an album bearing his own name be the same?
Joel is releasing his second album bearing the Joel Hoekstra's 13 name. Running Games will be released on February 12, 2021, and features a slew of amazing musicians on board. Russell Allen (Symphony X, Adrenaline Mob) belts out vocals, and Jeff Scott Soto (Sons Of Apollo, Trans-Siberian Orchestra) is on back up. The combo is unstoppable, and it is just the beginning. Vinny Appice (ex-Black Sabbath, DIO) lends his legendary sound to the rhythm section on drums along with Tony Franklin (ex-The Firm, Blue Murder) on bass. One of the real treats on the album is the use of Derek Sherinian (Sons Of Apollo, former- Dream Theater, Black Country Communion) on keyboards. The genius of his playing on Running Games stands out just like anything he lends a hand on. And of course, the star of the show Joel, plays guitar brilliantly on each song while still letting the light of each musician shine through.
The album's tracks are solid from start to finish, with some standout songs. The first being the opening track, "Finish line." The opening riff has a very George Lynch sound to it. During an interview with Brutal Planet Magazine, Joel mentioned that at one point, he was in a band that covered a lot of Dokken songs live. "Finnish Line" features an epic guitar/keyboard faceoff between Joel and Derek.
Another stand out track comes with "Hard to Say Goodbye." The melodic guitar sound is outstanding, especially mid-song, including an epic solo.
"Heart Attack" has a bit of a bluesy sound to it. The song sounds like it could be taken straight from a Whitesnake album. In fact, listening to "Heart Attack," I could hear how David Coverdale would love this song. "Lonely Days" is a song that has a great 80's feel to it. I loved where Joel took this song, and the backing vocals in the song stand out as some of the best on the album. One of my favorite tracks on the album is "Cried Enough for You." The song has a very melodic opening but quickly transforms into a heavy guitar-driven track. Russell's vocals fit this style of music perfectly. This is a track not to be missed.
As mentioned at the top of the review, there isn't a weak track on Running Games, and it is more or less just picking your favorite tracks amongst all of them. As you listen to the album, you can hear why Joel has become one of the premier guitar players today. Be sure to pick up Running Games on February 12, 2021, via Frontiers Music s.r.l.