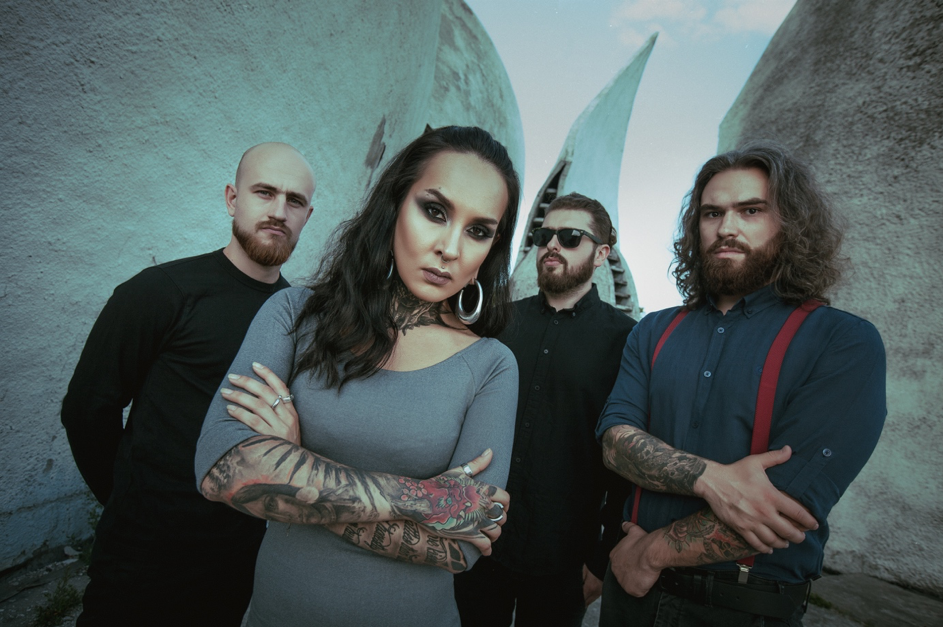 | | |
| --- | --- |
| Nearly Sold Out EU-Tour Kicks Off on November 9 | |
"A cocktail of modern prog metal, 'Macro' is the album where Jinjer show us what the future of heaviness sounds like." – Loudwire
JINJER just released their newest modern metal milestone, Macro, on Friday, and there's no stopping them now – their gripping third official video for the track "Pit Of Consciousness" is out today. The video, presented in full black and white, emphasizes the inner dissension pictured as the narrators "Pit of Consciousness" – lifted musically by a demanding rhythm between punishing riffs, Eugene's distinctive base lines and Vlad's intense drumming. Together with Tatiana's impressive voice, the song pushes the genre to the next level.
"I keep on losing the keys from reality
And now I'm passing on the wheel to insanity"
Eugene on "Pit Of Consciousness":
"This is a song that can be applied to each of us in the band. Living a life at a full pace after years of touring, have we accidentally let someone else into our heads and become foreigners to ourselves? Holding on to the hope that we can keep those doors shut …"
Watch "Pit of Consciousness"
HERE
While January 2019's Micro EP proved to be a short exercise in madness and technical brilliance, fans still aren't prepared for what JINJER has in store with the absolutely unbridled Macro. Defying all boundaries, the aptly titled opening track, "On The Top", features the band`s eclectic trademarks and obeys one law only – their own. Frontwoman Tatiana Shmaylyuk defines the unique character of the Ukrainian act with menacing whispers, enthralling clean vocals and brutal growls whilst lethally groovy riff cascades melt into twisted songwriting. There is space for a microscopic bit of reggae "Judgement (& Punishment)" in all the heaviness, the double bass is beautifully out of control on "Pausing Death", and technically superior tracks like "Home Back" defy gravity.
JINJER says about Macro:
"Going from small things to bigger ones is the natural order of things, and we've paved a path from Micro to Macro, carrying the weight of feelings, emotions and experience. This is a monumental point in the story of JINJER, the quintessence of what makes us what we are now as the people and as a band. We are proud of every single note sung and played on Macro and can't wait for you to give it a listen!"
Tracklist:
1.On the Top
2.Pit of Consciousness
3 Judgement (& Punishment)
4. Retrospection
5. Pausing Death
6. Noah
7. Home Back
8. The Prophecy
9. lainnereP
Macro is available in the following formats:
·1 CD Jewel Case (20 Page Booklet)
· LP Gatefold BLACK
·LP Gatefold SPLATTER (strictly limited to 500)
·LP Gatefold GREEN TRANSPARENT (strictly limited to 500)
·Deluxe Box – including Music Cassette, lyric book, tote bag, signed autograph cards (strictly limited)
· Digital Album
[Artwork by Reuben Bhattacharya | Visual Amnesia]
After JINJER finishes their current North American tour on November 2 in Portland, OR, they will begin their almost completely sold out tour of Europe – with just one week's break in between! They will present songs cut from their new album, as well as fan favorites – proving once more that they are one of the best live bands around.
Catch JINJER on tour in the following cities:
30.10.19 CA – Edmonton, AB / Starlite
31.10.19 CA – Vancouver, BC / The Rickshaw Theater
01.11.19 US – Seattle, WA / El Corazon *SOLD OUT*
02.11.19 US – Portland, OR / Hawthorne Theatre *SOLD OUT*
EUROPEAN MACRO TOUR 2019
special guest: THE AGONIST
supports: KHROMA, SPACE OF VARIATIONS
08.11.19 UA – Kiev / Bingo #
09.11.19 PL – Warsaw / Hybrydy *SOLD OUT*
10.11.19 PL – Wroclaw / Zaklete Rewiry *UPGRADE*
12.11.19 DE – Dresden / Beatpol
13.11.19 CZ – Prague / MeetFactory *UPGRADE*
14.11.19 DE – Berlin / Lido *SOLD OUT*
15.11.19 DK – Copenhagen / Pumpehuset *SOLD OUT*
16.11.19 DE – Hanover / Musikzentrum *SOLD OUT*
17.11.19 DE – Hamburg / Knust *SOLD OUT*
19.11.19 LU – Esch-Alzette/ Kulturfabrik
20.11.19 DE – Frankfurt / Das Bett *SOLD OUT*
21.11.19 DE – Leipzig / Hellraiser
22.11.19 DE – Annaberg-Buchholz / Alte Brauerei
23.11.19 DE – Cologne / Gebäude 9 *SOLD OUT*
24.11.19 DE – Bochum / Zeche *SOLD OUT*
26.11.19 NL – Amsterdam / Q-Factory *SOLD OUT*
27.11.19 NL – Eindhoven / Dynamo *SOLD OUT*
28.11.19 NL – Antwerp / Zappa *SOLD OUT*
29.11.19 UK – London / Heaven *SOLD OUT*
30.11.19 UK – Birmingham / Asylum *SOLD OUT*
01.12.19 UK – Newcastle / University *UPGRADE*
03.12.19 UK – Manchester / Academy 2 *SOLD OUT*
04.12.19 UK – Bristol / Thekla *SOLD OUT*
06.12.19 FR – Paris / La Machine *SOLD OUT*
07.12.19 FR – Annemasse / Chateau Rouge
08.12.19 FR – Toulouse / Le Rex *SOLD OUT*
10.12.19 ES – Murcia / Garaje
11.12.19 ES – Madrid / Mon
12.12.19 ES – Barcelona / Salamandra *UPGRADE*
13.12.19 FR – Toulon / Omega Live
14.12.19 IT – Milan / Legend Club *SOLD OUT*
15.12.19 CH – Zürich / Dynamo
16.12.19 DE – Munich / Backstage Werk
16.12.19 AT – Graz / Dom Im Berg
18.12.19 AT – Vienna / Simm City *UPGRADE*
19.12.19 HR – Zagreb / Tvornica Kulture *UPGRADE*
21.12.19 SK – Bratislava / Majestic
22.12.19 HU – Budapest / Barba Negra
# w/ The Agonist only
MACRO AUSTRALIAN TOUR 2020
03.03.20 AU – Adelaide / Lion Arts Factory
04.03.20 AU – Canberra / The Basement
05.03.20 AU – Melbourne / Max Watts
06.03.20 AU – Sydney / Manning
07.03.20 AU – Brisbane / The Zoo
MACRO OVER LATIN AMERICA TOUR 2020
10.03.20 SV – San Salvador / Buhos
11.03.20 GT – Guatemala City / Rock Ol Vuh
13.03.20 MX – Monterrey / Cafe Iguana
14.03.20 MX – Guadalajara / Foro Independencia
15.03.20 MX – Mexico City / Hell & Heaven Festival
17.03.20 CR – San Jose / Peppers Club
18.03.20 CO – Bogota / Ace Of Spades
19.03.20 PE – Lima / La Oficina Bar
21.03.20 CL – Santiago / Blondie
22.03.20 AR – Teatro Flores
24.03.20 UY – Montevideo / Blast
27.03.20 BR – Limeira / Bar Da Montanha
28.03.20 BR – Sao Paulo / Carioca Club
About JINJER:
In less than 10 years, the four-piece progressive groove metal wrecking machine known as JINJER have carved their very own place in the heavy metal landscape and are poised to go even further in 2019 and beyond. Hailing from Donetsk, this Ukrainian musical oddity formed in 2009 but consider the official start of the band with the addition of the incredible vocalist and femme fatale, Tatiana Shmailyuk, in 2010. Since then, JINJER have been nominated and won the Best Ukranian Metal Act award for Best Ukrainian Metal Band multiple times.
This year's Micro EP was received with open arms by fans and critics alike, climbed to the top of many industry charts and radio station lists worldwide and once again showcased the musical depth and songwriting talent of the band, as well as Tatiana's amazing vocal range. The band will build upon these successes with Macro.
JINJER is:
Tatiana Shmailyuk – vocals
Roman Ibramkhalilov – guitars
Eugene Abdukhanov – bass
Vladislav Ulasevish – drums
JINJER online: