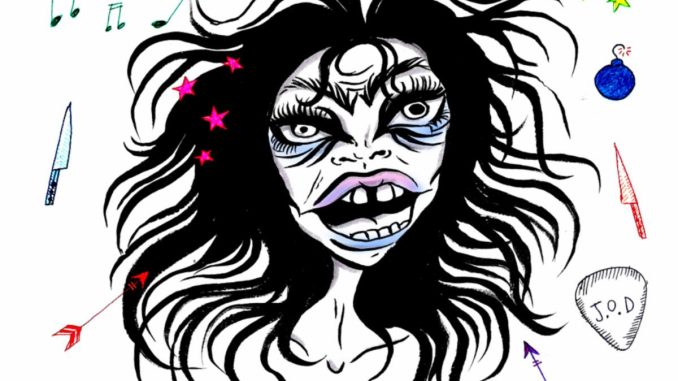 Release Music Video for "Your Lord Good God" – WATCH
Jesters of Destiny have announced the details of their upcoming new studio album! The Los Angeles heavy metal outfit will release the follow-up to their 2017 comeback LP (The Sorrows That Refuse to Drown), titled Distorting Everything, on October 25th, 2022. To celebrate the announcement of their fourth full-length, the band has dropped a music video for their new single "Your Lord Good God," directed by Kent Holmes, which can be seen below.

Frontman Bruce Duff (vocals, bass) comments on the new video, saying, "The call came to put a single out to announce the LP. We had a video ready to come out with the LP release, but nothing was prepared for an advance single. We ended up choosing 'Your Lord Good God', which occupies the sacred Side Two Track One position, but we felt it was too long for the modern-day single attention span. Ray did an edit and then came up with a concept to knock out a one-shot cinema-style video, literally just one continual take. Kent Holmes, who also did the upcoming vid for "Luxifur," crafted, lit, and directed it, and I was the guinea pig. Somehow it seems to work. Try staring at yourself for three-plus minutes – it's a tough one."
Jesters of Destiny – "Your Lord Good God" (Official Video)
'Distorting Everything' – Track List
1."Heavy, Kickin' A"
2."Luxifur"
3."Anna Bella"
4."Caregivers and Caretakers"
5."New Black Pants"
6."Your Lord Good God"
7."Lost in the Canal"
8."Atrocity Queen"
About Jesters of Destiny:

The long and grinding road of Jesters of Destiny can be a difficult trail to follow, but we'll break it down for you. And in true Jesters' fashion, let's do it backwards.

Since their not-so-humble beginning in a recording project from which the earliest Jesters music festered, way back on Halloween 1984, Jesters of Destiny have been helmed by bassist/vocalist Bruce Duff and guitarist Ray Violet. Their latest, Distorting Everything, gestated over a five-year period. Upon the release of their previous crowd-pleaser, The Sorrows That Refuse to Drown, Violet suggested they get right to work on another album. After Duff regained consciousness, he suggested they check with their label, the mighty Ektro Records in Finland, to see if they would even want such a thing. When label-head Jussi Lehtisalo confirmed his enthusiasm, the record was underway as the pair began putting songs together from existing demos and riffs and forging new ones from scratch. Work was done remotely as Duff is in Los Angeles and Violet was in Syracuse, NY (he's now an island guy living in the Caribbean).

By 2019, there was sufficient material to enter Kitten Robot studio with long-time conspirator Paul Roessler (who played on Jesters' second record, 1987's In a Nostalgic Mood). They tracked at KR with drummer Jason Levi, and then continued overdubbing, mixing, and writing. The record came together slowly but had a mission statement. In the early days, press labeled the Jesters as 'alternative metal,' whatever that means, which probably had a lot to do with many of the sidesteps JOD LPs would take—instrumental interludes, covers, acoustic music, pop songs. This new record was going to bypass all of that. Their latest, Distorting Everything, is the Jesters distilled to their brand of hard rock/metal with no detours. Classify it as you need.

The first track heard from the LP was "Heavy, Kicking A," released at the pre-pandemic dawn of 2020 in time for the US presidential election. Not a political band by any stretch, this Jesters song is sung from the perspective of the "1 percent" at the top of the financial, corporate empire as they manipulate the strings that control the remaining 99.

Following that fateful 1984 session when Duff and Violet figured they might have something new to offer in the form of "Diggin' That Grave" and "End of Time," they set out to form a working band and get their material out to the world. Enter Metal Blade Records, who put "End of Time" as the closer on Metal Massacre V, a record hinting at alt-metal and beyond with the likes of Voivod, Hellhammer (soon to morph into Celtic Frost), Omen, and Fates Warning. 'Fun at the Funeral', Jesters' first LP from '86, was released on Dimension Records, a Metal Blade subsidiary made for bands that didn't fit the usual Metal Blade preconceptions. SPIN commented, "Perfectly executed punkadelic glam-bop with a healthy dose of metallic insolence. Working within this context, the Jesters thumb their noses at insanity, aphrodisiacs, Pollyanna grooviness, and the occasional suicide." And, from the ever-influential Kerrang, "Delightfully different…(a) mysterious mixture of musical influences from a number of bands you just can't think of. Weird, but strangely appealing. 4Ks for…I don't quite know what."

In 2001, Ektro Records contacted the Jesters, looking to reissue 'Fun at the Funeral' on CD. Since then, the alliance between the band and label has been steady. Ektro vinyl label Full Contact reissued Fun in 2014, and in 2017 released the don't-call-it-a-comeback record 'The Sorrows That Refuse to Drown', a full return to form by Duff, Violet, and friends – including Roessler (Screamers/45 Grave), Tim Harrington (Masters of Reality), Sickie Wifebeater (Mentor and Fun-era Jester), and drummers Jason Lee and Frank Hanyak. Said New Noise upon its release, "The band is as contemporary and bustling as ever, mingling perpetual open taste, humor, proto-heavy metal, and distinguished psychedelic groove. This is a group that is fearless and smooth in its freedom of distribution. Meaning, you're going to get a real sound— nothing hijacked, compromised, or normal."

Which brings us back to the beginning and hence the present. Crank up 'Distorting Everything', and remember, a little distortion never hurt anyone.
Jesters of Destiny Online: