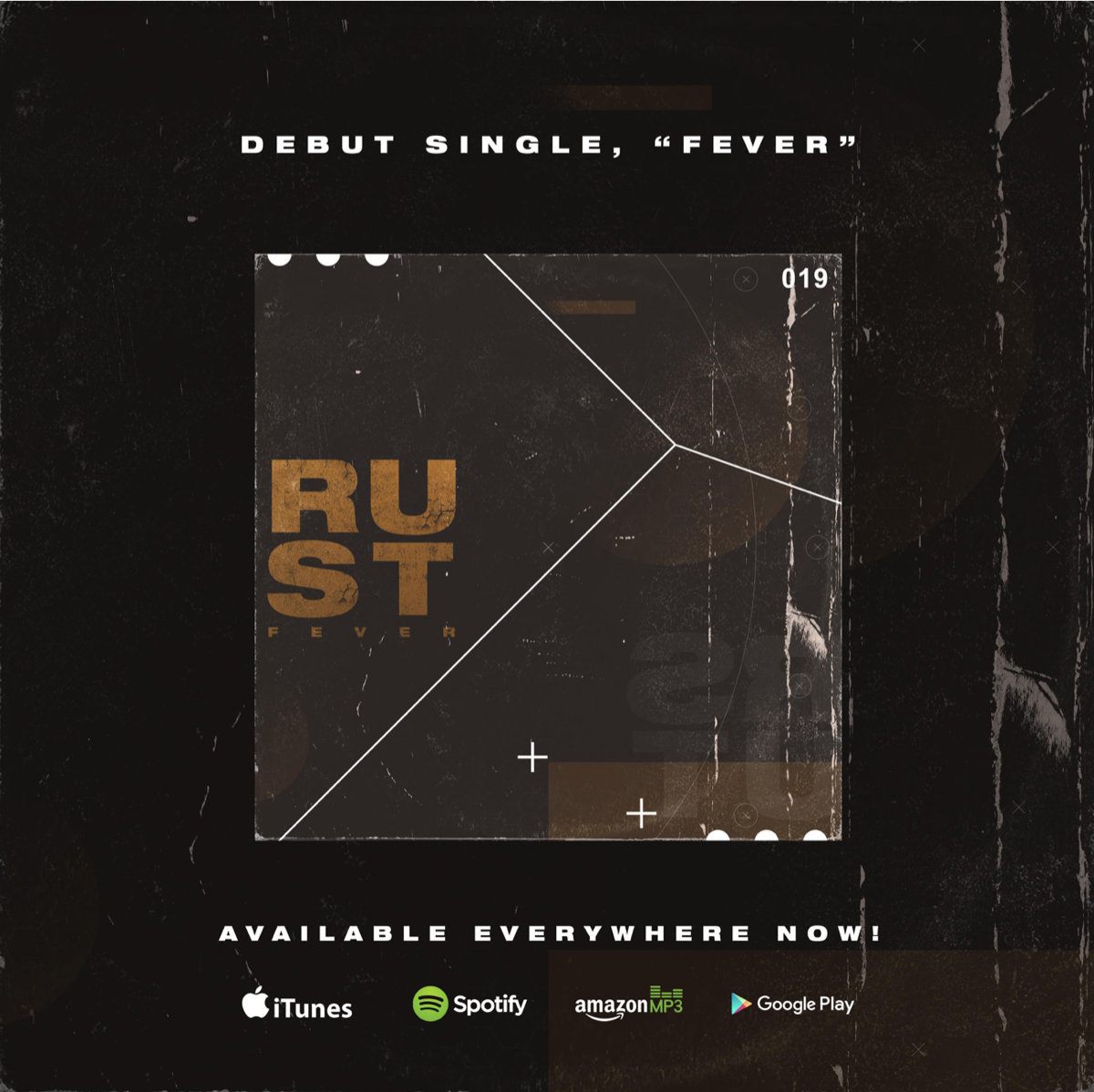 Speaking to widespread demand from fans for new music, former Failure Anthem and Written in Blood singer JD Eubanks returns with a brand new band. Eubanks joined forces with Chad Mosbey [Point of Reason, Sub 7] to form Rust. The group unveil their self-titled debut EP, Rust, one song at a time over the next few months.
Listen to the first track "Fever" here. It is available for purchase here and here.
Backed by hard-hitting guitars, arena-ready rhythms, and skyscraping vocals, "Fever" proves instantly infectious.
"'Fever' is a song about living inside the darkest of depression within a relationship or within life, but not giving in to the world's everyday struggles. The fever or demon is the pressure of life and fighting anxiety on a daily basis, yet still trying to give or interact with all of those in which you encounter daily," Eubanks explained. "I've suffered from anxiety, depression, and PTSD for most of my life and felt this could be a great opportunity to help those around me beset with the same demons."
He continued, "As musicians, I feel we are the light in a dark place for those suffering from anxiety, depression, or facing struggles. I do a lot of charity work in New Orleans for the homeless and people struggling with addiction, so I also use my music to aid in that way, as well."
He finished, "This project Rust is a chance for myself and Chad Mosbey to really just push forward without the distractions of pleasing a record label or without so many opinions. It's great to be a DIY band and self-release."
The song was produced by Zack Keel of The Flwr Shop and co-written by Josh Landry of The Hourglass Room Studio.
Rust draws inspiration from everyday life as its co-founders know it. With veteran work ethic, years of experience, tried-and-true know-how, and a driving, powerful rock sound, Rust are ready to be heard.
Catch the "Fever" now.
Eubanks is also a chef who won Guy's Grocery Games after splitting with Failure Anthem in order to be with his at-the-time newborn son. He was named the Best Chef in Louisiana by the American Culinary Federation, and also serves as a culinary ambassador for the state. He is also working on a program that will help teach recovering addicts the culinary arts as a healing technique, and a means to transition into the next phase of their lives. Plus, he was the head chef of the National World War II Museum. Despite having established himself as one of the pre-eminent chefs in the country, Eubanks still has a hunger for rock 'n' roll.
"Getting back into music has been an amazing experience and feeling," the singer said.
Rust are also working with Bemo Barnett of Static Audio Studios on additional tracks. The band plans to release the songs one at a time. The next track "Devil's Paradise" is slated to arrive in November with a video.