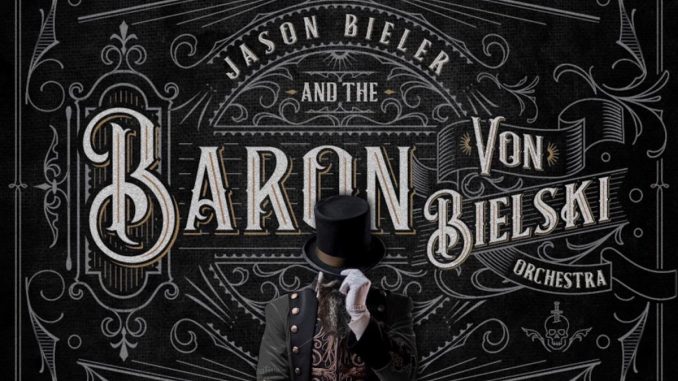 | | |
| --- | --- |
| NEW ALBUM, "SONGS FOR THE | |
Featuring a who's who roster of guests, the disc is a wonderfully theatrical, multifaceted, and hard-hitting journey that's sure to stay at the top of Bieler's musical accomplishments for years to come.
-Metal Injection-
Jason Bieler and The Baron Von Bielski Orchestra's Songs for the Apocalypse sounds kind of the way I imagine it would if Adam Jones suddenly just could not stop listening to the the '67 Monterey Pop Festival, and the lyrics are so trippy you'll think your shoelaces have come untied.
-Metal Sucks-
"In an era where traveling is discouraged, Jason Bieler offers a world tour with this multicultural prog bonanza. Just close your eyes and he'll take you there."
-Loudwire-
###
Jason Bieler has released his new solo album, "Songs For The Apocalypse," under the moniker Jason Bieler and The Baron Von Bielski Orchestra. Also today, Bieler has released a video for the song "Beyond Hope." The song features Benji Webbe (Skindred), David Ellefson (Megadeth), Bumblefoot (Sons Of Apollo), and Ricky Sanders. Watch the absolutely creepy, mesmerizing video HERE:
https://youtu.be/p9jdLpyzeE4
Bieler is a singer, guitarist, songwriter and producer who is also known for playing with hard rock band SAIGON KICK, which achieved a platinum single in the US with the timeless hit "Love Is On The Way" from its gold-selling album "The Lizard", which Jason also produced. Bieler also played in an early touring version of TALISMAN with Marcel Jacob and Jeff Scott Soto, as well as SUPER TRANSATLANTIC, with EXTREME bassist Pat Badger, earning them a gold record for their work on the soundtrack for the "American Pie" movie. Recently, Bieler had been touring extensively as a solo artist. The shows featured a wide array of musical styles, absurdists humor, special guests, and more. He also runs, along with his brother, a successful record label, Bieler Bros., which has worked with SKINDRED, WILL HAVEN, NONPOINT, KARNIVOOL, SIKTH, and many more.
Tracklist:
1. Never Ending Circle
2. Apology
3. Bring Out Your Dead
4. Annalise
5. Stones Will Fly
6. Down In A Hole
7. Anthem For Losers
8. Horror Wobbles The Hippo
9. Beyond Hope
10. Crab Claw Dan
11. Born Of The Sun
12. Baby Driver
13. Alone In The World
14. Very Fine People
15. Fkswyso
Line-up:
All instruments and vocals by Jason Bieler unless listed otherwise below:
Apology
Drums: Todd LaTorre
Bass: Kevin Scott
Solos: Andee Blacksugar
Bring Out Your Dead
Drums: Edu Cominato
Bass: David Ellefson
Solo: Devin Townsend
Annalise:
Bass: Kevin Scott
Stones Will Fly, My Only Hope:
Drums: Ricky Sanders
Bass: Pat Badger
Solo and extra guitars: Butch Walker
Down In A Hole:
Drums: Edu Cominato
Bass: Kyle Sanders
Extra Guitars: Stephen Gibb
Anthem For Losers
Drums: Ricky Sanders
Bass, Piano, Guitar Twanging: Clay Cook
Horror Wobbles The Hippo:
Extra guitars solos and soundscapes: Emil Werstler
Beyond Hope
Guest Vocals: Benji Webbe
Drums: Ricky Sanders
Bass: David Ellefson
Solo: Bumblefoot
Born Of The Sun:
Drums: Edu Cominato
Bass: Kyle Sanders
Solo: Clint Lowery
Alone In The World:
Drums: Ricky Sanders
Guest Vocals: Jeff Scott Soto
JASON BIELER SOCIAL MEDIA