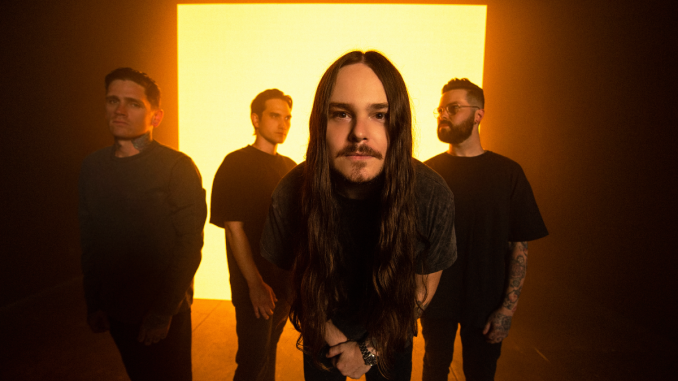 BAND SHARES "ESCAPIST" VIDEO — WATCH
JAMIE'S ELSEWHERE, featuring Of Mice & Men vocalist/bassist Aaron Pauley, have announced their new Paradise EP, out July 19 via SharpTone Records. It's the first new material from the band in nearly a decade. Pre-order the EP here.
Today, the band has shared the new single "Escapist." Watch the video here.
:
'We're thrilled to announce that we've signed with SharpTone Records, and excited to announce the release our first single 'Escapist' from our new EP Paradise," says Pauley. "This new chapter of the band has been years in the making, and we're so excited to be teaming up with the talented and creative minds at SharpTone Records to bring these songs, and this story, to our fans all around the world — both old fans and new!"
Following nine years of dormancy, Jamie's Elsewhere couldn't simply return with simply songs. Instead, they swing for the fences and speak to multiple senses all at once with the Paradise EP. The California quartet — the aforementioned Pauley [vocals], Matt Scarpelli [guitar], Chance Medeiros [bass], and Mike Spearman [keys] — expand their vision like never before with an arresting narrative set to a soundtrack of emotionally charged heavy music underscored by cinematic electronics, soaring melodies, jarring hardcore, and moments of unpredictable sonic bludgeoning. After carving out a niche and generating tens of millions of streams, the group pull audiences into an all-encompassing and entrancing soundscape.

"The concept follows a protagonist through the day-to-day grind," Pauley notes. "He discovers Paradise, which is a metaverse where you can upload your soul. It was a tongue-in-cheek way for us to label a dystopian A.I. The irony is hopping on the internet could never be a real paradise. We went really deep in terms of the story and lyrics."

Following their emergence in 2005, Jamie's Elsewhere quietly attracted a devout audience via a series of EPs and fan-favorite albums, namely Guidebook for Sinners Turned Saints [2008] and They Said a Storm Was Coming [2010]. Along the way, the band toured with everyone from Motionless In White and Memphis May Fire to Ice Nine Kills. Assuming lead vocal and bass duties for Of Mice & Men during 2012, Pauley initially parted ways with Jamie's Elsewhere. 2014 saw the group drop Rebel-Revive highlighted by "Empty Eyes" [feat. Garrett Rapp of The Color Morale] and "The Illusionist" [feat. Tyler Carter of Issues], which amassed over 6.2 million Spotify streams. On the eve of the tenth anniversary of The Said A Storm Was Coming, Spearman caught an Of Mice & Men gig, and conversations about reviving Jamie's Elsewhere began in earnest. Those conversations morphed into writing sessions and the rest, as they say, is history and here we are.
PARADISE EP TRACK LISTING:
"Escapist"
"Paradise"
"Avatar"
"Poisoning Eden"
"Separate Me"
JAMIE'S ELSEWHERE ONLINE: