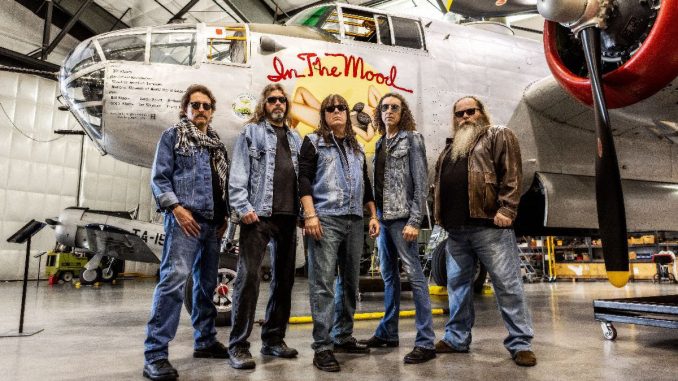 Photo by Randall Fishburn Jr.
US heavy metal act JAG PANZER released their first album in six years, a conceptual opus titled The Hallowed, through Atomic Fire Records last month. The record earned the #23 position on the Official German Album Chart and #62 on the Official Swiss Album Chart: #62. Now JAG PANZER are about to kick off their European tour in support of the record at Germany's Headbangers Open Air Festival tomorrow. The ten-date journey also includes a stop at Wacken Open Air and will come to a close with an appearance at Alcatraz Festival on August 12th. In celebration of the tour, the band has unveiled a video for the track "Prey."
Guitarist Mark Briody comments, "'Prey!' is probably the band's favorite song to rehearse. The quick riff is lots of fun to play live! In the album concept this is where the panthers kill a family so that the team can take their supplies. We wanted something a bit different for this song, so there is no solo and the structure is much different from the other songs. The track also showcases some of our more unique influences. For example, the main riff in 'Prey!' ends on 4. We don't do that a lot in our music but some of our very early (young teens) influences such as The Runaways' 'Cherry Bomb' ends the riff on 4."
JAG PANZER – Welcome To The Hallowed Tour 2023:
7/29/2023 Headbangers Open Air Festival – Brande-Hörnerkirchen, DE
7/30/2023 Junkyard – Dortmund, DE
8/01/2023 Colos-Saal – Aschaffenburg, DE
8/02/2023 Goldgrube – Kassel, DE
8/04/2023 MTS – Oldenburg, DE
8/05/2023 Wacken Open Air – Wacken, DE *Sold Out*
8/06/2023 South of Heaven – Bilzen, BE
8/09/2023 Musigburg – Aarburg, CH
8/11/2023 De Pul – Uden, NL
8/12/02023 Alcatraz Festival – Kortrijk, BE
9/29/2023 Blades Of Steel Metal Festival 3.0 – Madison, WI
The Hallowed is quite a different album compared to JAG PANZER's back catalog works as it follows the conceptual storyline of the band's comic book of the same title which came out in late 2022.
Bass and drum tracks for The Hallowed were recorded at Sonic Phish Productions in Arizona and engineered by revered drummer Ken Mary (Alice Cooper, Fifth Angel, Flotsam & Jetsam), with additional recording for guitars and vocals taking place at SteamPunk Audio Labs in Arizona and Hound House Studios in Colorado. Longtime engineering guru and extended JAG PANZER family member Jim Morris mixed the record at the famous Morrisound Studios in Florida while Maor Appelbaum (Faith No More, Halford, Candlemass, Armored Saint) added his mastering magic to the album. The staggering cover artwork was crafted by Dusan Markovic (Angel Witch, Virgin Steele) before longtime underground metal artist Travis Smith (Megadeth, Opeth, Overkill) was brought in to handle the layout of The Hallowed, finalizing an amazing team of artists for the new album.
What came into being in 1981 in Colorado Springs has lost nothing of its rebellion and power, not even over four decades later. Being inspired by the onslaught of the New Wave Of British Heavy Metal, Mark Briody and his comrades quickly became one of the most intriguing US power metal acts, releasing some successful studio albums, including their 1984 debut album Ample Destruction, The Fourth Judgement (1997), Thane To The Throne (2000), The Scourge Of The Light (2011), and The Deviant Chord (2017). After facing several lineup changes and a hiatus, JAG PANZER are still holding sway as their forthcoming album The Hallowed proves.
JAG PANZER:
Harry Conklin – vocals
Mark Briody – guitars
Ken Rodarte – guitars
John Tetley – bass
Rikard Stjernquist – drums