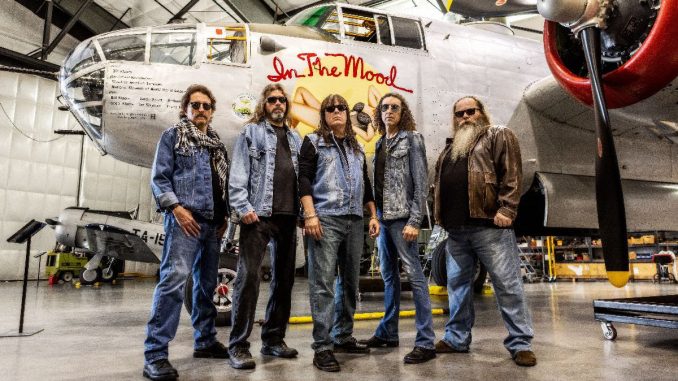 The Hallowed, Out Now On Atomic Fire Records; Comic-Inspired Lyric Video For "Dark Descent" Now Playing
Photo by Randall Fishburn Jr.
Today marks the official release of The Hallowed, the long-awaited new conceptual studio album from Colorado heavy metal collective JAG PANZER! In celebration of the record's release, guitarist Mark Briody has created yet another lyric video, this time for a track "Dark Descent."
Briody says, "'Dark Descent' can be interpreted as literal or metaphoric. In this part of the storyline, the group is descending a cliff amongst the old city ruins. The group are also descending towards the final outcome of the story. Although at first glance it seems like a basic heavy metal song, those who breakdown the music will see that it is one of the most musically complex songs on the album."
The Hallowed is available in the following formats: digipak CD, jewelcase CD, 2xLP (White/Blue; Transparent/Blue; Blue/White; White/Black), and digitally.
The Hallowed is quite a different album compared to JAG PANZER's back catalog works as it follows the conceptual storyline of the band's comic book of the same title which came out in late 2022.
Bass and drum tracks for The Hallowed were recorded at Sonic Phish Productions in Arizona and engineered by revered drummer Ken Mary (Alice Cooper, Fifth Angel, Flotsam & Jetsam), with additional recording for guitars and vocals taking place at SteamPunk Audio Labs in Arizona and Hound House Studios in Colorado. Longtime engineering guru and extended JAG PANZER family member Jim Morris mixed the record at the famous Morrisound Studios in Florida while Maor Appelbaum (Faith No More, Halford, Candlemass, Armored Saint) added his mastering magic to the album. The staggering cover artwork was crafted by Dusan Markovic (Angel Witch, Virgin Steele) before longtime underground metal artist Travis Smith (Megadeth, Opeth, Overkill) was brought in to handle the layout of The Hallowed, finalizing an amazing team of artists for the new album.
JAG PANZER – Welcome To The Hallowed Tour 2023:
7/29/2023 Headbangers Open Air Festival – Brande-Hörnerkirchen, DE
7/30/2023 Junkyard – Dortmund, DE
8/01/2023 Colos-Saal – Aschaffenburg, DE w/ Elvenpath
8/02/2023 Goldgrube – Kassel, DE w/ Generation Steel
8/04/2023 MTS – Oldenburg, DE
8/05/2023 Wacken Open Air – Wacken, DE
8/06/2023 South of Heaven – Bilzen, BE
8/09/2023 Musigburg – Aarburg, CH
8/11/2023 De Pul – Uden, NL
8/12/02023 Alcatraz Festival – Kortrijk, BE
9/29/2023 Blades Of Steel Metal Festival 3.0 – Madison, WI
What came into being in 1981 in Colorado Springs has lost nothing of its rebellion and power, not even over four decades later. Being inspired by the onslaught of the New Wave Of British Heavy Metal, Mark Briody and his comrades quickly became one of the most intriguing US power metal acts, releasing some successful studio albums, including their 1984 debut album Ample Destruction, The Fourth Judgement (1997), Thane To The Throne (2000), The Scourge Of The Light (2011), and The Deviant Chord (2017). After facing several lineup changes and a hiatus, JAG PANZER are still holding sway as The Hallowed proves.
"Their strongest record in eons, leaning hard into the swashbuckling sound they pioneered only this time with stronger songwriting, stronger production and youthful exuberance that belies their age." — Decibel Magazine
"This album is essential!" — Metal Rules
"At this point, JAG PANZER's legacy is secure, but as long as they continue to crank out albums as strong as this one, however infrequently it may be in the last two decades, then they'll forever be at the top of the classic US power metal pile." — Last Rites
"Metal doesn't get much better than this… Superb." — My Global Mind
"As a concept record, The Hallowed reminds exactly what the band is capable of more than 40 years into their career." — Heavy Music HQ
"The Hallowed is fifty-plus minutes of listening time well spent. It's classic power metal the way it should be. Not too hard, not too soft, or overdone with theatrics. It's timeless music that is sure to please fans both new and old. Even if this isn't your preferred genre, it is well worth checking out." — Ghost Cult
JAG PANZER:
Harry Conklin – vocals
Mark Briody – guitars
Ken Rodarte – guitars
John Tetley – bass
Rikard Stjernquist – drums
Artwork by Dusan Markovic