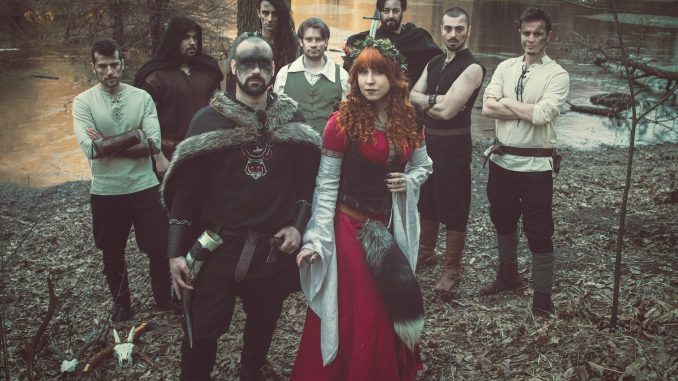 New Album "The Fifth Season" Out October 29th

Italian symphonic folk metallers Aexylium have unleashed their latest video for the title track from their forthcoming album "The Fifth Season" due out October 29th, 2021 via Rockshots Records.
The title track tells through the lyrics and the music an initial restlessness, which leads to a feeling of hope and rebirth towards the end. The song also expresses doubts about the future, also considering the human impact on the planet.
Watch the video featuring Arianna Bellinaso as a special guest on vocals at https://youtu.be/uL0YN1JIyVc
Digital stream – https://spoti.fi/3A5znzK
"The Fifth Season" is due out October 29, 2021 via Rockshots Records and is available for pre-order at the following links:
DIGIPAK EDITION: https://bit.ly/TheFifhtSeason_CD
PRE SAVE: https://bfan.link/the-fifth-season
AEXYLIUM – The Fifth Season (Official Music Video)
Mixing traditional folk instruments (Flute, Violin, Bouzouki) with the modern symphonic metal, Aexylium's sophomore full length follows 2018's "Tales From This Land" (Underground Symphony Records) and their 2016 self-produced EP "The Blind Crow". "Tales From This Land" has had over 110k streams on Spotify along with its powerful single "Revive the Village' placing on the top 200 metal song charts in Germany on Apple Music. Aexylium has also released fan-praised covers of Game of Thrones and Vikings main themes with reinterpreted folk metal sounds.
Since their inception in 2014, the Italian band has performed at renowned festivals in Europe such as Dumeltica International Music Festival, Montelago Celtic Festival, Malpaga Folk & Metal, Rock Inn Somma, Druidia and Strigarium along with sharing the stage with Elvenking, Wind Rose, Nervosa, Furor Gallico, Temperance and more. In August 2020, despite Covid restrictions, Aexylium was chosen by the city of Milan to perform at the historical Castello Sforzesco.
Their new album "The Fifth Season" is a concrete step towards growth and musical maturity with its offering of festive ballads, tighter riffs, advanced orchestrations and heavier dark songs that are all inspired by Norse Mythology. The record also features guest vocals from Samuele Faulisi (Atlas Pain), Arianna Bellinaso and the members of Coro Facoltà di Musicologia Vocal Ensemble.
The album was recorded at Twilight Studio by Davide Tavecchia with the artwork done by Jan Yrlund (Manowar, Testament, Korpiklaani)
Track Listing:
1. The Bridge (4:47)
2. Mountains (4:16)
3. Immortal Blood (5:54)
4. Battle of Tettenhall (5:59)
5. Skål (4:54)
6. An Damhsa Mór (2:39)
7. Yggdrasil (4:47)
8. Vinland (4:09)
9. The Fifth Season (5:20)
10. Spirit of the North (5:40)
11. On the Cliff's Edge (2:40)
Album Length: 51:10
Band Line Up:
Steven Merani – Vocals
Fabio Buzzago – Guitar / Backing Vocals
Andrea Prencisvalle – Guitar
Gabriele Cacocciola – Bass
Matteo Morisi – Drums
Stefano Colombo – Keyboards / Accordion / Backing Vocals
Federico Bonoldi – Violin
Leandro Pessina -Flutes / Bouzouki / Mandolin
For more info:
Rockshots.eu
Aexylium.it
Facebook.com/aexylium
Instagram.com/aexylium_official
Youtube.com/c/AexyliumOfficial
Spotify: https://sptfy.com/5y1a
Aexylium.bandcamp.com
"The experience of hearing 'Tales from this Land' is a wonderful voyage through time and music at the same time" – Metal Temple (9/10)
"They just need to keep honing the direction, it's on the right track for sure! I'm not even a big fan of folk metal, but I just became a fan of Aexylium!" – BucketList (9/10)
"A significantly well done, fun and excellent debut album if you love this genre of music" – Metalwave (80/100)
"'Tales from this Land' is not afraid of foreign competition and shows, together with a handful of CDs released in recent months, great talent" – Mister Folk (8/10)
"The first song of their concert is unmistakable for those who have followed this TV series, I'm obviously talking about 'Game of Thrones' and is welcomed by an ovation from the crowd, that is getting bigger under the stage … They are eight on the stage and the energy they spread is perceived and celebrated several times by the horn sounds among the crowd" – Malpaga 2016 live report by Metalpit
"Aexylium from Varese, a band that I personally had never listened live and that turned out to be a pleasant discovery … The crowd is jumping, and even though their show is at the hottest time of the day, the audience for them is consistent, and it is undeniable that they appreciate the exhibition" – Malpaga 2016 by Suoni Distorti Magazine