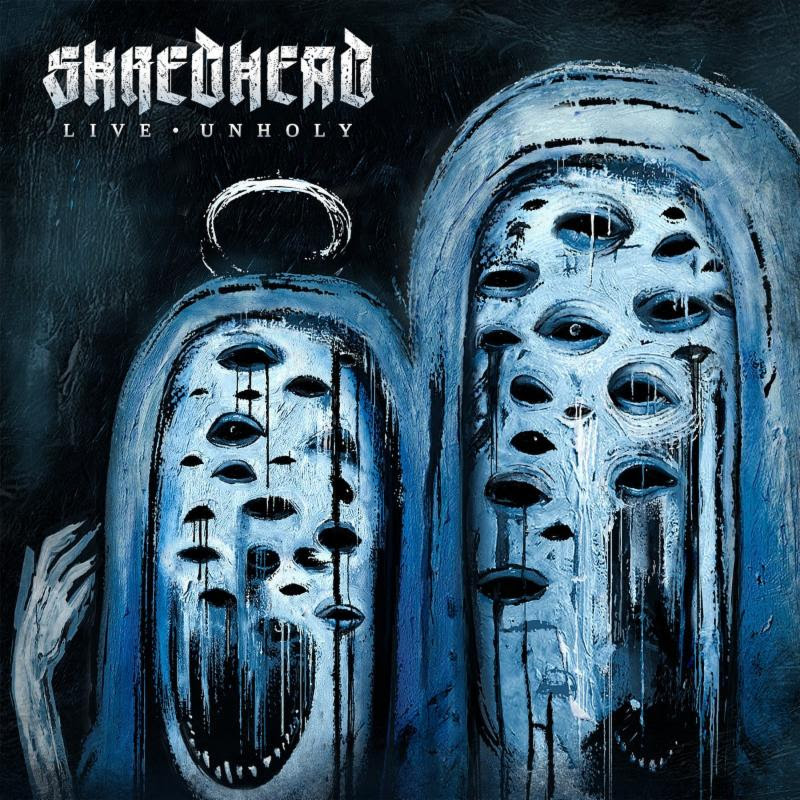 Featuring Footage Captured During Recent Japan Tour – Watch via
Kerrang!
Israeli thrashers
SHREDHEAD
, who recently celebrated the worldwide release of their third album,
Live Unholy
, have just revealed a brand new music video for their third single, "Unmarked". The video, which was filmed and edited by Ron Gabizon of RG Photography (
Facebook
|
Instagram
), features a slew of behind-the-scenes footage taken during the band's recent Japanese tour alongside
DevilDriver
.
Guitarist Yotam Nagor says: "Unmarked is one of the most melodic and groovy songs on the album and was definitely one of the most fun songs to write for the album. It's one of those songs that always gets us hyped on stage at a live show."
Guitarist Razi Elbaz adds: "Touring Japan was truly an adventure! First of all, I found the Japanese culture fascinating and different from anything I've experienced so far. The Japanese are amazing people and made us feel very welcome, and performing was insane because at shows they're downright crazy! Can't wait to get back."
Live Unholy
, available now via
Legend Recordings
, was recorded at Antfarm Studios in Denmark and recorded and mixed by Tue Madsen (
Meshuggah
,
Suicide Silence
,
Babymetal
,
Sick of it All
). The album received over 10,000 streams on Spotify within its first week of release. On its release day,
Live Unholy
, received placement on iTunes' Featured and Best Sellers charts and peaked at number 40 on the Top 100 Metal Albums chart.
Combining brute force with modern and relentless heaviness, SHREDHEAD has been hailed as one of the top Israeli metal exports to date.
A Live Unholy release party will take place on July 27 at the Barby Club in Tel Aviv.
SHREDHEAD previously released two albums, Human Nature and Death is Righteous. Between the two albums, the band was victorious in the Israeli Metal Battle and had the opportunity to represent Israel at the Wacken Metal Battle in Germany.
A video for the track "Overshadows" from
Live Unholy
was revealed earlier this year. Watch "Overshadows" here:
https://youtu.be/tVz8TrRWbPo
.
SHREDHEAD is:
Aharon Ragoza – Vocals
Yotam Nagor – Guitar
Razi Elbaz – Guitar
Lee Lavy – Bass
Roee Kahana – Drums
SHREDHEAD online:
*If you are viewing this email with a Firefox web browser and cannot see any press release content, please try viewing in a different browser.
For press inquiries and additional information, please contact Adrenaline PR:
ABOUT US:
Adrenaline PR is a boutique independent public relations firm founded in 2003 by acclaimed PR and music industry professional Maria Ferrero. Adrenaline PR utilizes decades' worth of effective publicity techniques to execute a project's targeted focus, all the while enhancing the potency of a campaign by extending outside the realms of traditional promotions. Adrenaline PR propels clients to the next level by raising overall perception and awareness, applying beneficial marketing and branding methods to reach various new media territories. Although Adrenaline PR's longstanding credibility is rooted in their successful representation of notable brands, festivals, artists, and beyond, the firm also specializes in securing noteworthy placements and creating a high-profile buzz for up-and-coming talent and brands.
The team at Adrenaline PR has represented wide range of projects – ranging from bands, fine artists, films and books, to labels, tours, festivals, award shows, conventions, photographers, and tattoo artists. Adrenaline PR has represented notable artists such as, but not limited to: American Idol winner Lee DeWyze, All That Remains, Amigo The Devil, Anthrax, As I Lay Dying, Atreyu, Chevelle, Cradle of Filth, Dethklok/Brendon Small's Galaktikon, DevilDriver, Drowning Pool, Down, Europe, Every Time I Die, Five Finger Death Punch, GWAR, Hank3, Harley Flanagan, Hatebreed, John 5, KMFDM, Lamb of God, Mac Sabbath, Machine Head, Motorhead, Mudvayne, Norma Jean, Otep, Pentakill, Peter Murphy, Sevendust, Static-X, Suicidal Tendencies, Superjoint Ritual, Tech N9ne, Testament, The Aristocrats, Twiztid, Uli Jon Roth and more. Adrenaline PR has had the pleasure of supporting press campaigns for Good Fight Music, InsideOut Music, Metal Blade Records, Minus Head Records, Napalm Records, Nuclear Blast Records, Prosthetic Records, Razor & Tie, and others. Adrenaline PR has promoted films, soundtracks and compilations including As The Palaces Burn (Lamb of God documentary), Hesher, REPO! The Genetic Opera, Super Duper Alice Cooper, the Ronnie James Dio: This Is Your Life tribute compilation (2014 Best Metal Performance Grammy winner for Tenacious D's "The Last In Line"), Dimebag Darrell's Dimevision, and The Punisher (soundtrack), and books such as Louder Than Hell; The Oral History Of Heavy Metal and The Merciless Book of Metal Lists. Artists represented include Paul Booth – The King of Rock and Roll Tattoo, Vincent Castiglia (tattoo artist and surrealist) and Derek Hess. Adrenaline PR is recognized for publicizing various events such as the Astronomicon Pop Culture Convention, the Journeys Alternative Press Music Awards and the Alternative Press Magazine 20th Anniversary (My Chemical Romance, The Used and Say Anything), Inkcarceration Music & Tattoo Festival, MTV2 Headbanger's Ball Tours I and II, REPO! The Genetic Opera Film and Road Tour, Rockstar Energy Drink Mayhem Festival, Ronnie James Dio: Stand Up and Shout Cancer Fund charity events, Scott Ian's "Speaking Words" tour, Sounds of the Underground, various Live Nation NYC club events, and many more. Adrenaline PR has also booked guest judges for BRAVO's Top Chef and assisted with Grammy Award/The Recording Academy events.