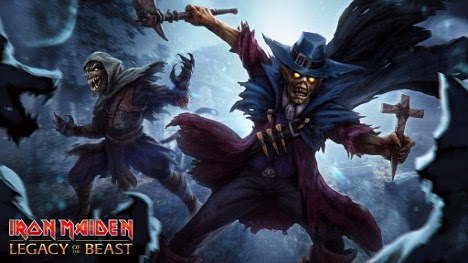 Ahead of the two bands sharing the stage for two shows in Germany this July, POWERWOLF will be the second in-game collaboration of 2022 for Iron Maiden's Legacy of the Beast free-to-play mobile game.
Following successful collaborations last year with Amon Amarth, Lacuna Coil, Ghost and most recently with Disturbed, Iron Maiden's Legacy of the Beast team created a new character and storyline borrowing from POWERWOLF's latest album, Call of the Wild.
The new limited-time, in-game event called, Macht Der Wölfe (German for Power of the Wolf) features a limited-time character, Vârcolac.
When it came to seeing Vârcolac in Eddie's world for the first time, POWERWOLF lead singer Attila Dorn says: "We were breathless and stunned when we saw the first iteration/scene of the game featuring our Vârcolac. And most of all we couldn't wait to play it ourselves!!" Attila continues, "When I was a young kid listening to my Iron Maiden tapes all day, I would have never dreamed of playing the same stage one day, being invited to support Iron Maiden with my band. Is there anything more a metalhead could dream of?"
Lead guitarist for POWERWOLF, Matthew Greywolf says: "Iron Maiden's songs and melodies are immortal. The neat combination of melody and heaviness is still as revolutionary as it was when first heard Maiden at 11 years old, I was truly fascinated by it, and I still am!"
Keyboardist Falk Maria Schlegel continues: "I would say Bruce Dickinson is my major MAJOR influence in all that I'm doing on stage, with my whole performance… still a great inspiration, so thank you Bruce!"
Navigator Games CEO, Will Moore says: "The fans and players have been absolutely thrilled to see their favorite bands partner with Iron Maiden Legacy of the Beast. Over the past year our players have kept hinting at Powerwolf. We hope they're pleased to see Powerwolf's iconic mascot bought to life on this epic adventure!"
Players can earn the Vârcolac character for FREE by logging in a total of seven days from now, receiving Vârcolac on the final day. Ends May 12 at 2:00pm CET.
In this new storyline, Vârcolac and Van Helsing Eddie cross paths in the catacombs of Dracula's Dungeon. Vârcolac has just escaped Professor Parabiosis, an evil doctor wanting to conduct experiments on him because of his extraordinary powers. He asks Van Helsing Eddie to join him in defeating the evil doctor. Van Helsing Eddie soon realizes that Vârcolac is fighting his own internal struggle between good and evil and they soon realize the professor has a more sinister plan in mind than just a mere dissection.
In Iron Maiden: Legacy of the Beast, metal and RPG gaming fans take on the role of the band's iconic mascot, Eddie, who travels across a spectacularly diverse array of worlds by traveling through time in captivating 3D environments. Eddie appears in many forms, each a part of Iron Maiden's rich history, and each with a set of special powers and abilities.
————————
At the end of 2021, POWERWOLF – the most successful German metal band to date – fascinated with a streaming event of unprecedented dimensions. Those who thought they had seen everything in the live sector were instantly proven wrong with unmatched audio production and visuals that can only be described as simply breathtaking. This summer, on July 8, 2022, this new benchmark for music streaming events will finally be available to view any time you crave. THE MONUMENTAL MASS – A CINEMATIC METAL EVENT will be unleashed on DVD, BluRay and many other physical formats!
Pre-Order your version of THE MONUMENTAL MASS – A CINEMATIC METAL EVENT
HERE
:
POWERWOLF live:
w/ Iron Maiden:
20.07.22 DE – Bremen / Bürgerweide
26.07.22 DE – Frankfurt / Deutsche Bank Park
About POWERWOLF
The story of POWERWOLF, beginning in 2004, reads like a true fairytale, but is the result of the most hard-working and entertaining live band on the heavy metal planet. POWERWOLF has not only received plenty of Gold and Platinum awards to date, but numerous releases have entered the official German album charts at the top position of #1. With Blessed & Possessed (2015), POWERWOLF achieved Gold status (in the Czech Republic) for the first time, while its predecessor, Preachers Of The Night (2013), hit the official German album charts at #1, and the incredible DVD, The Metal Mass (2016), came in at #1 of the German DVD-Charts. POWERWOLF's holy mass in the name of heavy metal is unstoppable – their latest magnum opus, The Sacrament of Sin (2018), again entered the album charts at #1. The accompanying, almost completely sold out Wolfsnächte headline tour – in which POWERWOLF headlined large venues with their phenomenal stage performances – became a single major triumph, as well as the numerous summer festival shows in which crowds were thrilled and completely captivated by the wolves and their unique, (un)holy metal mass. In the end of 2021, POWERWOLF celebrated The Monumental Mass – a streaming event that set new standards. With the new studio album, Call Of The Wild, and the upcoming tour charging through the largest halls in Europe, the whole world is completely under the sign of the wolf pack once again!
POWERWOLF are:
Attila Dorn – vocals
Falk Maria Schlegel – organ
Charles Greywolf – guitar
Matthew Greywolf – guitar
Roel van Helden – drums
POWERWOLF are:
Attila Dorn – vocals
Falk Maria Schlegel – organ
Charles Greywolf – guitar
Matthew Greywolf – guitar
Roel van Helden – drums