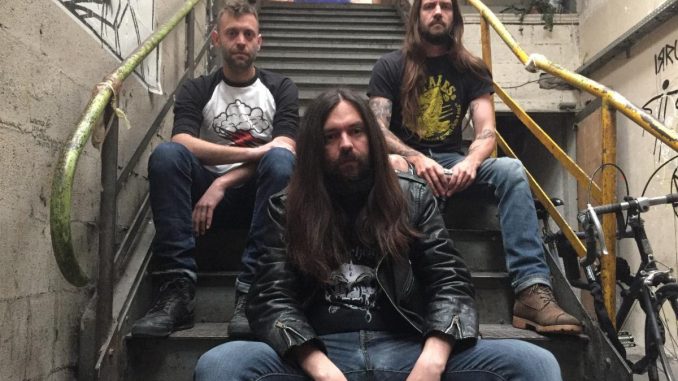 IRON LIZARDS have released their debut full-length album 'Hungry for Action'. 12 furious cuts of high-energy garage rock straight from the alternative 90s. Raw production and hefty shouts for vocals. Punchy drums and fuzz-fueled guitars. Gritty and gutsy, 'Hungry for Action' is dirty rock n roll, boiled down into its true essence.
The guitars, bass, and vocals on 'Hungry for Action' were recorded at Studio Baleine, with the drums being recorded at Tylo Studio. The album was mixed and mastered by Marlon Wolterink at White Noise Studios. Album artwork by Bangalore Studios.
'Hungry for Action' is released via The Sign Records and is available on vinyl, CD, and all digital formats.
Stream the album:
Get the album:
Listen on Youtube:
IRON LIZARDS Biography:
No fucks given. No trends. Iron Lizards blast their guitars and make music alive once again. Raw riffs, and with no unnecessary shit in their songs. Straight on, no fuzz, and loud screaming guitars. Iron Lizards make you feel the wild and dangerous side of rock'n'roll. They make you remember the hazy days of the alternative '90s. Combining the roughest part of music history, Iron Lizards are a true statement in this time and age. Be ready to testify, Iron Lizards will make your ear pukes of the loud and unfiltered joy of unsophisticated music.
Iron Lizards are a power-trio from Paris, France. The band was formed in 2015 by Elio with their goals already set; honoring the old gods of Detroit (MC5, The Stooges) whilst paying their homage to the 90's action rock scene (The Hellacopters, Zeke, New Bomb Turks). This was then mixed with influences taken from everything from 60's garage punk to 80's punk hardcore (Zero Boys, Minor Threat, Gang Green) and psychobilly (The Cramps). Their first EP was released in 2016 by German JanML Records, following this with playing as the opening act for bands such as Get Dead, Zeke, Mammoth Mammoth, Sonic Wolves, The Hip Priests, and Christmas. In 2021 the band signed with Swedish The Sign Records to release their debut album: Hungry for Action.
IRON LIZARDS Are:
Elio – Guitar & Vocals
Kevin – Drums
Valentin – Bass