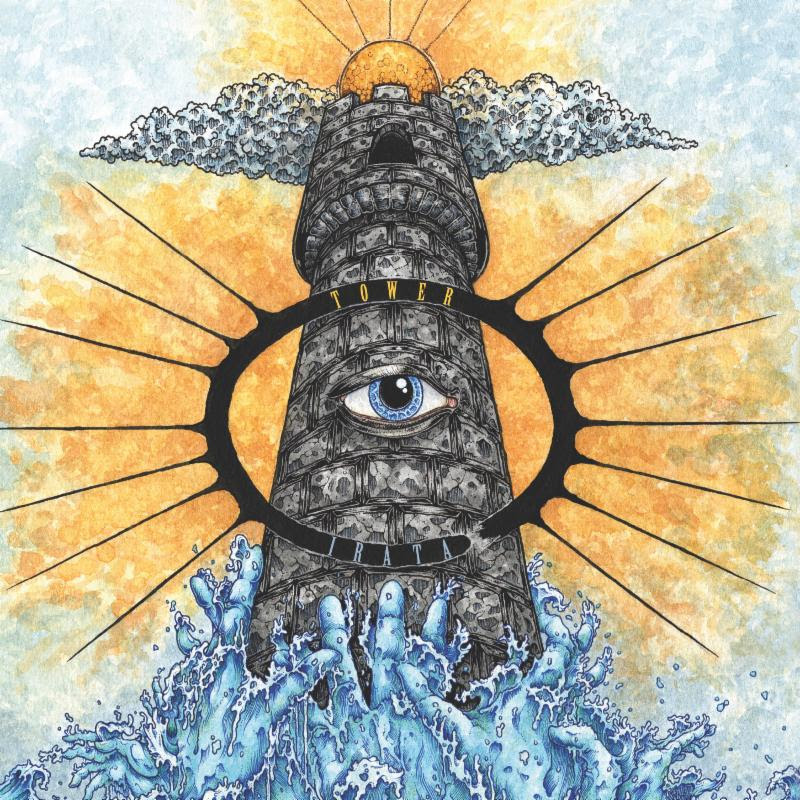 IRATA: PopMatters Streams Tower Full-Length In Its Entirety; Record To See Release This Friday Via Small Stone + Tour Dates With Weedeater Confirmed
"The album continues to display the quartet's dizzying waft of scuzz while maintaining musical elements that also appeal to the great washed masses who grew up listening to math rock, pre-grunge indie rock and Black Sabbath." — PopMatters
PopMatters is currently streaming Tower, the anticipated new full-length from Greensboro, North Carolina-based heavy rock unit IRATA. The premiere comes on the eve of the record's official release via Small Stone.
Writes PopMatters of the release, "The album continues to display the quartet's dizzying waft of scuzz while maintaining musical elements that also appeal to the great washed masses who grew up listening to math rock, pre-grunge indie rock and Black Sabbath," further elaborating, "'Weightless' reminds us of early Soundgarden's penchant for creating jazzlike ragas that were frequently hypnotic and sometimes hallucinatory. Coupled with a Jane's Addiction-style vocal chant and for a moment you're back in your brother's college apartment, wondering how much Nag Champa could Nag if a Champa could Nag Champa. 'Innocent Murmur' is a voyage into progressive rock replete with some of the record's most interesting lead guitar work, the predictably great 'Leviathan' (How could it not rip with that title?) and the final, epic 'Constellations' are three stops on an exhilarating journey that keeps the listener guessing and bobbing their heads in constant approval."
Tower will be released on CD, digital, and limited-edition vinyl formats May 24th. For preorders, go to THIS LOCATION.
IRATA will join Weedeater for a short run of shows later this month. The band are also confirmed to appear on the Golden Haze Fest in Golden, Colorado as well as Descendants Of Crom III Fest in Pittsburgh, Pennsylvania with addition live performances to be announced in the weeks to come. See all confirmed dates below.
IRATA w/ Weedeater:
5/29/2019 The Hideaway – Johnson City, TN
5/30/2019 Westside Bowl – Youngstown, OH
6/01/2019 Turnbuckles And Brews – Dayton, OH
6/02/2019 Rock and Roll Hotel – Washington, DC
6/03/2019 The Southern – Charlottesville, VA
8/30/2019 Golden Haze Fest @ Buffalo Rose – Golden, CO *
9/22/2019 Descendants Of Crom III Fest @ Cattivo – Pittsburgh, PA *
* IRATA only
Since its 2007 genesis at the hands of founding members drummer Jason Ward and bassist Jon Case, IRATA has mutated restlessly, moving from its initial morphine-infused heavy fusion through math-y metal and finally to the soaring, technical heavy rock of its current approach. Over those dozen years, IRATA has made its presence known in metal and hard rock circles throughout the Southeast and beyond. Thanks to its growth from a trio with guitarist Cheryl Manner to a four-piece with the addition of guitarist Owen Burd, IRATA is evolving yet again.
With Burd's talents on guitar, vocals, and trumpet added to what had already felt like a complete equation, IRATA is pushing itself to new vocal and instrumental heights. Accordingly, its upcoming LP Tower applies impressive musicianship and complex textures to increasingly approachable tunes that teeter between hard rock and prog-metal. It's like the sports car version of Don Caballero. Fans of Jane's Addiction, Mastodon, Kylesa, Helms Alee, Sandrider, All Them Witches, and King Buffalo pay heed.
"This Greensboro, North Carolina crew certainly knows how to ride a fuzztone riff to and beyond its obvious conclusions to build a mood. The band has experimented with a number of styles before settling on its present one, which is something like Mastodon-meets-early Fu Manchu. It's heavy, driving and full of interesting math rock flourishes and sounds really good super loud." — Vancouver Sun
"From the opening riffs, so reminiscent of Torche and their saccharine approach to fuzz, to the big choruses, this track oozes cool and groove." – Heavy Blog Is Heavy
"There's nothing quite as exciting as opening up an email from an unfamiliar band, falling in love with the artwork and finding that the music is not only every bit as good as you had hoped, but that it is, in fact, even better. Tower is, quite simply, an astounding album, drawing on a wide range of prog and metal influences to deliver an intelligent, exciting album that repays repeat listens thanks to the deftly textured arrangements. By turns crushingly heavy and ethereal, Tower is a remarkable album and comes very highly recommended indeed." — Sonic Abuse
"…a thrilling, complex and brilliant album from start to finish." — Outlaws Of The Sun