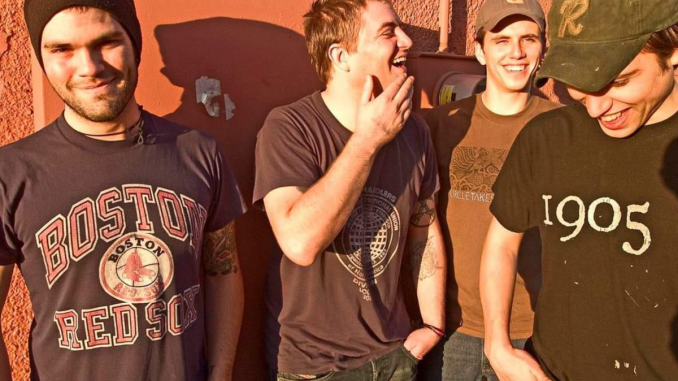 RELEASE IS A COLLECTION OF OUT-OF-PRINT + UNRELEASED TRACKS
"Distinctive hooks, infectious melodies and fist-pumping choruses: It's all here, and it sounds damn near perfect." – ALTERNATIVE PRESS
Smoke or Fire formed in Boston during the late '90s alongside countless bands in the Boston underground scene. The band delivered a unique brand of heartfelt emotional punk that included complex layered guitars, dirty vocals, and lyrics that ranged from deeply personal topics to social criticisms of war and politics. The songs often drew comparisons to bands like Avail, Hot Water Music, and Against Me!
Smoke or Fire released their debut EP Worker's Union via Iodine Recordings in 2002. After several U.S. tours with bands like Against Me! and Avail, Smoke or Fire relocated to Richmond, Virginia, where they caught the attention of the iconic NOFX record label Fat Wreck Chords. They signed to Fat and remained through their career, releasing three full lengths: Above the City (produced by Fat Mike/NOFX), This Sinking Ship, and The Speakeasy.
Smoke or Fire toured relentlessly over the 20-years-and-beyond history, with numerous U.S. and European tours, sharing the stage regularly with bands such as Against Me!, Dillinger Four, Hot Water Music, Descendents, Anti-Flag, NOFX, Silverstein, Rise Against, Bad Religion, and The Ataris, among others.
Today, Iodine Recordings has announced the release of
Beauty Fades
, which will arrive on May 27. Pre-order it
here
.
Beauty Fades is a collection of out-of-print and unreleased tracks. Side A includes Worker's Union, which was completely remixed and remastered at New Alliance Studios in Boston. Side B includes seven rare or unreleased tracks that span the history of the band, including the EP Rises in the East, which was never released, but included a number of songs that were in the band's live set throughout their tenure. The entire collection is being pressed on vinyl for the first time ever and it comes complete with all new artwork and packaging.
The band has also shared "Beauty Fades." Listen here.
Beauty Fades documents some of the best moments of the band's legacy with fist-pumping anthems and emotional interludes. Singer Joe McMahon remains adamant that these are the best songs he ever wrote, which capture a youthful energy and idealism that is fleeting for us all.
BEAUTY FADES TRACK LISTING:
"Sunday Pints"
"Beauty Fades"
"50 Cent Hearts"
"Second Wind"
"Running in Circles"
"They All Go to California"
"Modesty"
"Nowhere to Go But Up"
"Hand Me Downs"
"Written to be Read"
"Live On"
"Someone Said We Flew"
"Oxygen"