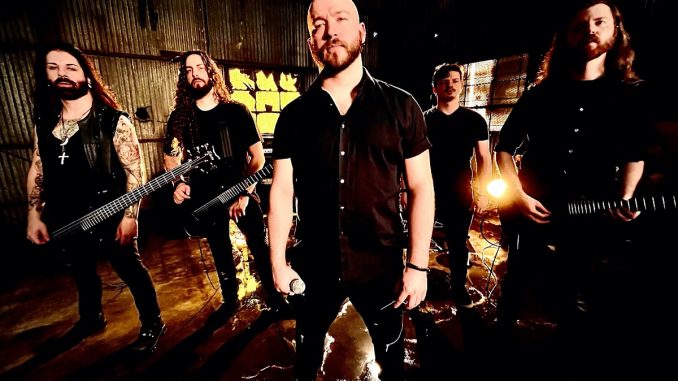 LAS VEGAS ALT/DARK ROCK BAND PREMIERES "DOWN" VIDEO AT OUTBURN — WATCH
The Nocturnal Affair
, an alternative/dark rock project spearheaded by singer/songwriter
Brendan Shane
, have shared the video for their new single "
Down
" over at
Outburn
. It was directed by Dale "Rage" Resteghini (Diddy, Gun N' Roses, Pitbull, Hatebreed, and many more).
Watch it here.
"The writing of 'Down' was a bit of a turning point for this band," says Shane. "I had been writing a lot of slow, brooding stuff and I was weary of change due to the poor influence of someone I was doing business with. 'Down' helped me come out of my shell and realize that this project can be whatever I want it to be and I can write whatever I feel is right."
About the visual, he says, "Rage is the definition of professional. Working with him didn't feel like work at all. It was an absolute blast. He made a 100° warehouse with 80% humidity feel like a theme park."

The director himself comments, "When the team approached me about doing a video for this new project, I knew it had to be something special. After listening to some music, we all agreed on 'Down' being the lead track. We set location in a gritty and dark downtown LA warehouse for a killer band performance and filmed sexy vignette visuals with a professional model, and wow! EVERYONE DELIVERED!!!"
"Down" is available at all DSPs and impacts rock radio national today, November 16.
The band's musical style is an ode to darker alternative music torchbearers like Type O Negative, HIM, David Bowie, Gary Numan, and Nine Inch Nails. They capture a uniquely haunting sound steeped in melancholic melodies enveloped in the darkness behind the glow of the Las Vegas lights where Shane has called home.

The Nocturnal Affair's new single "Down" marks the band's first official release via Earache Records, one of the longest running and most well-known rock and metal record labels in the world.
"Down" is from the band's upcoming debut album (META)MORPHOSIS), set for an early 2022 release. The album was produced by John Moyer (Disturbed) and mixed and mastered by Logan Mader (Machine Head, Once Human), who also contributed to some of the songwriting and production.
Moyer weighs in on his work on the album and single, saying, "'Down' was one of the first demos I heard that sparked the beginning of our work on the album. 'Down' is about some rough times and I am sure a lot of people can relate to it." Mader also comments, "The Nocturnal Affair are one of my all time favorite bands to work with. 'Down' is the first of many hard hitting singles to come. This band is on fire!"

The group has performed alongside a wide array of artists from heavy metal heavyweights like HELLYEAH, Asking Alexandria, and Pop Evil, as well as industrial rockers My Life With The Thrill Kill Kult. The band has toured with the vampiric act The 69 Eyes while also being accessible enough to share the stage with notable mainstream acts like 3 Doors Down and Black Stone Cherry.

The Nocturnal Affair were recently invited to perform on Chris Jericho's Rock 'N' Wrestling Rager at Sea Cruise, which sailed from Miami to Grand Bahama Island this past October. This appearance marked the band's first live performance since the COVID-19 pandemic shut the world down in early 2020.

The Nocturnal Affair is managed by veteran artist manager John Gomez and co-managed by famed MTV VJ personality Matt Pinfield, and are represented by TKO Booking Agency.
THE NOCTURNAL AFFAIR ONLINE: