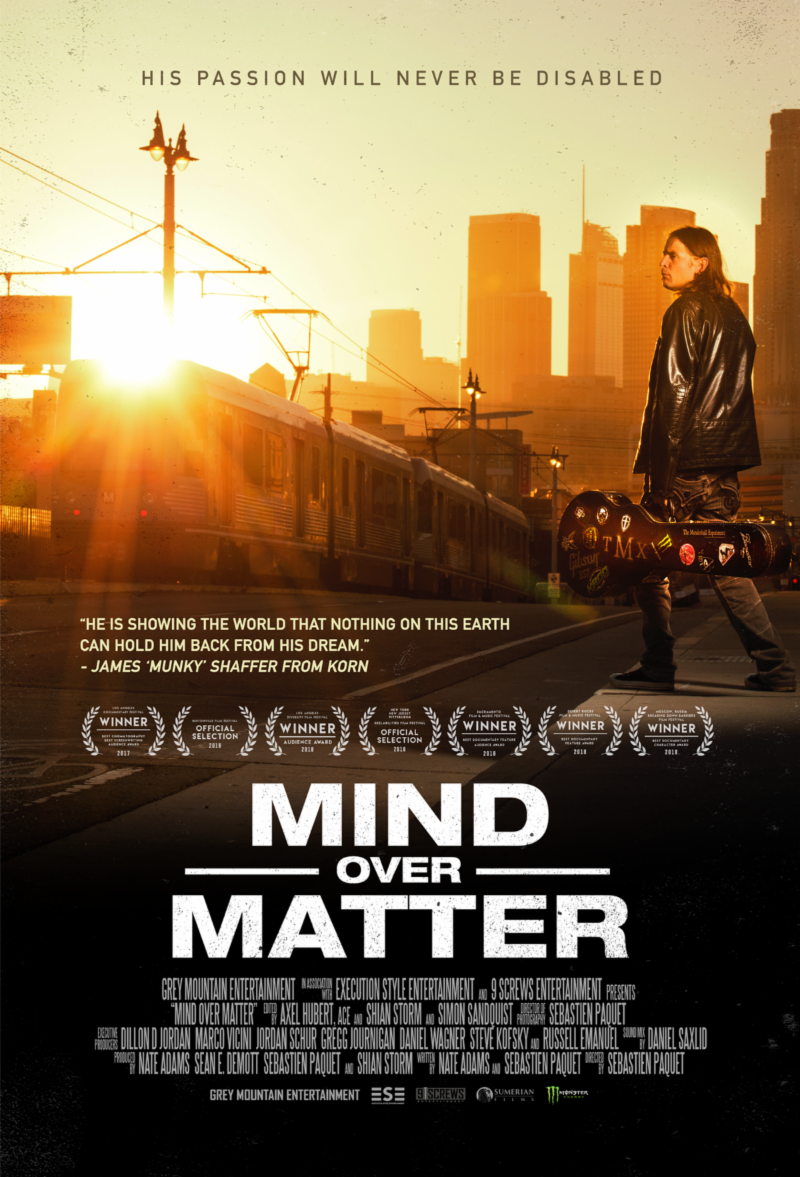 INTERNATIONAL AWARD WINNING DOCUMENTARY
MIND OVER MATTER
Slated For Digital Release on 25th January
A young man with Cerebral Palsy overcomes a paralyzed left hand, bullies, and stereotypes, dreaming of becoming a rock guitarist even while told he will never succeed. His dreams become reality as he leads his own band, inspired by the band Korn to express himself through music.
LOS ANGELES, CA (JANUARY 11, 2019) – MIND OVER MATTER is the international award-winning documentary chronicling the inspirational story of Brandon Mendenhall and will be released on all major digital platforms January 25th on Sumerian Films. Featured throughout the film are legendary KORN band members James "Munky" Shaffer, Brian "Head" Welch and Jonathan Davis.
Brandon was born with cerebral palsy, a neurological condition that affects movement, coordination and balance. More than one doctor told him he would never play an instrument, but Brandon had other plans. The film documents Brandon's unbelievable journey to rehabilitate his then-paralyzed left hand in order to play guitar, while also overcoming bullies and stereotypes. Along the way he found friendship and mentors with members of the Grammy-award winning band KORN.
Brandon eventually formed his own band THE MENDENHALL EXPERIMENT which opened the main stage at Monster Energy's Aftershock Festival 2016. They were soon signed with a major record deal and released their debut album on Lucent/Universal.
Please see the film trailer
here
A great supporter of Brandon, KORN guitarist Munky says:
"Brandon is a big inspiration, not only for myself but for lots of people that not only want to get into music but that want to follow their dreams in anything."
Mind Over Matter is directed by Sebastien Paquet, a French filmmaker behind the award-winning short film "Wounded Warriors" and critically acclaimed short doc "Korn And The Prodigy Son", about the 12-year- old son of METALLICA bassist Robert Trujillo. Joining Paquet is Writer/Producer Nate Adams, Producer Sean E DeMott and Executive Producers Dillon D. Jordan, Marco Vicini, Daniel Wagner, Russell Emanuel and Gregg Journigan.
Celebrated on the film festival circuit, MIND OVER MATTER has taken home top awards including:
*2017 DOC LA. Los Angeles Documentary Film Festival: WINNER of 'Best Cinematography,' 'Best Screenwriting' and 'Audience' Awards
*2018 Los Angeles Diversity Film Festival: WINNER 'Audience' Award
*2018 Sacramento Film & Music Festival: WINNER 'Best Documentary Feature (Audience)'
*2018 Desert Rocks Film Festival: WINNER Documentary Feature
*2018 'Breaking Down Barriers' International Disability Film Festival: WINNER Best Documentary Character Award
For additional info, please see
Link to view an advance screener of the documentary available upon request.
Brandon Mendenhall and Sebastien Paquet are available for interview.
Assets Available Below:
Find Mind Over Matter On Socials