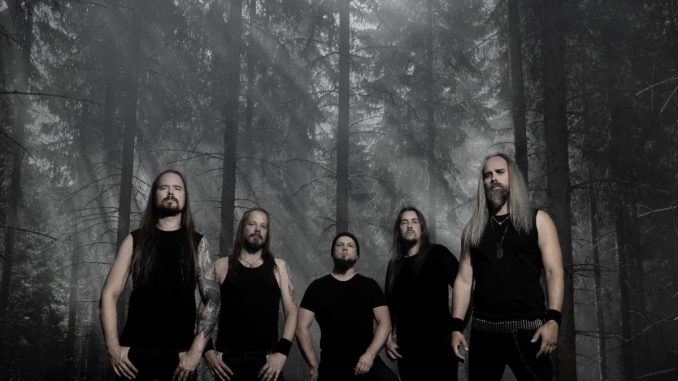 (feat. Johanna Kurkela)
releases new album, 'Anno 1696', today via Century Media Records!
Today (February 24th), Finnish metal melancholists Insomnium have released their ninth full-length, Anno 1696, via Century Media Records. Based on a short story by Niilo Sevänen (bass/vocals), Anno 1696 takes the listeners back into the dark times of the witch prosecutions in Northern Europe, famine and superstition. Stream or purchase the album here: https://Insomnium.lnk.to/Anno1696
To celebrate the day, the band is playing two sold-out shows at Helsinki's Tavastia Klubi tonight and tomorrow and has also revealed a new music video for "Godforsaken (feat. Johanna Kurkela)". Once again directed by Riivata Visuals, the new video can be viewed later today @ 9AM PT//12PM ET//6PM CET here: https://youtu.be/jHN5xONEjSA
Guitarist Markus Vanhala comments about the track: "This shows the epic side of the album and is taking the listener through the sonic snowstorms and shamanistic plays. I truly love the shamanistic vocals of the beautiful soul Johanna Kurkela who did a perfect job on executing this vision to perfection. We salute you, Johanna! Probably my own favorite on the album, besides 'The Rapids'."
Bassist/vocalist Niilo Sevänen adds: "Vanhala's composition and one of the most epic songs in this bunch. Here we have the renowned Finnish singer Johanna Kurkela performing the female vocals. Lyrics are from the point of view of the main protagonist, Arvid, who tries to solve the mysterious deaths in the small village."
Guitarist Ville Friman concludes: "Also one of the oldest demos we had ready for this album before the pandemic hit. The original female voice sample was elevated to another level by Johanna's vocals. First time we have used female vocals on any Insomnium song."
The videos for the previously released singles can be seen below:
–"The Witch Hunter": https://youtu.be/UyXHvjS_8d8
–"White Christ" (feat. Rotting Christ's Sakis Tolis): https://www.youtube.com/watch?v=PWG-WzEciHU
–"Lilian": https://youtu.be/rSU9I4W8czE
This April, Insomnium will return to North America for a co-headlining tour with Enslaved, plus Black Anvil as support. See below for all dates! Tickets and VIP upgrades are available from: www.insomnium.net/tour
Insomnium – 'Anno 1696' release shows
Feb. 25, 2023 – Helsinki, Fi @ Tavastia – SOLD-OUT!
Feb. 26, 2023 – Helsinki, Fi @ Tavastia – SOLD-OUT!
Insomnium + Enslaved co-headline tour 2023
w/ Black Anvil
Apr. 5, 2023 – New York, NY @ Irving Plaza
Apr. 6, 2023 – Boston, MA @ Big Night Live
Apr. 7, 2023 – Montreal, QC @ Corona Theater
Apr. 8, 2023 – Toronto, ON @ The Opera House
Apr. 9, 2023 – Lakewood, OH @ The Foundry (Insomnium w/ Black Anvil only)
Apr. 10, 2023 – Detroit, MI @ St. Andrew's Hall
Apr. 11, 2023 – Chicago, IL @ House of Blues
Apr. 12, 2023 – Minneapolis, MN @ Varsity Theater
Apr. 14, 2023 – Denver, CO @ The Gothic Theatre
Apr. 15, 2023 – Salt Lake City, UT @ The Complex
Apr. 17, 2023 – Seattle, WA @ The Crocodile
Apr. 18, 2023 – Vancouver, BC @ The Rickshaw
Apr. 19, 2023 – Portland, OR @ Hawthorne Theatre
Apr. 21, 2023 – Berkeley, CA @ The UC Theater Taube Family Music Hall
Apr. 22, 2023 – Los Angeles, CA @ The Fonda Theatre
Apr. 23, 2023 – Phoenix, AZ @ Nile Theater
Apr. 24, 2023 – El Paso, TX @ The Rockhouse Bar & Grill (Insomnium w/ Black Anvil only)
Apr. 25, 2023 – Austin, TX @ Come and Take It Live
Apr. 26, 2023 – Dallas, TX @ The Echo Lounge and Music Hall
Apr. 27, 2023 – Memphis, TN @ Growlers (Insomnium w/ Black Anvil only)
Apr. 28, 2023 – Atlanta, GA @ Variety Playhouse
Apr. 29, 2023 – Raleigh, NC @ Lincoln Theatre
Apr. 30, 2023 – Baltimore, MD @ Baltimore Soundstage
The band will also return to the European festival stages this summer:
May 6, 2023 – Kopervik, NO @ Karmøygeddon
Jun. 2-4, 2023 – Pilsen, CZ @ Metalfest Open Air
Jun. 8-10, 2023 – Zamora, ES @ Z! Live Rock Fest
Jun. 18, 2023 – Dessel, BE @ Graspop Metal Meeting
Jun. 29, 2023 – Seinäjoki, FI @ Provinssi
Jul 13-15, 2023 – Neukirchen-Vluyn, DE @ Dong Open Air
Jul 13-16 2023 – Anycsciai LT @ Devilstone
Jul. 25-29, 2023 – Tolmin, SL @ Tolminator Metal Fest
Jul. 29, 2023 – Oulu, FI @ QStock
Aug. 17-20, 2023 – Carhaix, FR @ Motocultor Festival