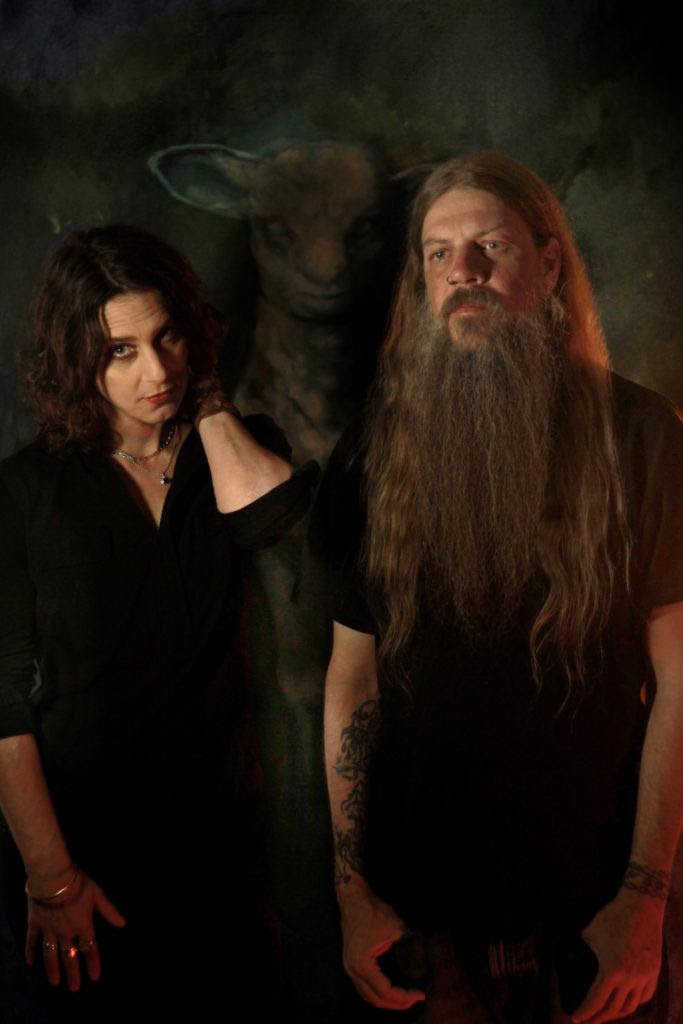 The Vanishing Preorders Available Via Profound Lore + Special NYC Release Show Announced
[Photo by Chris Carlone]
Revolver Magazine is currently streaming "Philae" from INSECT ARK, the instrumental psychedelic doom duo featuring founder Dana Schechter (Swans) and Andy Patterson (ex-SubRosa). The track comes off the band's stunning forthcoming new full-length, The Vanishing, set for release February 28th via Profound Lore.
Engineered by Colin Marston (Dysrhythmia, Krallice, Behold The Arctopus), the six-track opus serves as INSECT ARK's third, and most harrowing and punishing record to date. Though many of its segments veer off into mind-expanding outer realms, the interplay between the bass, lap steel guitar, synths, and drums represent a strong and defiant collection of songs that demand your exclusive attention forcefully. It's heavier, darker, and denser than anything INSECT ARK has ever done, without losing any of the writing characteristics that have become synonymous with their personality, like the persistent coating of eerie psychedelia, the alien feel of the melodies, or the ominous dread they often exhale.
Notes Schechter of the latest track unveiling, "The song 'Philae' traces the epic narrative of a robotic voyager on its journey to a comet near Jupiter. The travel, alongside its host the Rosetta Spacecraft, took over ten years. Philae crashed, was pulled by the comet's gravity, and for over a year was sitting lost in the shadow of a cliff.
When I wrote 'Philae,' it was all about space. Not outer space, but physical space – or more specifically, negative space. I wanted the song to feel unmoored, as if it existed in place utterly empty and airless, collapsing, with the dual senses of sinking and floating. I heard about the (true) story of Philae after I'd finished writing the song, and it just felt like the music and the story coexisted perfectly."
Fade away with "Philae," now playing at Revolver at THIS LOCATION.
Find previously release track "Tectonic" HERE.
INSECT ARK has been crafting uncomfortable soundscapes that feel both intimate and icy cold since 2011. Nightmarish horror film-like visions, outer space travel, and gritty noir textures were explored in their previous offerings – the much-praised Portal / Well (2015) and Marrow Hymns (2018) – but now, something far greater is coming. Prepare for The Vanishing.
The Vanishing will be released worldwide on CD, LP, and digital formats. For physical preorders go to THIS LOCATION. For digital orders go to THIS LOCATION.
INSECT ARK will play a special double record release show on February 26th with their comrades in NYC avant/experimental outfit Gnaw, who are preparing to release their new EP Barking Orders. The special performance will take place at Saint Vitus Bar in Brooklyn, New York and is immediately followed by INSECT ARK's departure for a Europe/UK tour (stand by for details). Additional North American and European tour dates will be announced for Autumn 2020.
INSECT ARK Live:
2/26/2020 The Vanishing Record Release Show @ Saint Vitus Bar – Brooklyn, NY w/ Gnaw
A New York City-based multi-instrumentalist known for her collaborations with Swans (for whom she is now part of the main touring lineup), Angels Of Light, Gnaw, Zeal & Ardor, Wrekmeister Harmonies, and Årabrot, as well as her own projects Bee And Flower and Gifthorse, Dana Schechter is now joined by former SubRosa drummer Andy Patterson, also known for his bands DØNE, the Otolith, INVADRS, and as owner/operator of Salt Lake City recording studio The Boar's Nest. This partnership appears to have completely nailed the true essence of INSECT ARK. After a quick first meeting, within a period of two short months, Schechter and Patterson finished preparing all the new songs for The Vanishing, preceded by a full North American tour with Oranssi Pazuzu to get the new songs up to speed.
The intensity, determination, and dedication poured into the album is clearly audible, captured by the wizardry of engineer Colin Marston. The sound was steered in a visceral, organic direction; you feel enclosed within a living, pulsating, slithering organism. The album artwork, a stunning painting by French artist Sonia Merah, is in and of itself a work of art, but when paired with the sounds of The Vanishing, it becomes a truly haunting and mesmerizing vision of some terribly twisted alternate reality.
"Making music takes a lot out of me," Schechter admits, and it's hard not to understand why after listening to the tour de force that is INSECT ARK's new album. "To pull it out of my heart and put it into the world can be emotionally difficult, since it comes from a complex place with so many facets like pain, belief, hope, anger, joy."
For INSECT ARK coverage contact liz@earsplitcompound.com.