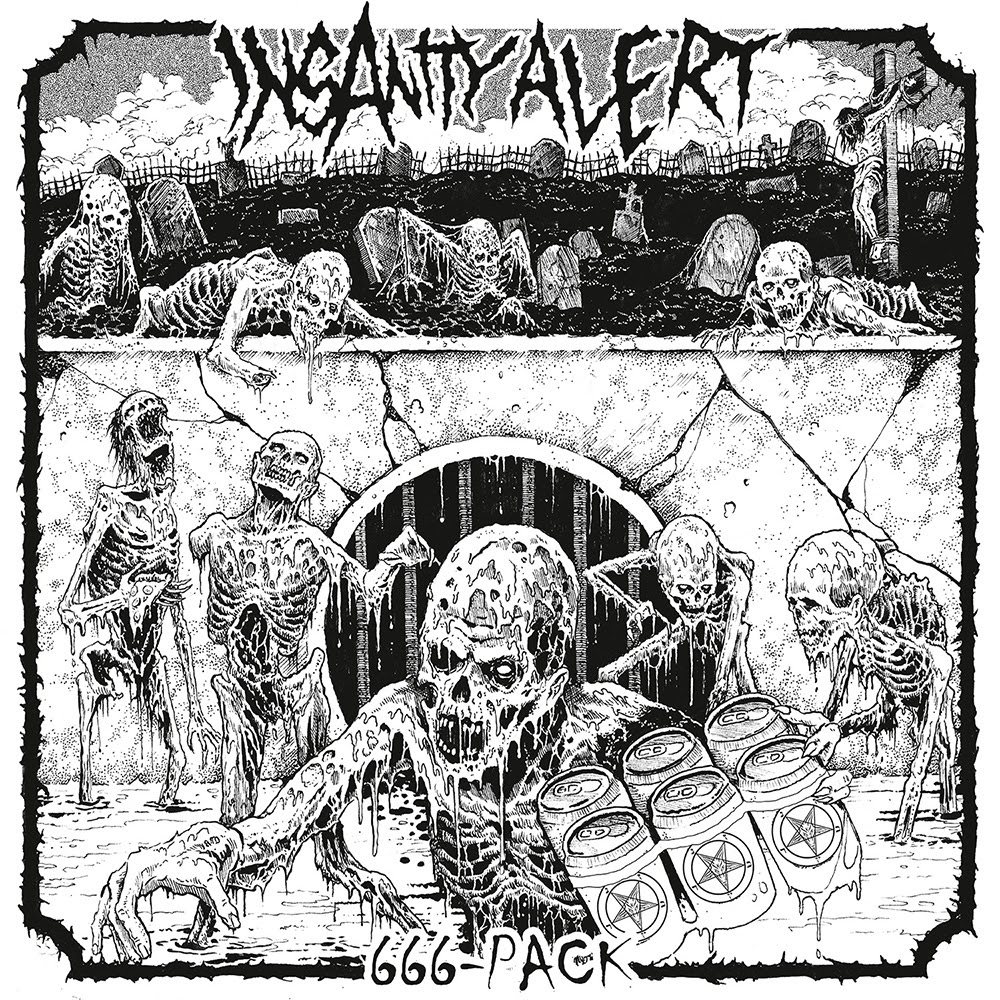 Crossover Party Thrashers INSANITY ALERT are now releasing a new live video for the song "A Skullcrushin' Good Time," which is taken from 2019's '666-pack.' The video was recorded at Hellfest in France on June 23, 2019, where the band performed on the main stage. Watch the video at THIS LOCATION.

The band comments: "Mainstage at Hellfest 2019 – nothing but a skullcrushin' good time!"

'666-pack' is available HERE.
INSANITY ALERT – "A Skullcrushin' Good Time" (Live at Hellfest 2019)
INSANITY ALERT
03/11: Poitiers (FR) @ Confort Moderne*
03/12: Nimes (FR) @ Paloma*
03/13: Toulon (FR) @ Omega Live*
03/14: Les Orres 1650 (FR) @ Espace Rencontre Culture*
03/20: Homberg an der Ohm (DE) @ Mise Metal Meeting
04/16: Strassbourg (FR) @ La Maison Bleue
04/17: Cambrai (FR) @ Betizfest
04/18: Bomal (BE) @ Durbuy Rock
05/09: Bruneck (IT) @ Archetype HC Fest
05/15: Torgau (DE) @ Grind the Nazi Scum
05/16: Vienna (AT) @ Vienna Metal Meeting
05/23: Erica (NL) @ Pitfest
06/06: Martinego (IT) @ Rock in Riot
07/11: Velké Meziříčí (CZ) @ Fajtfest
07/25: Ferrara (IT) @ Distruggi La Bassa
08/28: La Fleche (FR) @ Useless Fest
* w/ Ultra Vomit
INSANITY ALERT will be touring in support of their latest release '666-pack'. The cover artwork and the tracklisting of '666-pack' can be found below. The cover has been created by Mark Riddick.
Tracklist:
1. Thirstkiller (01:13)
2. The Body Of The Christ Is The Parasite (01:44)
3. All Mosh / No Brain (01:33)
4. Cobra Commander (02:39)
5. Saturday Grind Fever (01:01)
6. Echoes Of Death (02:04)
7. Windmilli Vanilli (01:00)
8. Stop….Slammertime! (00:08)
9. Why So Beerious? (01:49)
10. Mosh Mosh Mosh (00:47)
11. One-Eye Is King (In The Land Of The Blind) (02:37)
12. Welcome To Hell (01:47)
13. Two Joints (01:14)
14. Chronic State Of Hate (02:13)
15. I Come / I Fuck Shit Up / I Leave (01:26)
16. A Skullcrushin' Good Time (02:17)
17. The Ballad Of Slayer (00:06)
18. Demons Get Out! (02:18)
19. 8 Bit Brutality (00:07)
20. Death By Wrecking Ball (01:11)
21. Dark Energon (03:10)
Total Duration: 32:24
Thrash outfit
INSANITY ALERT
are the kind of people who know what to bring to a party: a big dose of humour with a dash of darkness, party tunes, and a six pack. It's these ingredients that make up the basis of the band's third full length record, '666-pack'.
The world of
INSANITY ALERT
is a dark yet happy place. Fast, aggressive music, crazy lyrics about alcohol, rage, weed, ignorance and hate, all drenched in an 80's hot sauce but played with a 2019 attitude. The band emerged from the Austrian city of Innsbruck in 2011, with only one intent: deliver crushing, crossover party thrash.
A tongue-in-cheek concept backed up by strong musical prowess worked out extremely well as 'First Diagnosis' proved in 2012. This demo was welcomed with open arms and the first impression of the public quickly confirmed by 'Second Opinion', which came out the year after. In 2014, debut album, 'Insanity Alert' delighted critics and fans alike and was reissued four years later by Season of Mist. The wild Tyrolians, always eager to please, next served a juicy 'Moshburger' (2016).
With '666-pack' the band proves once more to be an unstoppable force. Whether it is dropping a to-the-point, crossover track such as "The Body Of The Christ is The Parasite" or INSANITY ALERT-esque interpretations of classics like "Saturday Grind Fever", the groove will have you headbanging in no time with a smirk on your face. Having confirmed their first festivals for 2019 and riding the wave of the thrash metal revival, INSANITY ALERT can't wait to return to the stage and share (a) 666-pack with you!
Style: Crossover Party Thrash

Line-up
The Dave of Death – Guitar
Don Melanzani – Drums
Heavy Kevy – Vocals
Marcy Brownnose – Bass

Recording line-up:
The Dave of Death – Guitar, Bass
Don Melanzani – Drums
Heavy Kevy – Vocals

Cover artwork: Mark Riddick

Recording studio: Nautilus Sounds Studio (Dornbirn, Austria)

Producer / sound engineer: Toni 'Meloni' Loitsch

Mixing studio and engineer: Toni 'Meloni' Loitsch

Mastering studio and engineer: Mammoth Sound Mastering, Dan Randall (USA)

Available formats
CD
Vinyl in different colours
For more on INSANITY ALERT, visit their official FACEBOOK, TWITTER, and INSTAGRAM pages.