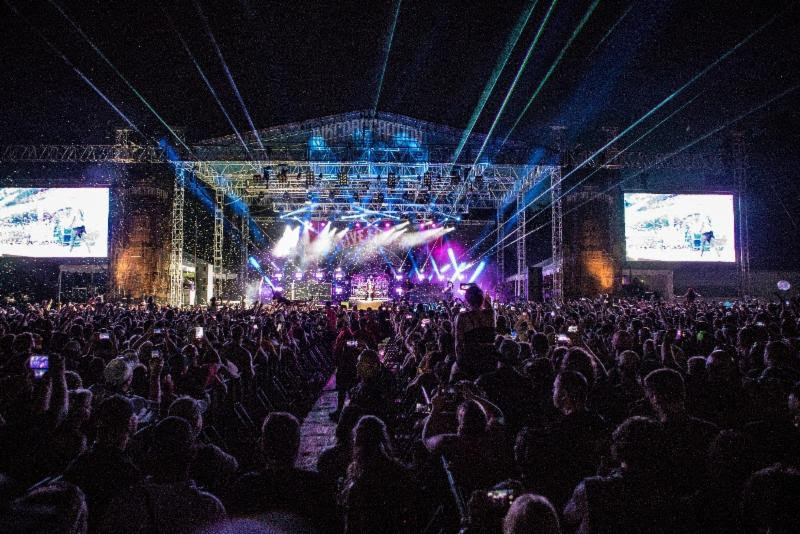 Shinedown setting the night ablaze on day one!
The INKCARCERATION Music and Tattoo Festival experienced another massively successful year, nearly tripling last year's inaugural attendance numbers! Now solidified as one of the nation's premier rock festivals, INKCARCERATION 2019 featured over 30 bands on two outdoor stages, 65 tattoo artists, reformatory tours, gourmet food trucks, the best drinks and for the first time, the haunted house attraction, Escape from Blood Prison.
Nearly 45,000 fans attended year two, which took place from July 12-14 at the historic Ohio State Reformatory, a.k.a. Shawshank Prison, in Mansfield, Ohio. This year's colossal line-up was headlined by rock royalty – Shinedown, Godsmack and Five Finger Death Punch – and featured additional performances by +Live+, Taking Back Sunday, Seether, Skillet, I Prevail, Starset, Red Sun Rising, Motionless in White, Fozzy, Buckcherry, The Red Jumpsuit Apparatus, Andrew W.K., P.O.D., Stabbing Westward, Light the Torch, From Ashes to New, Smile Empty Soul, Eyes Set To Kill, Awake at Last, The Funeral Portrait, Kerbera, Raven Black, Rivals, Impending Lies and The Everyday Losers, plus special performances by The Monster Dolls.
INKCARCERATION Music and Tattoo Festival drew in concert goers from nearly all 50 states, and worldwide as far as New Zealand! All three days of the festival – including all camping and VIP – sold out before day two.
Zach Myers of Shinedown says: "Our first time at INKCARCERATION festival was amazing! From the staff to the crowd to the beautiful backdrop of "Shawshank Prison" – we couldn't have asked for a better day to play rock 'n' roll to an amazing group of humans! We were honored to headline Friday night of the second annual festival. We can't wait to come back!"
Sully Erna of Godsmack says: "We revisited the Mansfield Ohio State Reformatory, where back in 2000 we shot our "Awake" video. We carved the words "Pain is caused by pleasure" on the wall for the video – that is now a permanent part of the building and the guided tours they do there. You can see that same shot in the music video as well. It's also the same location where "Shawshank Redemption" was filmed, which is one of my all-time favorite movies and why we had chosen this location to begin with. Definitely brought us down memory lane being back there. Thank you all for having us!"
John Nolan of Taking Back Sunday adds: "INKCARCERATION was a lot of fun for us. It's a great setting for a festival and touring the Ohio State Reformatory was very cool."
John Cooper of Skillet says: "I absolutely loved being at INKCARCERATION this year! The crowd was electric and the venue location makes it a one-of-a-kind festival."
Andrew W.K. says: "The INKCARCERATION festival was one of the most unique places I've ever partied. Deeply memorable experiences in a location that's overflowing with intense atmosphere."
Howard Jones of Light the Torch offers: "INKCARCERATION is the kind of festival that needs to be experienced and not just talked about. Doesn't matter what music you like, what you look or dress like… there is something for you here. It's impossible to not have a good time! Make this the last year you miss out – prison has never been so much fun!"
Sean Danielsen of Smile Empty Soul adds: "We had a great time playing INKCARCERATION this year. Besides having a great line-up, the grounds are amazing and it was really interesting exploring the old prison that has so much history and vibe."
Alanna Schultz of The Monster Dolls says: "The energy at this festival was amazing! The fans, the artists, everyone that helped make the event happen was so positive and honestly, inspiring. That's monster fuel for us. We love creating stage shows for events that bring so many great people together, and hopefully we can continue being a part of the event in the future as it continues to grow!"
James Skrtich of Impending Lies adds: "INKCARCERATION was a blast – beginning to end. Every band we met was amazing to talk to. Everyone on the festival crew were nothing but helpful and amazing. Last but not least, all of the fans we met – old and new – were, as always, the best part of the weekend. Without them, the festival is nothing. We appreciate everyone involved and hope to play again next year!"
Tattoo artist Waverly "Wave" Judd of Raditattoo Me Tattoo adds: "There's still a buzz in the air from INKCARCERATION among guests sharing photos, videos, and stories like a family reunion. INKCARCERATION is a three day party full of meeting new people in lines and loving them in the pit. We shared the experience as strangers but plan to return as friends. See you on the Yard in 2020!"
INKCARCERATION attendees enjoying Five Finger Death Punch's set
Godsmack entertaining the masses!
INKCARCERATION co-producer Susan Fisher says, "The INKCARCERATION team is thrilled with the success of our year two festival. Our bands and artists were all amazing, and we are so grateful to our staff, local officials, and volunteers who made it all possible. We are most encouraged by the unbelievable positive response from our fans. We love their sense of community and excitement about the shared experience of INKCARCERATION Music and Tattoo Festival, and that's priceless!"
Dan Smith of the Ohio State Reformatory (OSR) adds: "We couldn't be happier with our continued growth with the INKCARCERATION organizers and the incredible turnout we had. You could actually feel the energy, so it's no surprise that Entertainment Weekly listed INKCARCERATION on their ultimate 2019 summer music festival list! We want to thank everyone who was a part of making the event a huge success for the Reformatory and the City of Mansfield!"
Destination Mansfield President Lee Tasseff says about INKCARCERATION year two: "It was an absolutely thrilling sight to see thousands of people gathered each night on the grounds of the Ohio State Reformatory (OSR) for this year's INKCARCERATION! As Shinedown front man Brent Smith exclaimed, 'There is no cooler back drop than the Reformatory!' Perhaps more impressive was the fact that the festival was so well run, allowing guests to truly enjoy themselves. This year, we provided information services which allowed us greater insight into the pulse of the crowd. We met lots of friendly people from across the U.S. I can tell you it was great fun to be in the middle of everything!
We can't thank the organizers, law enforcement, and OSR staff volunteers enough for aiding us in hosting a high end concert festival – most impressively, in a city of our size. Mansfield is arriving as a community and our ability to host national events helps demonstrate that fact. Conservatively, the economic impact exceeded $4 million. We can't wait to see what they do for INKCARCERATION 2020. See you all next time."
INKCARCERATION would like to thank the Mansfield Police, Mansfield EMS, Ohio State Patrol and Richland County Sherrif's Department for keeping the event orderly and safe.
A look at tattoo city inside the historic Ohio State Reformatory
INKCARCERATION Music and Tattoo Festival has been awarded Mansfield, Ohio's prestigious Tourism Award of Excellence, and has been recognized by the United States House of Representatives, Ohio Senate, State of Ohio Representatives and Congressional Proclamation.
Stay tuned for INKCARCERATION 2020!
INKCARCERATION Music and Tattoo Festival online:
The Historic Ohio State Reformatory online:
INKCARCERATION Music and Tattoo Festival is produced by Inkcarceration LTD.
All photos by Tyler Neading of Tyler Neading Film & Photography.
Instagram: @tneading