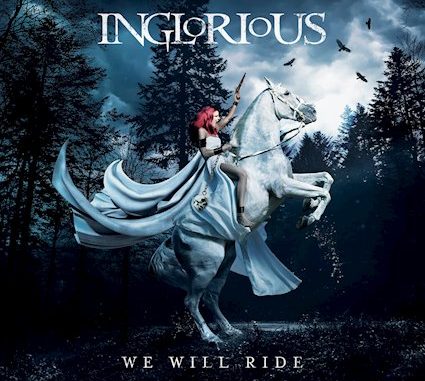 Although the word "inglorious" means not famous or renowned, I'm not sure it is the best way to describe the British band of the same name. (They actually named their band after the Tarantino film, "Inglorious Basterds.") Making their start in London in 2014, Inglorious found their way to the mainstream spotlight when Queen's lead guitarist Brian May compared them to a young Deep Purple. Since then, they have released three albums: "Inglorious," "Inglorious II," and "Ride to Nowhere." Now, they are releasing their fourth album, "We Will Ride" on February 12, through Frontiers Records.
Anyone who has followed this band for the last several years knows that there was a bit of controversy surrounding Inglorious' frontman Nathan James and several of his former bandmates, but it seems that James has found some new members who are compatible with his leadership and fortitude. Inglorious now comprises Nathan James (Trans-Siberian Orchestra, Uli-Jon Roth) on vocals, original bandmate Phil Beaver- drums, Danny Dela Cruz- lead guitar, Dan Stevens- rhythm guitar, and Vinnie Colla- bass.
For the first time in their seven-year history, Inglorious decided to hire a producer for their album. The five-piece decided to team up with Romesh Dogandoda (Bring Me the Horizon, Funeral For a Friend, Monuments) and record their new album at Long Wave Recording Studios in Cardiff. The band overcame the challenges of lockdowns amid the COVID-19 pandemic and emerged from the studio with an incredible album.
The album starts out with the riff-heavy "She Won't Let You Go." This song was released as a single last November and the official music video has garnered over one-hundred thousand views on YouTube. For those unfamiliar with the band, one of the first things you will notice is Nathan James' impressive vocals. Not only does his range seem to span four octaves, but his delivery is also reminiscent of David Coverdale (Whitesnake, Deep Purple) and Myles Kennedy (Alter Bridge).
The second single, "Medusa," was released on January 8th of this year and is sure to be a fan favorite and live staple. The opening riff, which is extremely catchy, also includes a steel slide- giving it the perfect ingredient for a long-lasting hit. Not to mention, this single was co-written by Joel Hoekstra of Whitesnake. Yes, "Medusa" is about a woman- one who will kill you, but I want to make note that lyrically, James does an excellent job of writing. The lyrics are straight-up rock and roll and are not cheesy. He gets it. He knows how to write in a way that's classic, yet relatable.
The band really used their lockdown time to stay motivated and productive. Every song on the album is solid and includes classic rock riffs, impressive drumming, unbelievable guitar solos, and some of the best vocals you will hear from any modern frontman. Although I am not sure which track will be released as the band's next single, I hope I am prophetic in choosing "He Will Provide." It is the only song on the album which is over five minutes long, but it is an absolute banger that never lets up. The scratchy guitar riff which follows the constant off-beat cymbal is sure to please even the harshest critic and for those who love to hear the bass, this song is for you! The band slows the bridge down for a bit, giving Vinnie Colla the spotlight until the lead solo comes in to speed things back up. Whether it will be released as a single, or remain a deep cut, this is the climax of the album.
Inglorious took a huge step in the right direction in teaming with a producer on this album. It is not often that a band can become consistently better with each album but these Brits seem to have done it. This release is sure to give the band even more exposure and bring in many more fans. "We Will Ride" blends classic and modern rock in a way that very few can pull off.