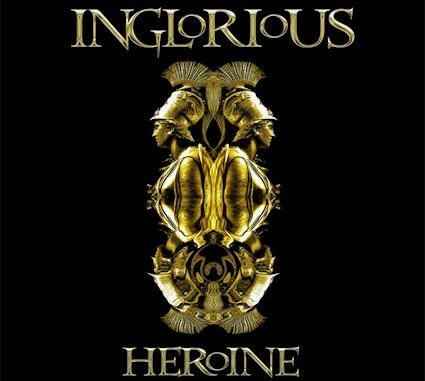 Few bands release two albums in the same year, and fewer yet can do it with success. The hard rock band Inglorious has proved they can do both and will be releasing their first covers album, "Heroine" on September 10 through Frontiers Music. As hinted with the album's title, "Heroine" features eleven incredible cover songs from exclusively female artists that have influenced the band both musically and vocally. These Brits have chosen to cover hit singles from every decade from the seventies until the two thousand twenties. This is an incredible feat and Inglorious performs it with honor and class. Since this is such a unique album, I have decided to write my review in a way that covers each song individually.
Track one: "Queen of the Night" (Whitney Houston 1993)
Starting off the album is the upbeat rock hit "Queen of the Night" which was originally released as the final single off the soundtrack The Bodyguard. The band keeps the song upbeat and its catchy rhythm has had me playing this song on repeat several times. Just shy of the two-minute mark, there is an out-of-this-world guitar solo that really compliments this track musically.
Track two: "Barracuda" (Heart 1977)
I don't think you would be able to find someone that denies that the opening riff to this Heart solo is one of the most recognizable and catchy riffs to start a song. For those familiar with Inglorious, you know lead vocalist, Nathan James, has an incredible range and it is probably most evident on this track. As I listened, there were several times I didn't know how he would nail the rising notes, and yet he does confidently. His siren-like voice is powerful and enchanting. The band also released a music video that premiered this summer.
Track three: "Midnight Sky" (Miley Cyrus 2020)
I'm not going to lie- I was unfamiliar with this song before I heard the cover. I think it was the only cover on this album I had not heard the original version first. I'm just not that into pop- especially the newer stuff. Once I listened to Miley's version, I realized once again, how well Inglorious can honor the original artist while still putting their own recognizable sound into their own version. The little bit I know of Cyrus, tells me she would approve. The accompanying music video was released in June.
Track four: "Nutbush City Limits" (Tina Turner 1973)
This song is the oldest cover on this album- spanning back nearly fifty years. What would an album honoring female artists be without a song by the "Queen of Rock n' Roll?" Inglorious, once again infuses their own style- killer solos, choppy beats, and impressive vocals- all the while keeping the song dedicated to Turner's hometown extremely recognizable.
Track five: "Bring Me Back to Life" (Evanescence 2003)
I really like this one a lot. James starts the song out with a haunting falsetto voice over top of a piano and strings. It then transitions into a heavy driving chorus. We all know that Evanescence fought a losing battle against putting a rapping part in the bridge- something the record company was adamant about. Inglorious also included it, but the way they pulled it off sounds less "nu-metal" than the original. It flows nicely and I'm sure Amy Lee would be pleased.
Track six: "Fighter" (Christina Aguilera 2003)
As I said earlier, I'm not a pop fan, but that doesn't mean that I don't recognize talent when I hear it. Christina Aguilera has been one of the most incredible voices in the twenty-first century. When I saw this track on this album, I was excited to hear the outcome of the band's bold choice. The tempo and range do seem to keep James on his toes, but as always, he does an excellent job. You can also hear the double kick pedals of drummer Phil Beaver toward the end of the song.
Track seven: "I'm With You" (Avril Lavigne 2002)

This song brings the distortion down and uses acoustic guitars for a majority of the song instead. It also sounds like a steel guitar is used throughout. I love the dynamic of this track. The band starts out quiet and continues to build and swell to the end. The song fits perfectly in Nathan James' range, and as the end of the song nears, he belts "I'm with you!" in a way that is sure to put chills down your spine.
Track eight: "I Hate Myself for Loving You" (Joan Jett 1988)
This extremely popular song has been the anthem for thousands of people stuck in difficult relationships for 33 years and now those same people have a modern and heavier alternative.
The drums pound, the guitar swaggers, and the vocals are provocative. As far as I know, Mick Taylor didn't play his solo on this version, but it sounds great regardless.
Track nine: "I Am the Fire" (Halestorm 2015)
I am going to preface that this still is a great cover, but this is probably my least favorite track on the album.  I love Halestorm and Lzzy's voice in particular.  I'm thankful Inglorious has found inspiration from her, but the vocals just don't quite grab the 'grit' that Lzzy has on Halestorm's 2015 album, "Into the Wild Life."  Musically too, I would've expected either heavier than the original, or that they would've taken it in a completely different direction and done it really stripped down.  Again, I'm not trying to be too critical, but this is a review and I must expose the weakest link. In my opinion, this is it, but with that said, it's still much better than many cover songs out there.
Track ten: "Time After Time" (Cyndi Lauper 1983)
This track is very stripped down. It's simple, yet powerful. It starts out with two acoustic guitars with the vocals coming in soft and sweet. I really like that the band chose to perform finger-picking throughout the song. I think it really adds to the ambiance of this ballad. This is a song about true devotion and it is easy to listen to whether you are just wanting to play something light or if you are cuddling with your significant other. This cover is very well done.
Track eleven: "Uninvited" (Alanis Morissette 1998)
Much like the original, this song starts out extremely stripped down and simple- it's just a few piano keys and James' falsetto voice. Unlike the original, when the band transitions to the next part of the song, the music amplifies before expected. James shows off his incredible range, and the band likewise, does not let up. This song needs to be played loud to capture its power. It's truly captivating.
Because I typically like my metal quite heavy, Metallica's double cover album "Garage Inc" will always be my number one, but with that said, "Heroine" is a close second. This is a really good album overall, and I think fans of any genre will find it very fun to listen to. I also think it gets extra points for being dedicated to all these incredible female vocalists throughout the last six decades. In my opinion, there would be no better frontman than Nathan James to capture the range and beauty exemplified by these eleven vocalists. "Heroine" is a genuine homage of the highest quality.