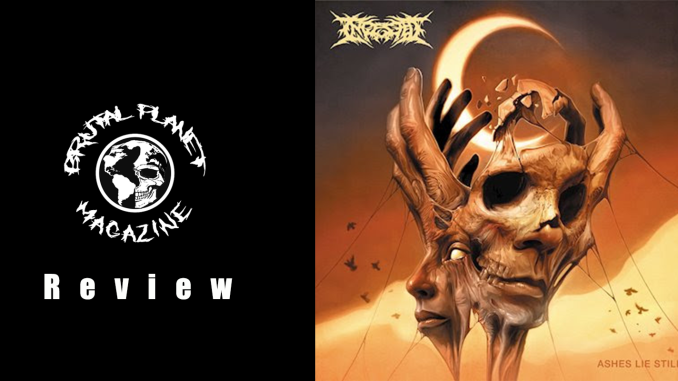 With a tragic loss, two and a half years of the world shut down and one less band member, the remaining original members of the UK band Ingested had time to reflect. Indeed they had some very painful and hard times while writing and recording their new upcoming album, Ashes Lie Still, due to be released on November 4.
Band members, Jason Evans (vocals), Sean Hynes (guitar) and Lyn Jeffs (drums), (along with the studio work of bass player Dominic Grimard of Ion Dissonance and The Last Felony), are ready to show their fans, once again that they are leaders in the deathcore metal world. This electrifying and hard hitting record is the band's sixth studio release. It is a powerful collection of heavy and intense music that the metal world has been waiting for.

The title track,"Ashes Lie Still" featuring Julia Frau on vocals, is haunting at the start, and then goes straight into the heavy, galloping guitar and hammering drums. You can feel the anger and pain coming through Evans' lyrics. The song is about the loss of his Father as well as the frustration of being grounded from performing live for over two years due to the pandemic. It speaks of the tormented feelings that went into those days and the dark times that were experienced. It truly is a hard hitter on the album and Frau's vocal addition compliments the song perfectly.
The song "Shadows in Time" is grungy and brutal. Evans' vocal abilities are second to none and will be a classic in metal fans playlists as time goes on. Meanwhile the song, "Tides of Glass" is a dark and poetic tale of the battle to get out of one's head and defeat the negative thoughts that can consume and destroy with feelings of hopelessness.
There are guest artists on tracks such as "From Hollow Words" which features Sven De Caluwe' of the band Aborted. The tune is fast and furious from beginning to end and the vocals are facemelting. "All I've Lost" with vocalist Matt Heafy of the band Trivium, is another strong addition. It relies on a buildup of anticipation from the beginning to the end with Heafy's signature scream.
Additional songs like "With Broken Wings" and "Echos of Hate" solidify the fact that Ingested has grown into one of the most powerful deathcore metal bands today.
"Ashes Lie Still" is a thoughtful and dynamic body of work and a must have for any metal fan. With the release on November 4th 2022 (via Metal Blade Records) there are also several music videos already out for "Ashes Lie Still", "Shadows in Time' and "Tides of Glass." There is also the assurance that there will be videos made for all of the tracks with the collaboration of Loki Films who has produced their previous videos.
You can catch Ingested live on tour through April of 2023 with many dates in the US and Canada as well as overseas.