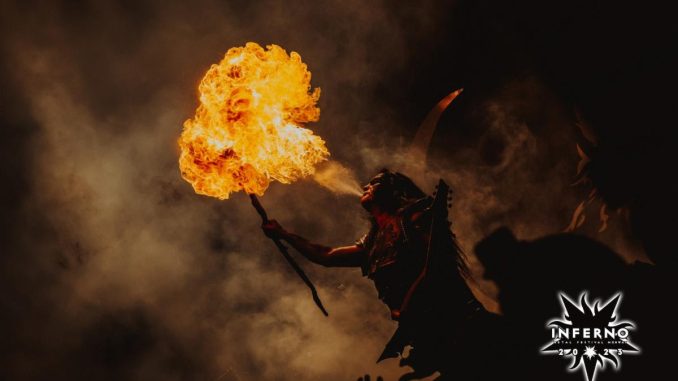 "Something strange and magical happens in the town of Oslo, Norway over Easter week. Most of polite society flees to the mountains while a scourge of metal heads pour in from all over the globe to experience the four day extravaganza of extreme metal, hedonism & hepatocyte known as Inferno Festival. Subsequently, the entire city becomes a misanthropic miscreant's soggy dream come true, and we've got the whole place to ourselves!" – Metal Injection
Following the success of Inferno Metal Festival's 2023 edition, early bird passes for the 2024 edition are now on sale and can be found HERE! Next year's Easter Sunday extravaganza will take place once again in the heart of Oslo (NO) from March 28-31, 2023.

Yet another absolutely stacked lineup of extreme and esoteric is metal is to be revealed, along with unique opportunities for fans to take in rich metal history and culture that Oslo has to offer.
Inferno Festival lives up to its name with blistering performances from ABBATH (above) and WATAIN (below) during the 2023 festival at Rockefeller in Oslo, NO. Photos by Allan Larson.
In addition to celebrating heavy metal in the birth country of Norwegian black metal, Inferno Metal Festival also offers festival attendees a chance to embrace Norwegian culture. This year, metalheads traveling to Oslo were able to witness a very special black metal exhibition in the National Library of Norway, which just opened in April 2023 in conjunction with Inferno Metal Festival.

The new exhibition investigates the dark and chaotic feelings of Norwegian black metal. Drawing from the library's rich collection, the exhibition references ancient Norwegian cultural history and shows black metal as a music form with a distinct artistic expression The exhibition conveys how Norwegian black metal has had an impact far beyond Norwegian borders with a vast number of international followers.

The National Library of Norway invites fans and other lovers of music and cultural history to dig deep and explore Norwegian black metal as a music genre and a cultural phenomenon. There will be guided tours every day of the festival week. Photos from the experience can be found below and those visiting Oslo this summer can still visit the curation!
Photos of the black metal exhibition at the National Library of Norway. Photos by Finn Arne Nystad
Photos of the black metal exhibition at the National Library of Norway. Photos by Finn Arne Nystad
In addition, Inferno Metal Festival introduced Black Metal Sightseeing bus tours to concert-goers this year. Hosted by Anders Odden (Cadaver, Celtic Frost, Satyricon, Order), the tour took fans on a trip through the places that marked the beginnings of Norwegian black metal.

This field trip has exclusive anecdotes and personal memories of the early life of the scene from someone who was there.

Inferno Metal Festival will be curating more once-in-a-lifetime experiences for attendees for 2024 – stay tuned!
For more than 20 years, Inferno Metal Festival has been a leading force in the international extreme metal movement, attracting fans from more than 50 countries to the yearly event in metal mekka, Oslo, Norway. Each Easter metalheads have been swarming the city center for four days straight.